In today's post, I'm sharing a vegan twist on one of our nation's favourite sandwiches… Egg Mayonnaise! Perfect for lunches, picnics or parties, this recipe is incredibly simple to make and whips together in 5 minutes or less. For savoury breakfast fans, this vegan 'egg mayo' also makes a great topping for toast. It's a favourite with my family and we hope you love it too!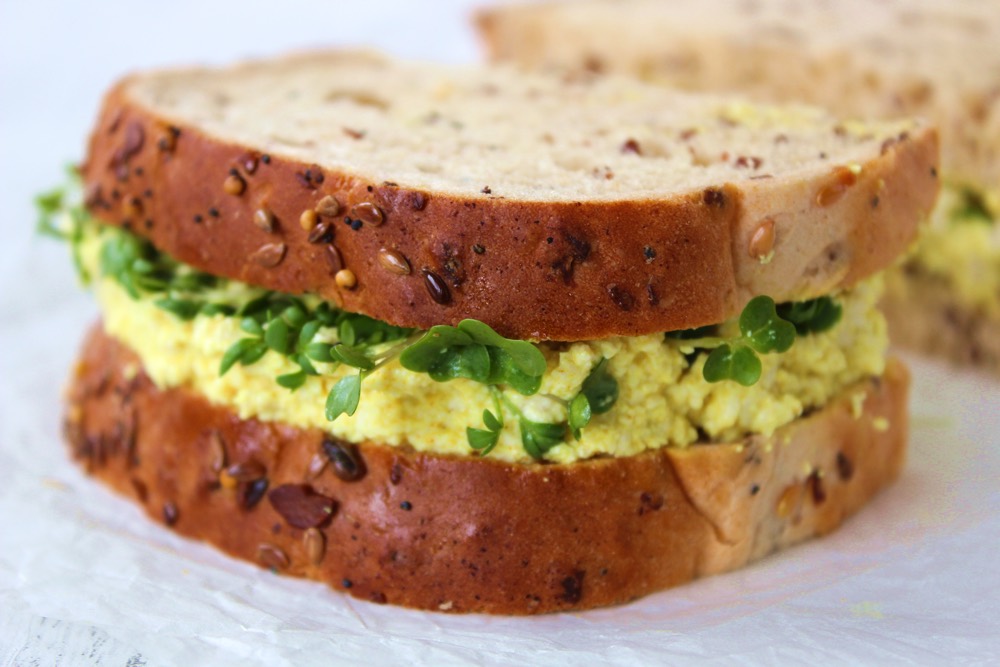 Tofu makes a great substitute for egg in this sandwich. Not only does it have a similar consistency to egg when mashed with mayo, but it is cruelty-free and healthy! It is packed full of plant proteins and minerals, contains zero cholesterol and is much lower in saturated fat compared to eggs.
Whenever possible, I buy calcium-set tofu as it's an easy way to boost calcium levels. Here in the UK, the only calcium-set tofu I've found is the Cauldron Foods Organic Tofu. Fortunately, this one has the perfect texture for making egg mayo! According to their website, just 100g (about one quarter of a block) of Cauldron Plain Tofu contains a whopping 40% of the calcium RDA.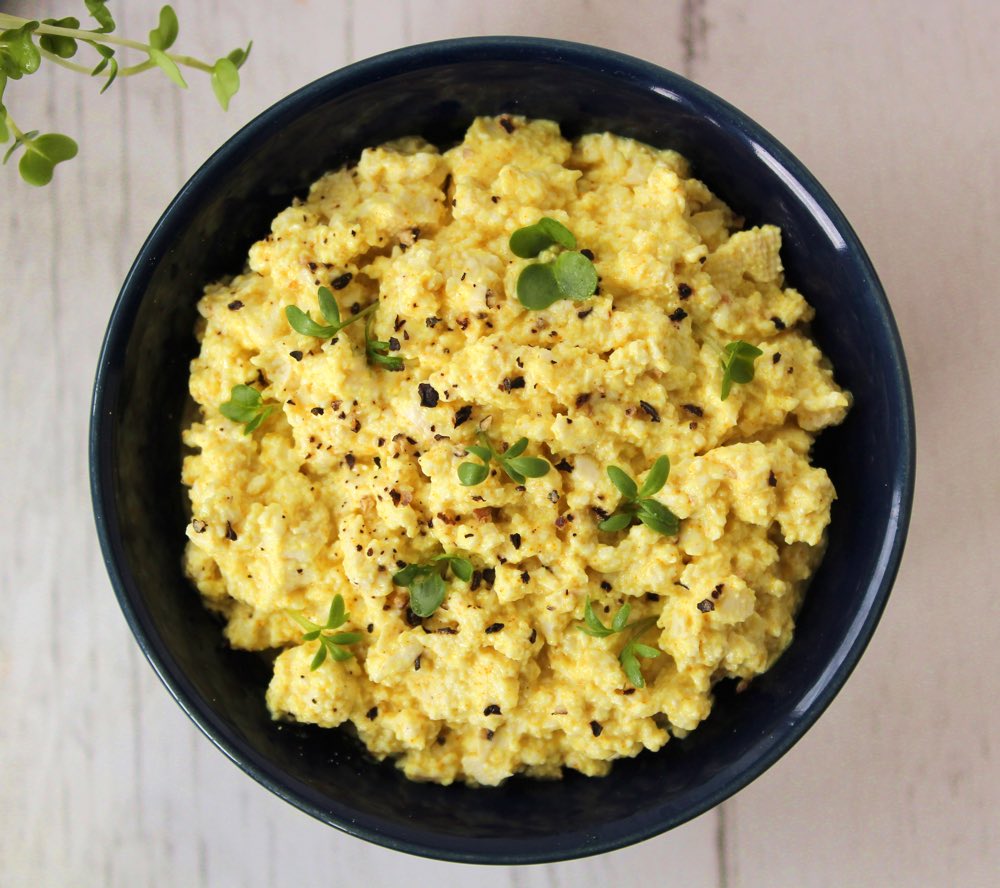 As a teenager, I worked weekends at a local cricket club preparing the cricketers' afternoon tea. I made literally hundreds of egg mayonnaise sandwiches over the course of a season, but I never ate a single one myself as I couldn't bear the 'eggy' taste or smell! I literally had to try and hold my breath as I mixed the ingredients together. I wish this vegan egg mayo had been invented back then as it would have made sandwich making far more enjoyable! (and I probably would have sneaked a few for myself too!)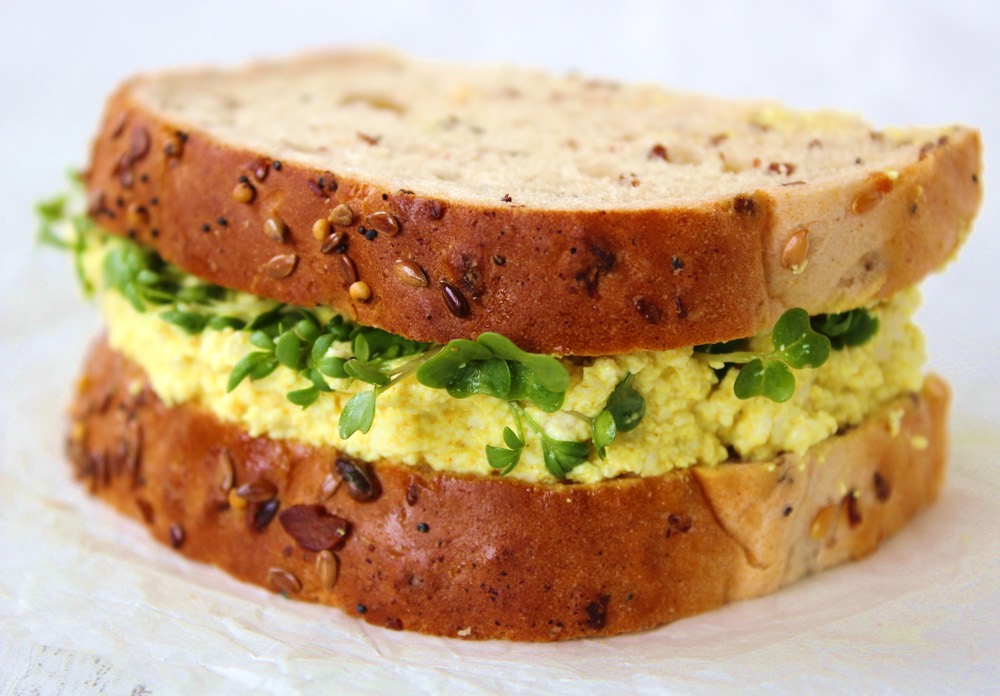 But fear not. If you are a fan of the 'eggy' flavour, you don't have to miss out. Adding a pinch or two of kala namak (aka 'black salt') will do the trick. This rock salt (which is actually pink rather than black!), has a sulfur-like taste to it, so it's great for making your egg mayo, omelettes or scrambled eggs more 'eggy'. It's really cheap and you can purchase it from Asian grocery stores or online. I purchased a 100g bag from Amazon UK and it cost just £1.69 with free delivery.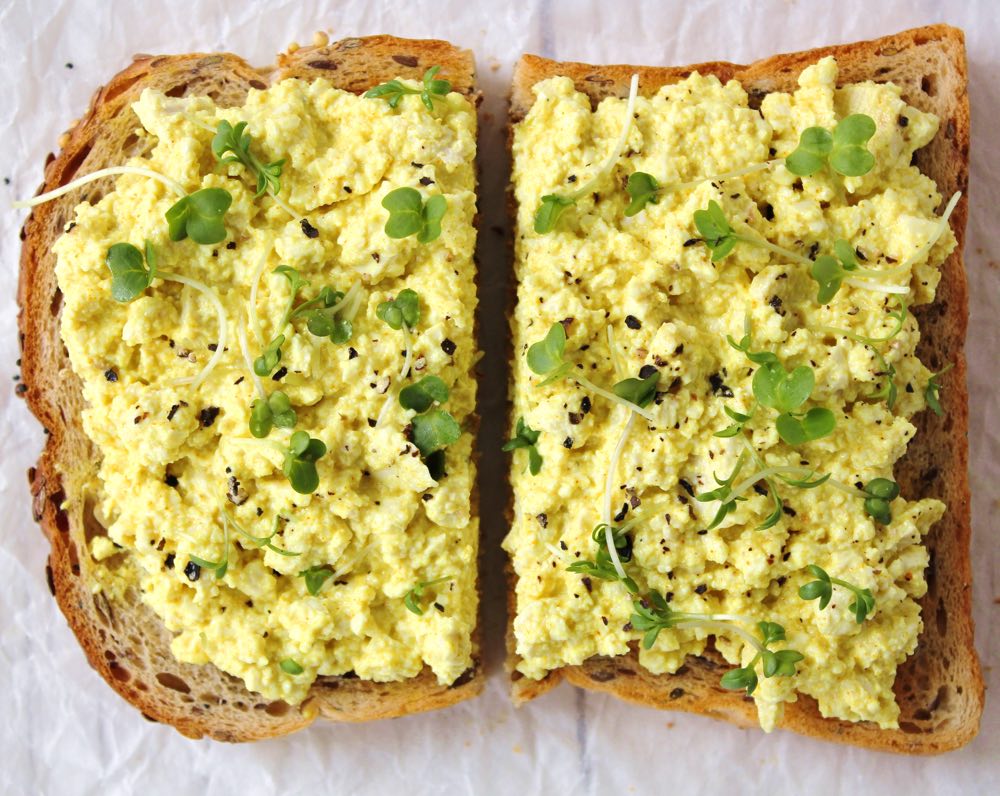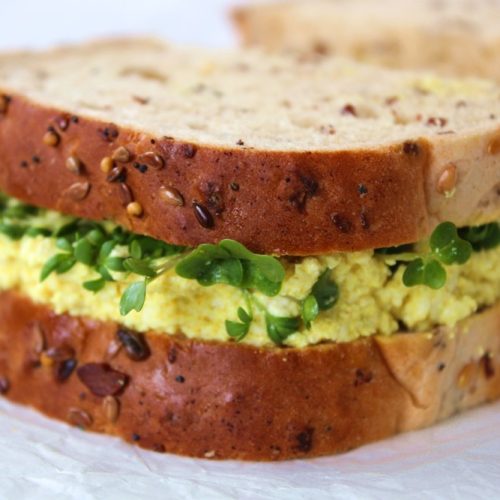 Vegan "Egg Mayonnaise" Sandwich Filling
A delicious, nutritious, vegan twist on one of our nation's favourite sandwich fillings. For savoury breakfast fans, this tofu 'egg mayo' also makes a great topping for toast.
Ingredients
3

TBSP

vegan mayonnaise

[See Note *]

½-1

tsp

Dijon mustard

½

tsp

ground turmeric

½

tsp

salt

[use Kala Namak 'Black Salt' if you like an eggy taste – See Note**]

400

g

/ 14 oz medium-firm tofu

[see Note ***]

handful of cress

ground black pepper

to taste
Instructions
Add the mayonnaise, mustard, turmeric and salt to a mixing bowl and stir until fully combined.

Drain the tofu and squeeze to remove as much water as possible. Crumble the tofu into the bowl, then use a fork to mash the tofu and mix it with the mayonnaise. Taste test and adjust the seasoning to suit.

Serve in sandwiches or on top of toast with a sprinkling of cress and black pepper.

Any leftovers will keep for about three days stored in an airtight container in the fridge.
Notes
*I use this Quick & Easy Mayonnaise. If you prefer shop-bought, vegan mayonnaises such as Hellmans Vegan Mayo and Vegenaise are now widely available in the UK.
**Kala Namak has a strong, eggy taste so if you're new to this salt, I would recommend starting with a small amount (a pinch) and taste testing until you reach the desired level of 'egginess'.
*** Using a calcium-set tofu is an easy way to boost calcium levels. For this recipe, I use Cauldron Foods Organic Tofu, available in the chiller cabinets in large UK supermarkets.
Pin for later ⬇️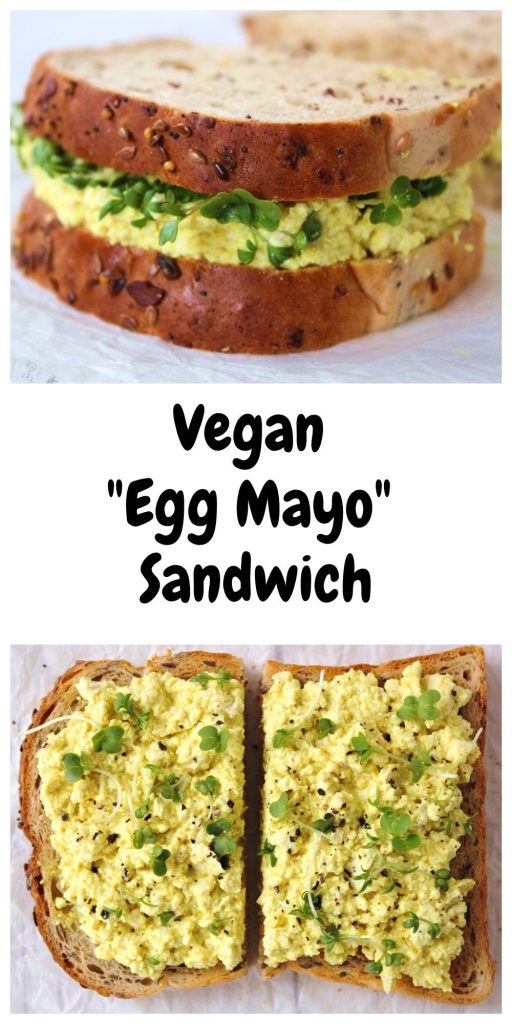 If you make this Vegan "Egg Mayo" (or any other recipes on my blog), I'd love to hear your feedback and any suggestions for adaptations! Tag your photos with #bitofthegoodstuff on social media and they will find their way to me. You can also connect with me on my social media channels here:
Instagram, Twitter, Facebook, Pinterest.
With love,

---
READER REMAKE 💚
——————————–
YOU MAY ALSO LIKE…
Chickpea Smash with Dill Pickles – Delicious Vegan Sandwich Filling!