In today's post I'm sharing a sandwich filling that is tangy, crunchy, creamy and oh so delicious! It reminds me of the Heinz Sandwich Spread that I used to love as a kid in the 80s, but this home-made version is way fresher, tastier and healthier too!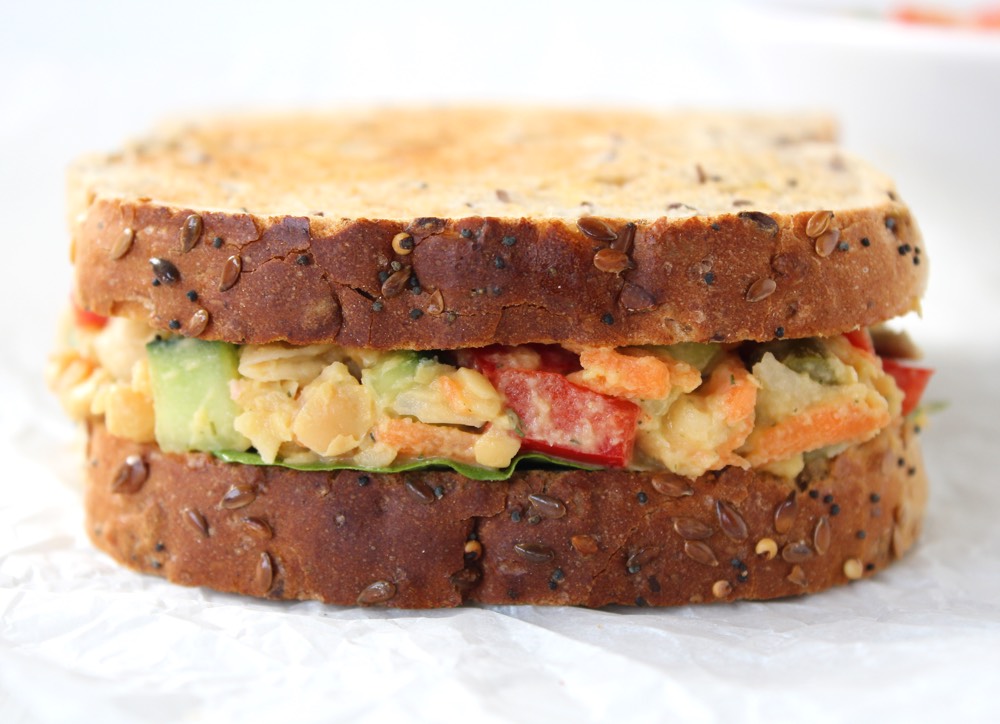 It's packed full of vitamins, minerals, antioxidants and plant proteins. Just a single sandwich's worth of the filling provides a whopping 193% of the recommended daily amount (RDA) of vitamin A, 26% of vitamin C and 10% of protein. Add a couple of slices of wholegrain bread and the protein content shoots up to 31%.
If you're looking for a new sandwich to liven up school or work lunchboxes, I'd definitely recommend giving this recipe a try. It would also be great for picnics and buffets. As well as a sandwich filling, you can also use it as a topping for crackers. Perhaps even as a jacket potato topper too? Now that is something I definitely need to try!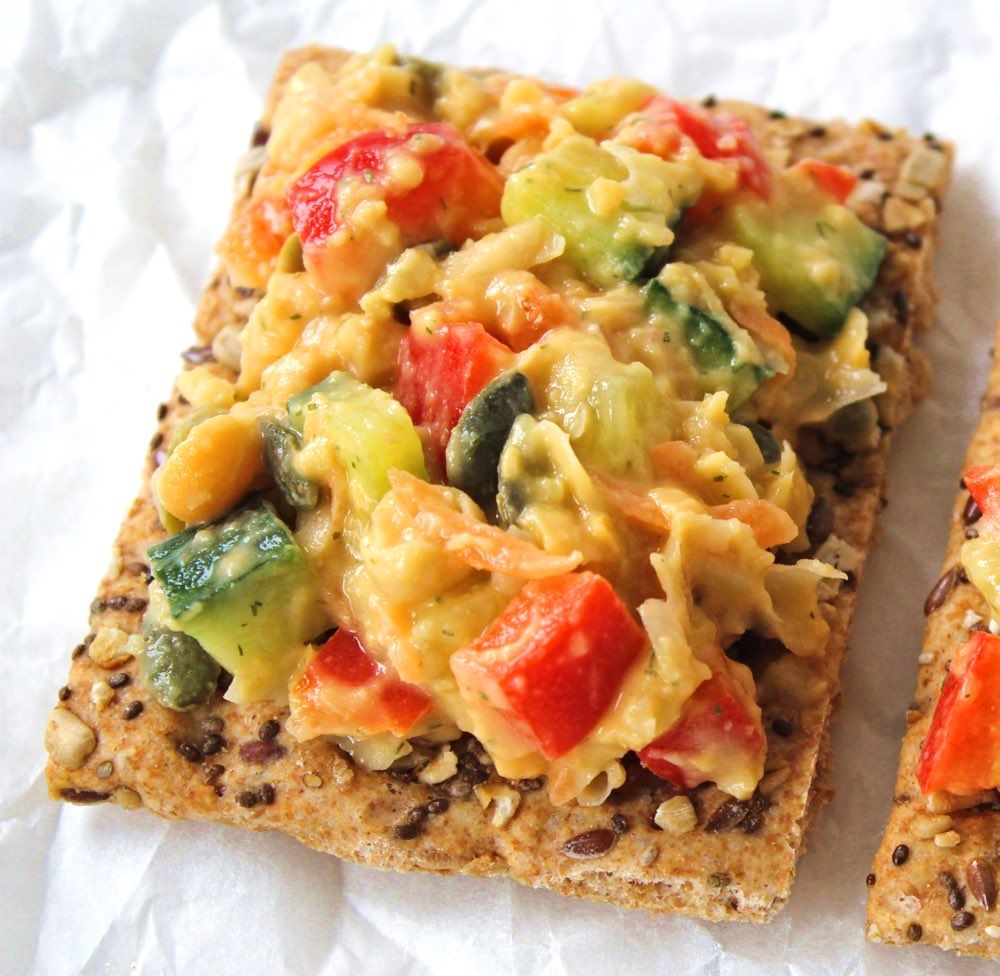 It's really easy to make and takes around 12 minutes to prepare a large bowl, which will fill about five sandwiches. I tend to make one batch of chickpea smash at the start of the week, which we then use on the following days for Lucien's school sandwiches, as well as our own.
The inspiration for today's recipe was this Garden Veggie Chickpea Salad Sandwich from Jenn @ Peas and Crayons which I came across back in 2017, and have been making adapted versions of ever since. Jenn, in turn, credits Angela from Oh She Glows for inspiring her recipe, so it sounds like Angela is the original recipe creator. I'd like to thank both Jenn and Angela for inspiring the recipe I'm sharing today and for giving my family so much sandwich joy these past couple of years!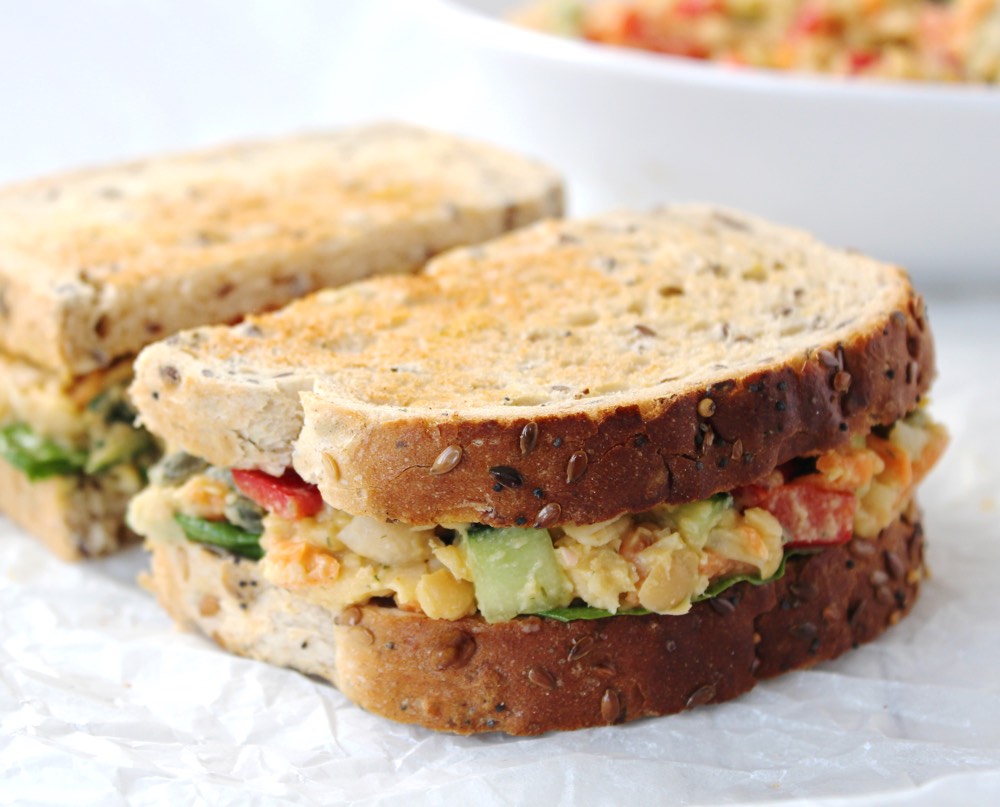 This recipe is highly versatile, so feel free to switch up the ingredients. I would definitely recommend keeping the dill pickles in though, as they give this recipe its signature tangy, crunchy bite. In England, dill pickles are called 'gherkins'. It's such a funny name isn't it? Even funnier, my mum still calls them by their old slang name 'Wallies'. Personally, I prefer to call them dill pickles as it sounds much more appealing to me than gherkins or wallies. How about you? What do you call them?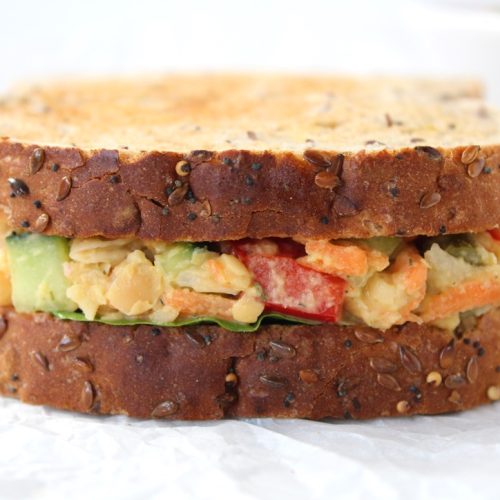 Chickpea Smash Sandwich Filling with Dill Pickles
This tangy, crunchy, creamy chickpea smash is perfect as a sandwich filling for school or work lunchboxes, as well as picnics and buffets. The quantity below fills about five sandwiches.
Ingredients
400

g

/ 14 oz can chickpeas

rinsed and drained

140

g

/ 1 cup cucumber

finely diced

1

medium carrot

(66g), grated

1

small red bell pepper or romano pepper

deseeded and finely diced

75

g

/ ½ cup dill pickles or gherkins

sliced

2

TBSP

pumpkin seeds

4

TBSP

vegan mayonnaise*

1

tsp

Dijon mustard

¼

tsp

dried dill

pinch

of salt
Instructions
Placed the drained chickpeas in a large bowl and roughly mash with a potato masher.

Add all the remaining ingredients and stir through until fully combined. Taste test and adjust the seasoning to suit.

Stored in an airtight container in the fridge, this chickpea smash will keep for three days.
Notes
* I use this Home-Made Sweet Chilli Mayonnaise It's so cheap and easy to make! If you prefer to use a ready-made mayonnaise, both Vegenaise and Hellmans Vegan Mayo are now available in many of the major supermarkets in the UK, as well as the independent health food shops.
Pin for later ⬇️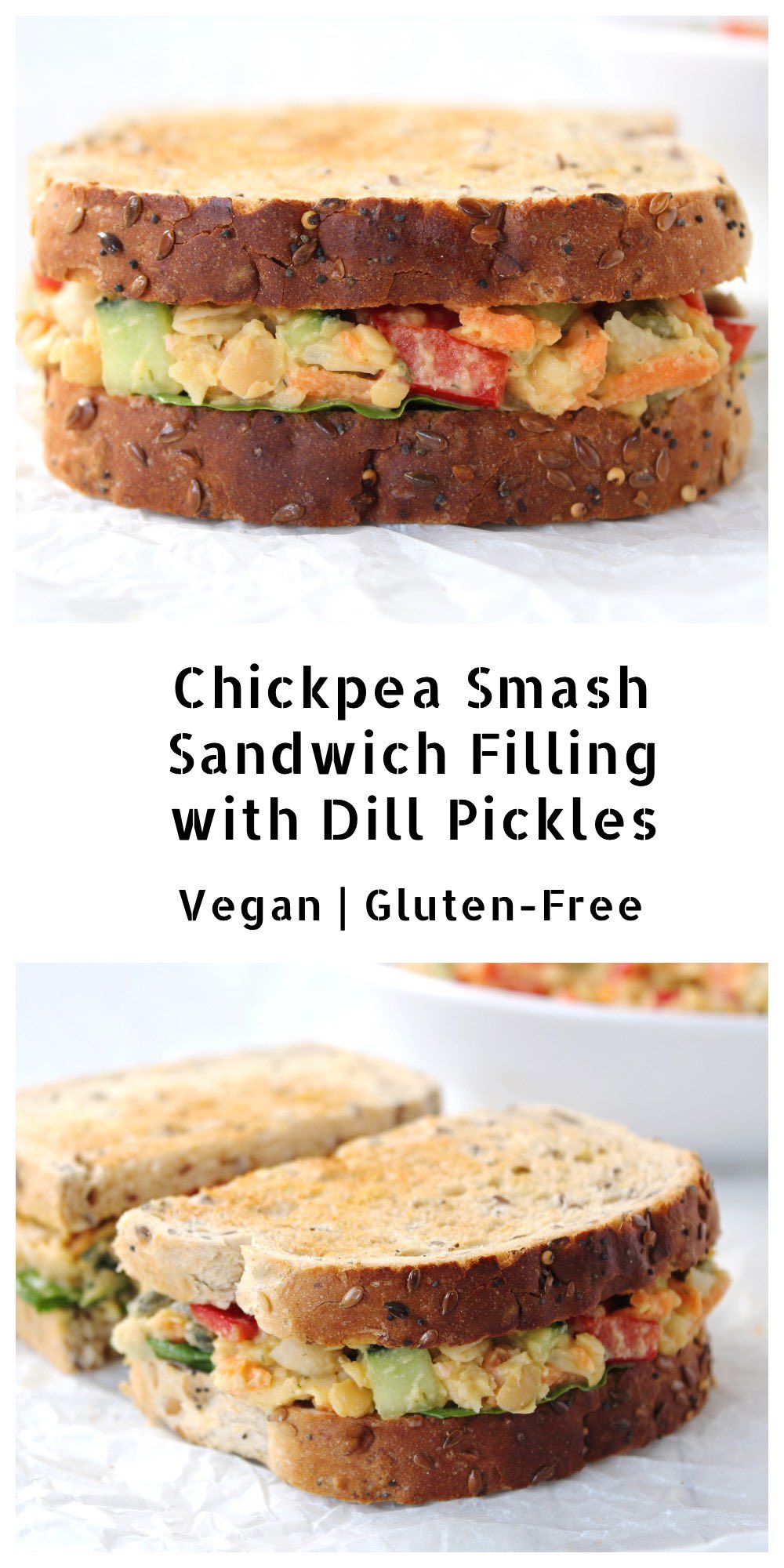 If you make this Chickpea Smash (or any other recipes on my blog), I'd love to hear your feedback and any suggestions for adaptations! Tag your photos with #bitofthegoodstuff on social media and they will find their way to me. You can also connect with me on my social media channels here:
Instagram, Twitter, Facebook, Pinterest.
With love,

——————————–
YOU MAY ALSO LIKE…