In today's post, I'm sharing a delicious pasta salad that my family has been loving lately. It's perfect for serving as a main meal on a warm summer's evening, but would also make a great addition to work or school lunchboxes. It's really easy to make and ready in 30 minutes or less.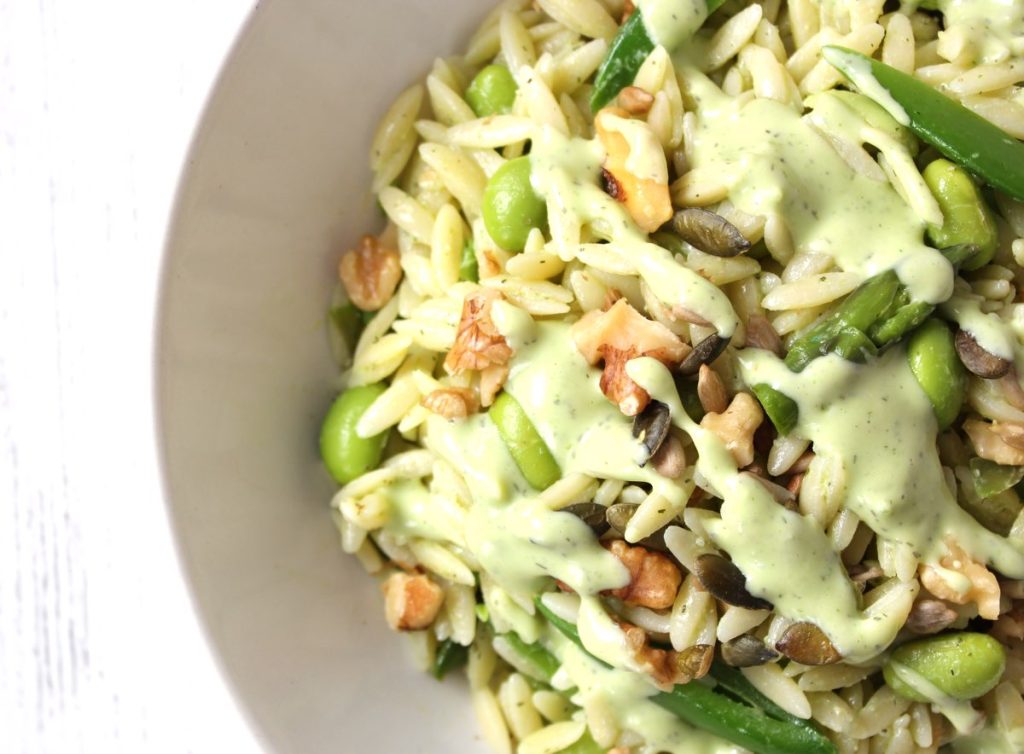 Orzo is the pasta of choice for this dish. In appearance, it looks like giant grains of rice! It feels much lighter than regular pastas, making it perfect for salads.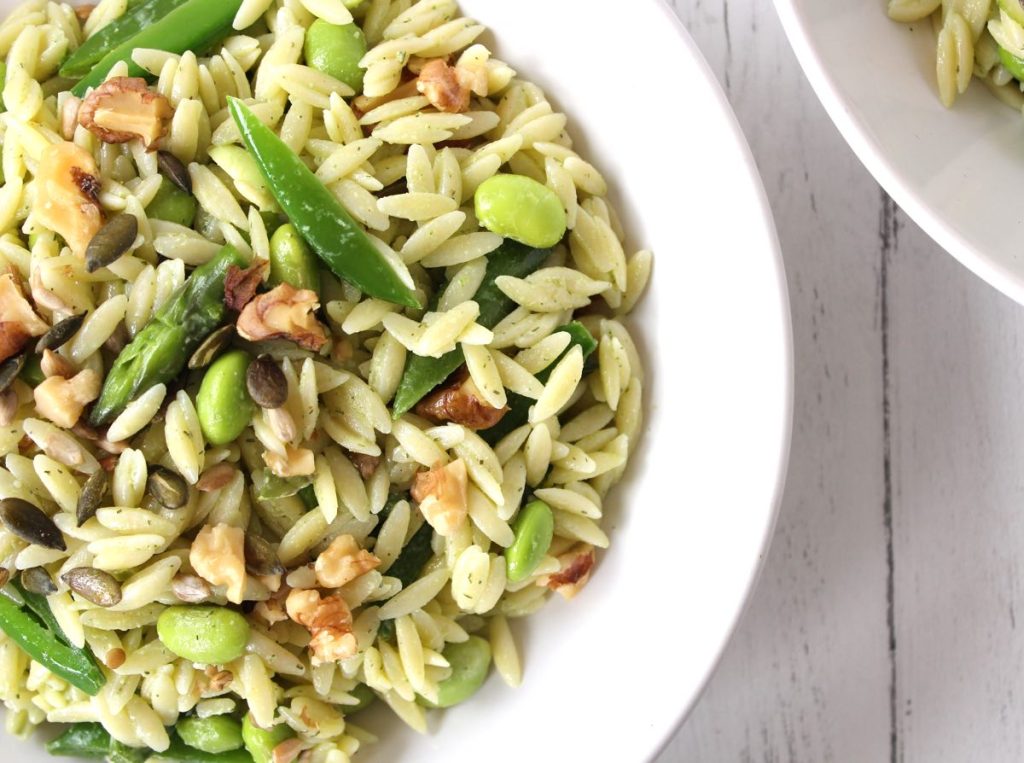 Asparagus spears, sugar snap peas, courgette and edamame beans give this dish a beautiful green hue and fresh taste. They are very lightly cooked or served raw, so that they retain their vibrant colours and nutrients.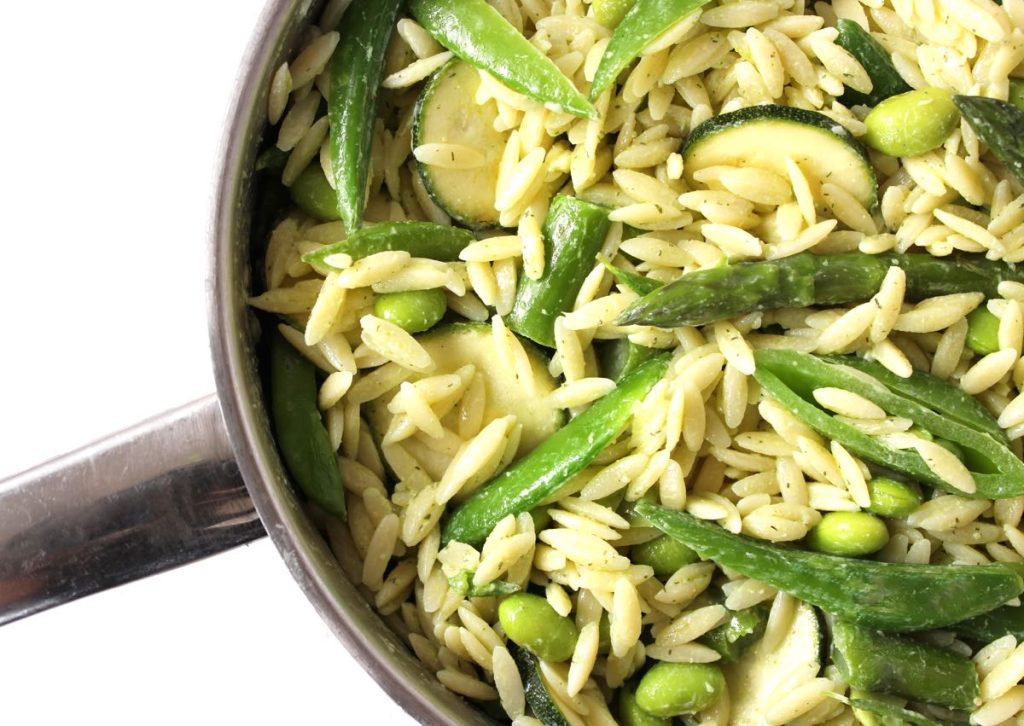 The pasta is coasted in a creamy, herby dressing that's made with non-dairy yogurt, extra virgin olive oil and fresh green herbs. Not only does it taste amazing on pasta, but it's also far healthier than traditional creamy salad dressings.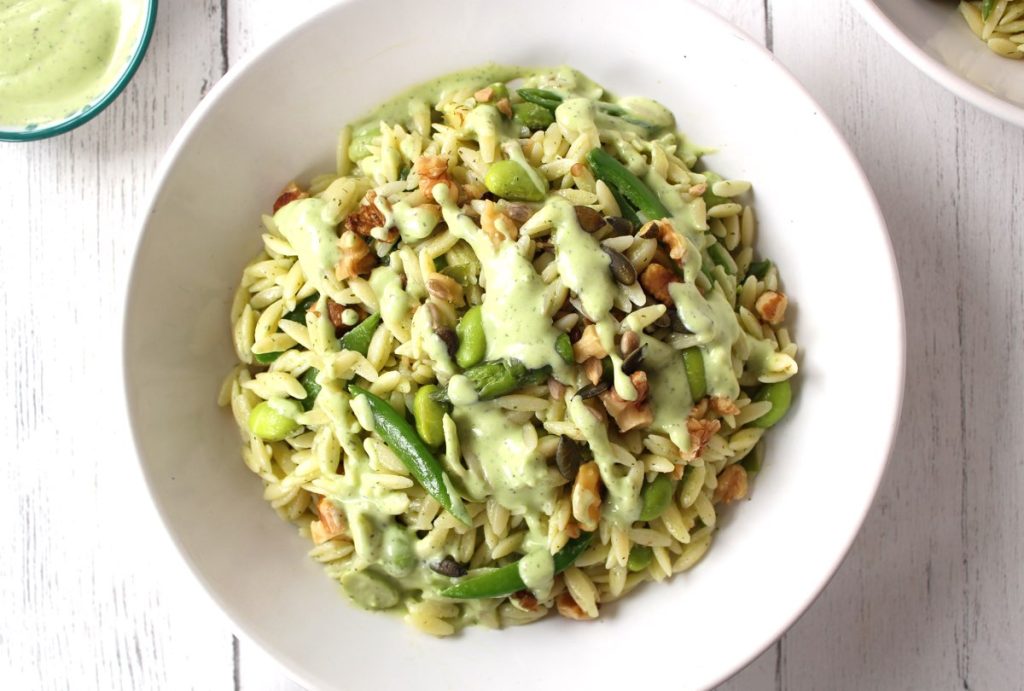 This pasta salad is packed full of nutritional goodness. It's a rich source of protein, dietary fibre, heart healthy fats, antioxidants and a whole array of vitamins (A, B, C, E, K) and minerals (including iron, magnesium, potassium, selenium and zinc). This is a meal that's going to leave you feeling energised and 'zinging' on the inside!!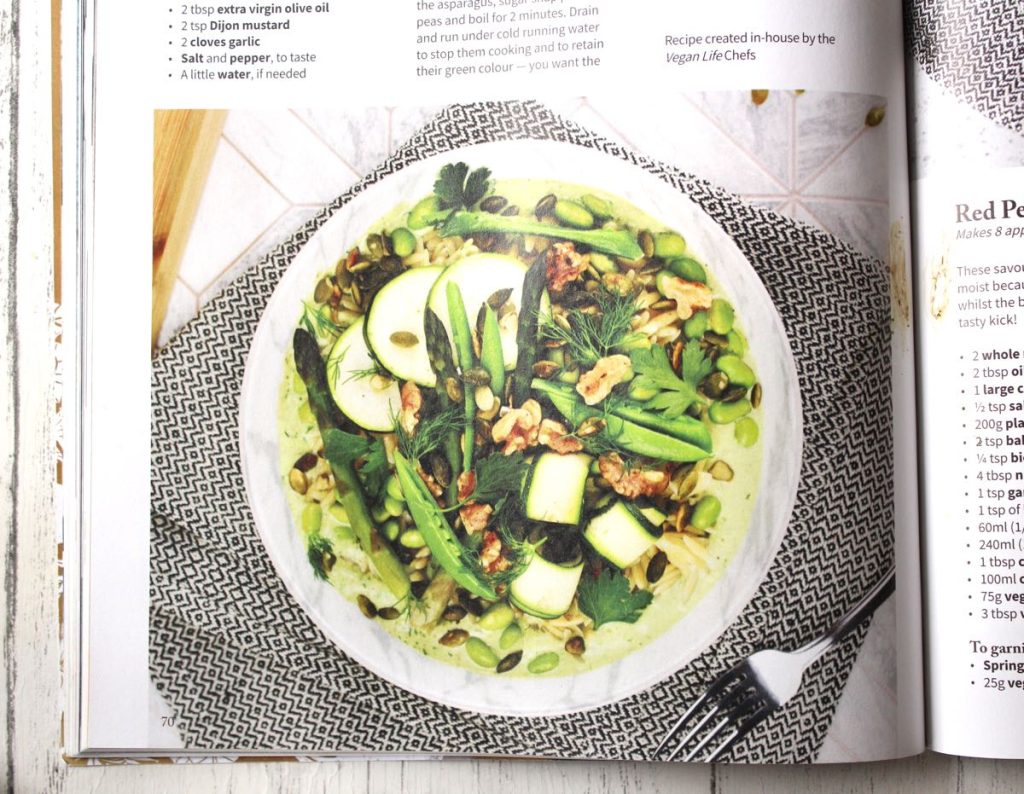 The inspiration for today's recipe was this month's Vegan Life magazine (the one with Joey Carbstrong on the front cover). I love how Vegan Life inspires to me to try new things and step out of my usual mealtime repertoire! This was the first time I had bought and cooked orzo pasta and I loved it! I'm already looking forward to trying it in more dishes.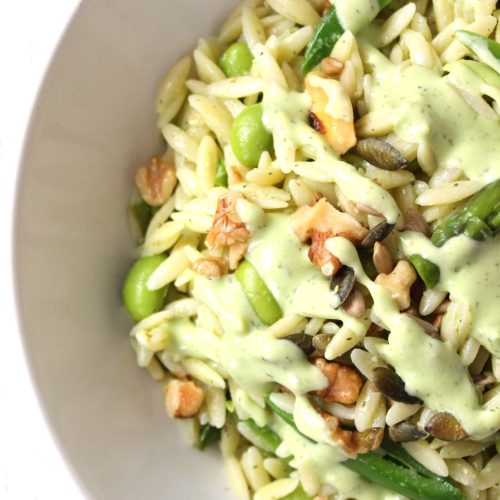 Green Orzo Pasta Salad with Creamy Herby Dressing
This delicious, creamy pasta salad is fresh, vibrant and packed full of nutritional goodness! It's perfect for serving in the summer months as a main meal or lunchtime option. It's really easy to make and comes together in 30 minutes or less.
Ingredients
400

g

/ 14 oz orzo pasta

200

g

/ 7 oz asparagus

trimmed* and chopped

150

g

/ 1½ cups sugar snap peas

trimmed

160

g

/ 1 cup edamame beans (I use frozen)

1

medium courgette (zucchini)

thinly sliced
For the creamy herby dressing:
250

g

/ 1 cup plain dairy-free yogurt (I used Alpro plain)

2

tbsp

extra virgin olive oil

1

tsp

Dijon mustard

small handful (about 5 g) basil leaves

small handful (about 5 g) flat leaf parsley leaves

½

tsp

dried dill

½

tsp

garlic granules

¼

tsp

salt
For garnish:
50

g

/ ½ cup toasted walnuts

2

TBSP

toasted sunflower seeds

2

TBSP

toasted pumpkin seeds

freshly ground black pepper, to taste
Instructions
Prepare two pans of boiling water. In one pan, cook the pasta until al dente (about 9 minutes). Drain and rinse the pasta under cold running water, then transfer it back to the pan.

In the second pan, boil the asparagus, sugar snap peas and edamame beans for a maximum of two minutes (until they are just tender). Drain and rinse under cold running water to stop them cooking and to help retain their vibrant colour. If you're feeling fancy, slice the sugar snap peas diagonally to expose the cute peas inside.

Place all the dressing ingredients in a blender or mini food processor and whizz until smooth. Taste test and adjust the seasoning to suit.

If the nuts and seeds aren't already toasted, place them in a dry frying pan (skillet) on medium heat and cook for a couple of minutes, stirring regularly until the walnuts become fragrant and the seeds start to brown or pop.

Add the vegetables and beans to the pasta pan. Pour three quarters of the dressing in and stir through to coat. Transfer to bowls and drizzle on the remaining dressing. Add a sprinkling of toasted nuts and seeds, some freshly ground black pepper and serve.

Any leftovers will keep in the fridge for three days. They make a great lunchbox option!
Notes
* To trim the asparagus, simply take the end of the asparagus between your thumb and forefinger and bend until it breaks. The asparagus will automatically break where the woody part ends and the fresh, juicy asparagus begins.
Recipe lightly adapted from the Green Orzo Pasta Salad in Vegan Life magazine, Issue 54
Pin for later ⬇️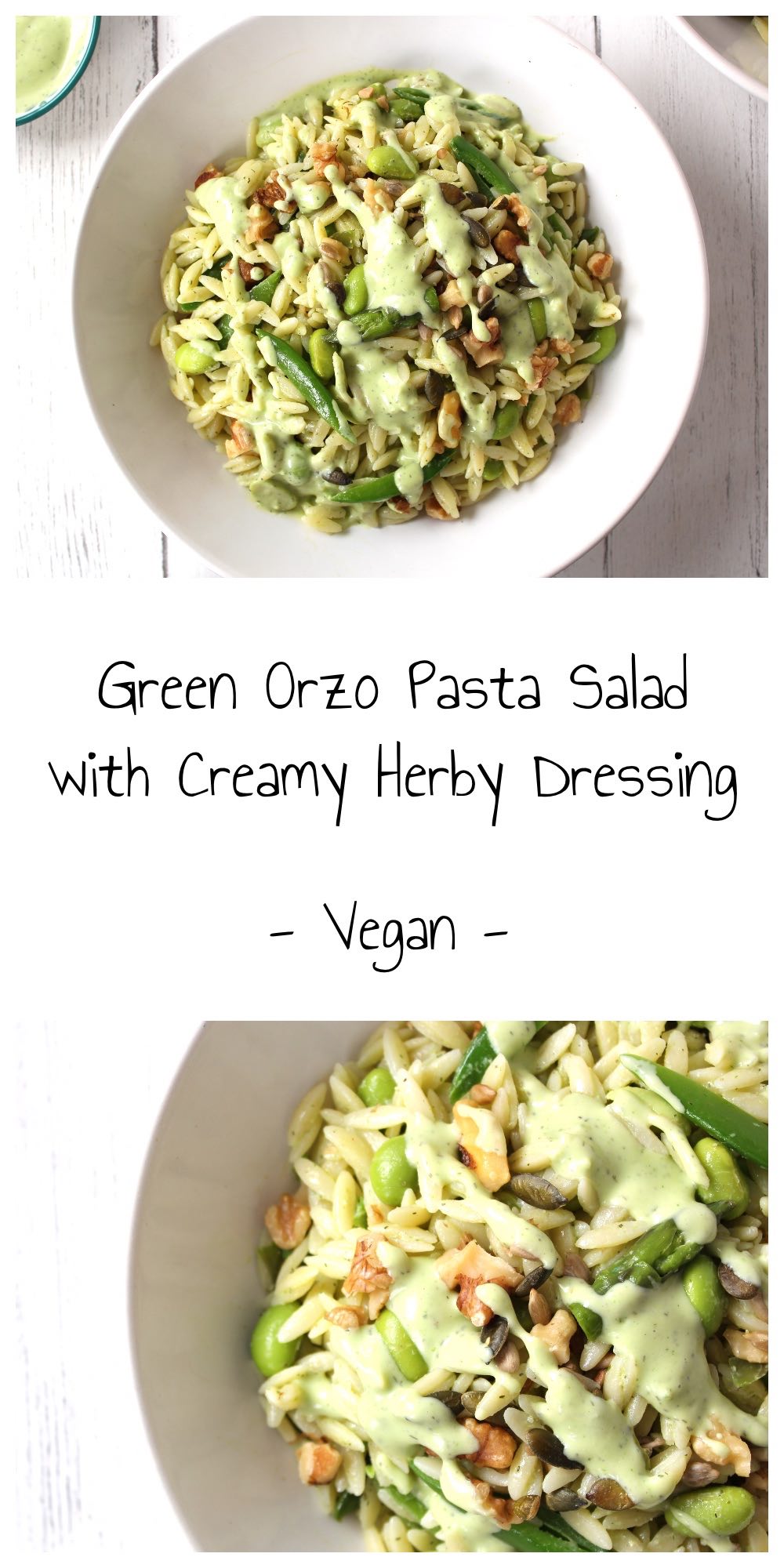 If you make this Green Orzo Pasta Salad (or any other recipes on my blog), I'd love to hear your feedback and any suggestions for adaptations! Tag your photos with #bitofthegoodstuff on social media and they will find their way to me. You can also connect with me on my social media channels here:
Instagram, Twitter, Facebook, Pinterest.   
With love,

———————————-
You may also like….