Each year, for my mum's birthday in May, I love to challenge myself to create a new vegan cake for her. This tradition started back in 2013, when I made my first ever vegan Lemon Drizzle Cake (and, to this day, that cake remains one of the most popular recipes on my blog!!) For this year's birthday, I decided to attempt a Coffee and Walnut Cake. It's an oldie but a goodie (and one of my personal favourites!)
And my mum's verdict?
She messaged me when I got home to say that this might be my best cake ever! 🤭
And coming from my mum, that is some accolade!!
My birthday was a couple of weeks after my mum's, so I decided to remake the cake and check the recipe notes that I'd quickly scribbled on a piece of paper. Rather than starting the recipe from scratch, I'd used my trusty Chocolate Celebration Cake as a starting point, then tweaked the ingredient ratios to compensate for the coffee. It worked a charm!
Since then, I've made the cake three more times for friend and family celebrations (checking the recipe each time!) It's received lots of positive feedback so I'm finally confident enough to share it on the blog.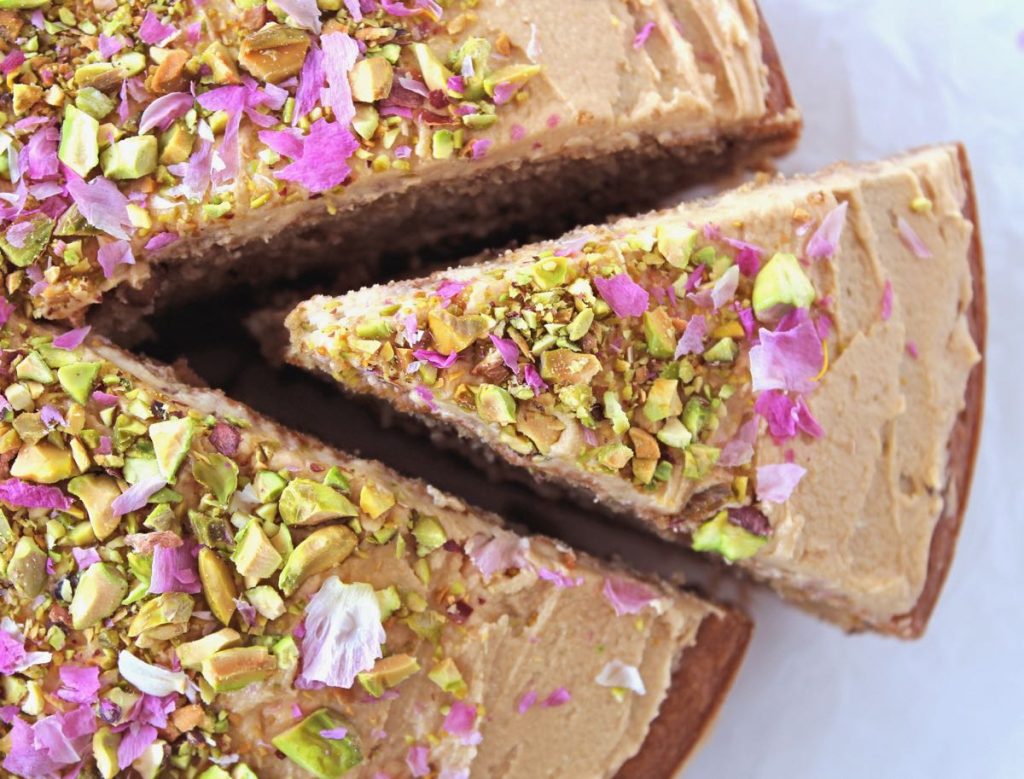 I'm not normally a fan of cake frosting, but the coffee frosting on this cake, I love! You can use any kind of instant coffee in the frosting. In the first five cakes I made, I used Beanies flavoured coffees which came in one of my The Vegan Kind Lifestyle Subscription Boxes. The Irish Cream, Creamy Caramel and Cookie Dough flavours were especially good, and made the frosting taste even more delicious!
More recently, I've been using Nescafe Gold Espresso, bought from Sainsbury's.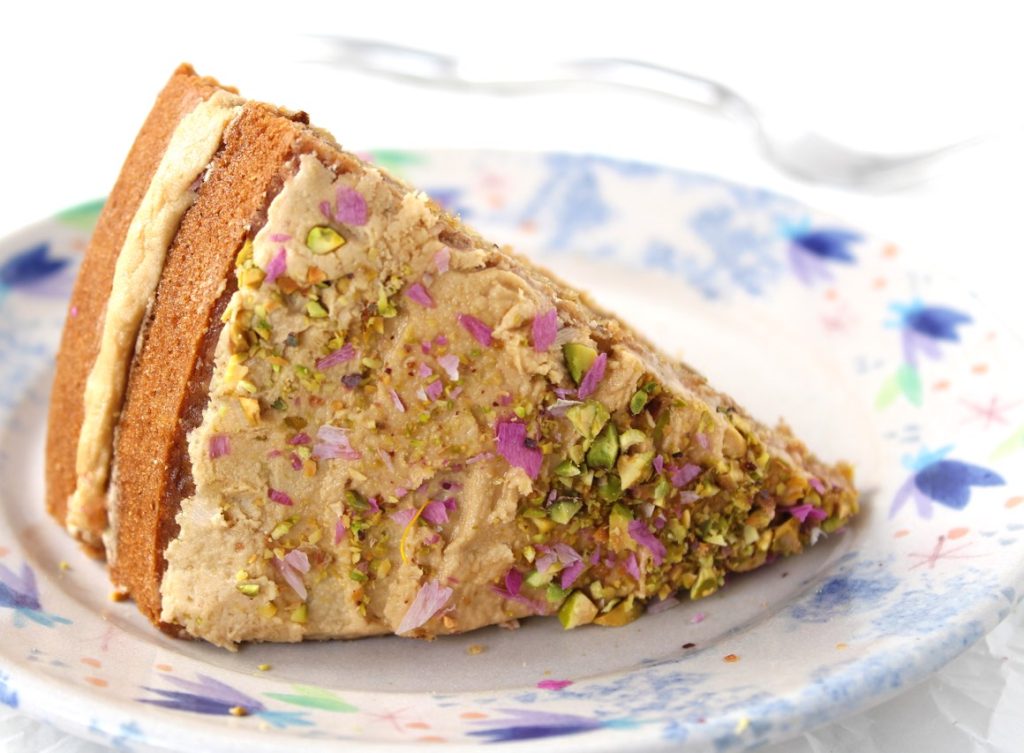 As a twist on traditional coffee and walnut cake, I decided to decorate mine with roasted pistachios and rose petals. The green and pink colours looked so pretty set against the backdrop of the coffee frosting
If you do have roses in your garden, it's a lovely touch to use them as decoration on your bakes. The petals you see in the photos in this post came from my friend's garden, so every time I see them it reminds me of her (which makes me smile a lot!)
It's really easy to dry petals for cake decoration. I'll pop the instructions in another blog post in case you'd like to give it a try yourself.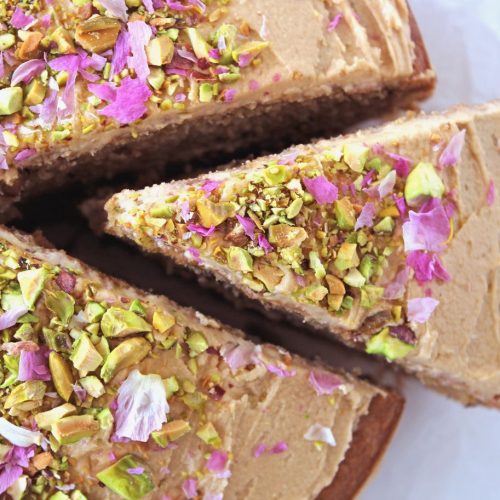 Vegan Coffee and Walnut Cake
This cake is just perfect for celebrations. It's one of my family's favourite birthday cakes! The frosting recipe detailed below is sufficient for a thin layer in the middle and the top of the cake (as shown in the picture). If you'd like a thicker frosting, I would recommend doubling the recipe.
Ingredients
420

ml

/ 1¾ cups soya milk

60

ml

/ ¼ cup very strong cold coffee*

2

tsp

apple cider vinegar

260

g

/ 2 cups plain (all purpose) flour

200

g

/ 1½ cups fine wholemeal (whole wheat) flour or chapatti flour

1

tsp

baking powder

1

tsp

bicarbonate soda (baking soda)

½

tsp

salt

140

ml

/ ⅔ cup rapeseed (canola) oil or other neutral-tasting oil

330

g

/ 1⅔ cups unrefined cane sugar

(I used golden caster sugar)

2

tsp

vanilla extract

110

g

/ 1 cup walnuts, finely chopped
Frosting
300

g

/ 2¼ cups icing (powdered) sugar

90

g

/ 6 TBSP dairy-free spread/vegan butter

1½

TBSP

very strong cold coffee**
Suggested toppings
50

g

/ ⅓ cup unsalted roasted pistachios

handful of dried rose petals, crushed
Instructions
Preheat the oven to 180C (160C fan) / 350F. Grease the sides of two 23cm / 9 inch loose-bottomed tins and line the bottoms with non-stick baking paper.

In a large mixing bowl, whisk together the milk, coffee and vinegar, then set to one side.

In a separate bowl, add the dry ingredients (plain flour, wholemeal flour, baking powder, bicarbonate of soda and salt) and stir to combine.

Add the oil, sugar and vanilla extract to the wet ingredient bowl, and whisk until fully combined (using a hand whisk). Sieve in a third of the dry ingredients and whisk to combine. Add another third and whisk to combine. Add the last third along with any remaining wheatgerm left in the sieve. Stir through to combine (but do not over stir).

Fold in the walnuts.

Divide the batter equally between the prepared tins. Place on racks as close to the centre of the oven as possible. Bake for 40-45 minutes, until a skewer inserted into the middle comes out clean and the the cakes are springy when lightly pressed. (In my oven, I find the cake on the higher rack is ready in 40 minutes, and the cake on the lower rack often needs an extra 5 minutes).

Leave the cakes in their tins for at least an hour (they will firm up as they cool), then transfer to a wire rack.

While they're cooling, prepare the frosting. Place the icing sugar, dairy-free spread/vegan butter and coffee in a mixing bowl. Stir with a metal spoon until it starts to combine, then beat with electric beaters (or a fork) until light and fluffy. If the frosting looks a little stiff, add a teaspoon of water and keep beating. Store the frosting in the fridge until needed.

Once the cakes are completely cooled, decorate with the frosting and assemble. Sprinkle on your toppings of choice and lightly press them into the frosting. Chill the cake before serving.

Stored in an airtight container, the cake will keep for about three days at room temperature, and up to a week in the fridge. It also freezes well.
Notes
I use 1 TBSP of instant coffee dissolved in 60ml / ¼ cup cold water
** I use 1½ tsp (2 g) dissolved in 1 TBSP water
Pin for later ⬇️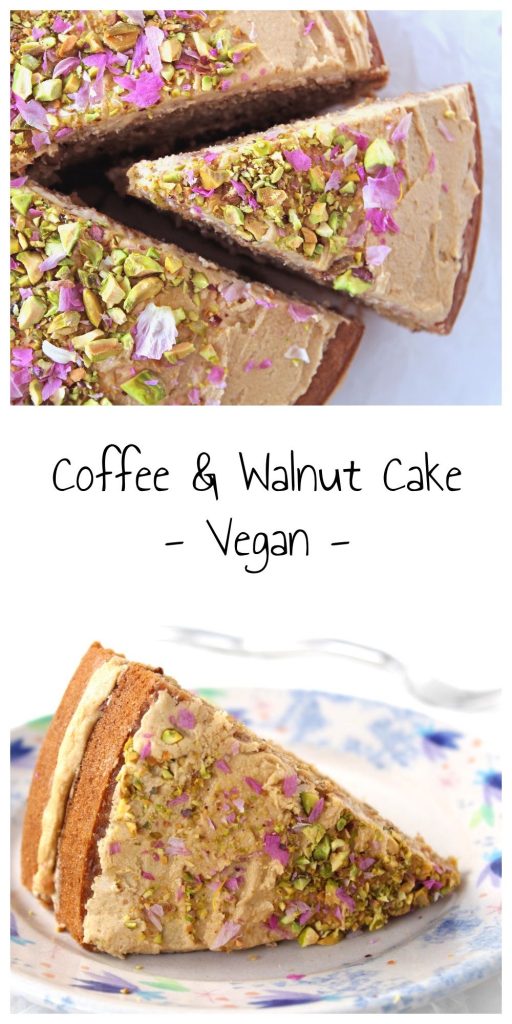 I'm really looking forward to seeing your remakes of this cake and how you choose to decorate it! 💜 Tag your photos with #bitofthegoodstuff on social media and they will find their way to me. You can also connect with me on my social media channels here:
Instagram, Twitter, Facebook, Pinterest.
With love,

——————————–
YOU MAY ALSO LIKE…
Vegan Carrot Cake with 'Cream Cheese' Frosting