Today I'm sharing a delicious pasta dish that has quickly become one of our new family favourites. It can be eaten warm or cold, so perfect for serving as a main meal or packing into lunchboxes. It contains a wonderful array of nutrients, textures and flavours. The tangy Balsamic glaze really makes those greens pop and sing!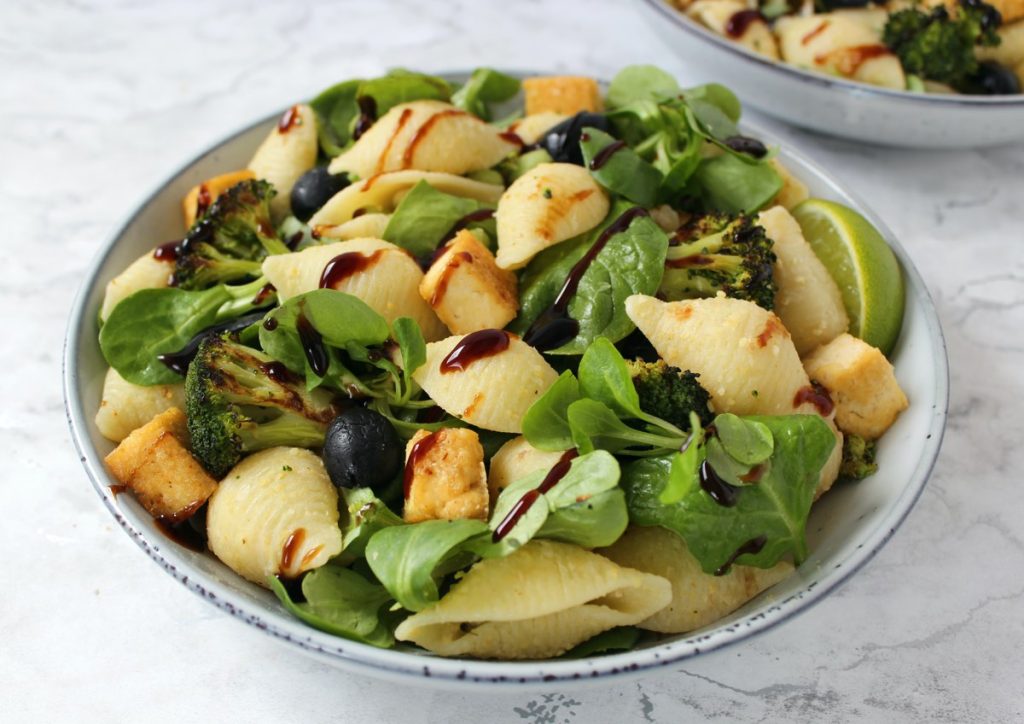 The inspiration for today's post was this beautiful photo that I spotted in April's Vegan Life magazine for a 'Green Pasta Salad with Tofu' by Michala Kramer. Doesn't it look amazing?
*Disclaimer: Vegan Life kindly sent me a complimentary copy of this magazine
For the green component of the dish I chose to use roasted broccoli (which I roasted from frozen – my favourite way to eat broccoli!), baby spinach and soya beans (aka edamame beans). These three greens are packed with nutrients and each brings its own unique flavours and textures to the dish.
The nutrient profile of broccoli always amazes me. It is such an incredibly nutrient dense plant! According to Cronometer, one cup of broccoli cooked from fresh (about 97g) contains…
✨ 105% of the recommended daily amount (RDA) of vitamin C
✨ 171% of the vitamin K RDA
✨ 30% of the vitamin A RDA
✨ 25% of the folate RDA
✨ 20% of the dietary fibre RDA
✨ only 55 calories!!!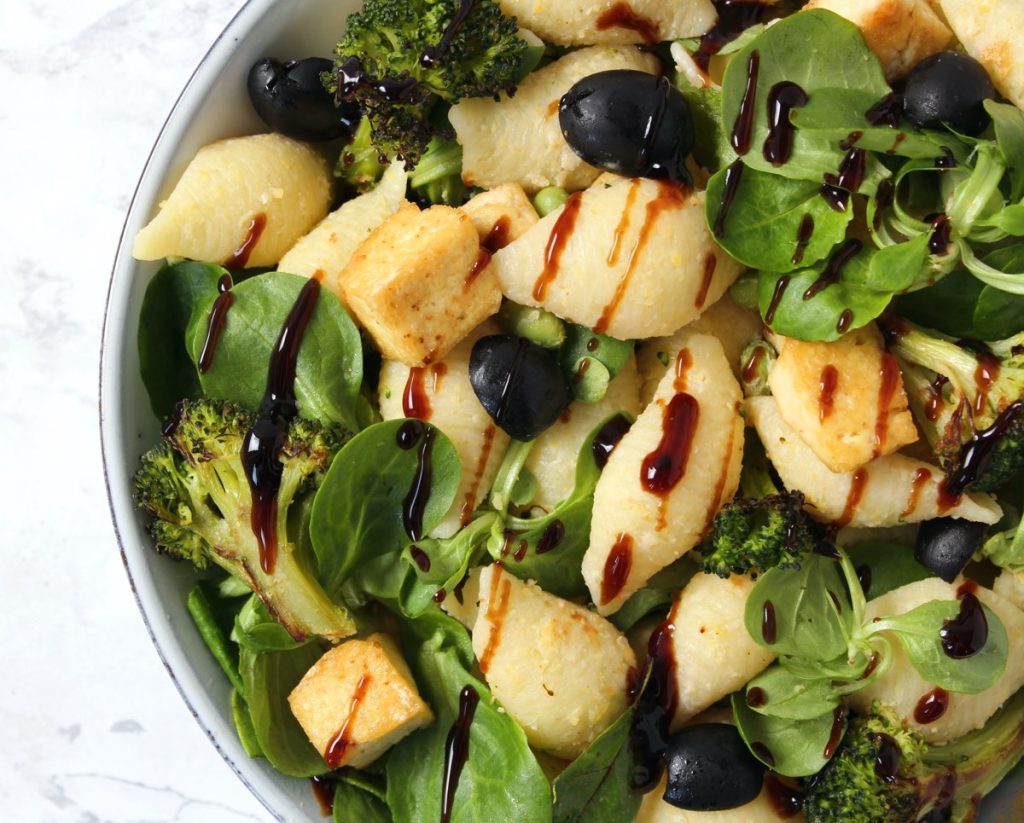 Inspired by the recipe in Vegan Life, I also added some black olives and pan-fried tofu to the dish, which added even more flavour and texture dimensions. (I love having lots of different textures in my meals!)
I also gave the pasta a light coating of extra virgin olive oil, which not only enhanced its flavour, but also helped to prevent the pasta from drying out. (My current favourite EVOO is Aldi's Kalamata Extra Virgin Olive Oil which tastes so good, and is a bargain at £2.99!)
The pasta salad is dressed with a generous drizzle of Balsamic glaze. This glaze is a flavour bomb that makes this dish 'pop and sing'. It is possible to make your own glaze but I cheat and buy it ready made. I'm currently loving Waitrose's Glaze with Balsamic Vinegar from Modena. The flavour is incredible!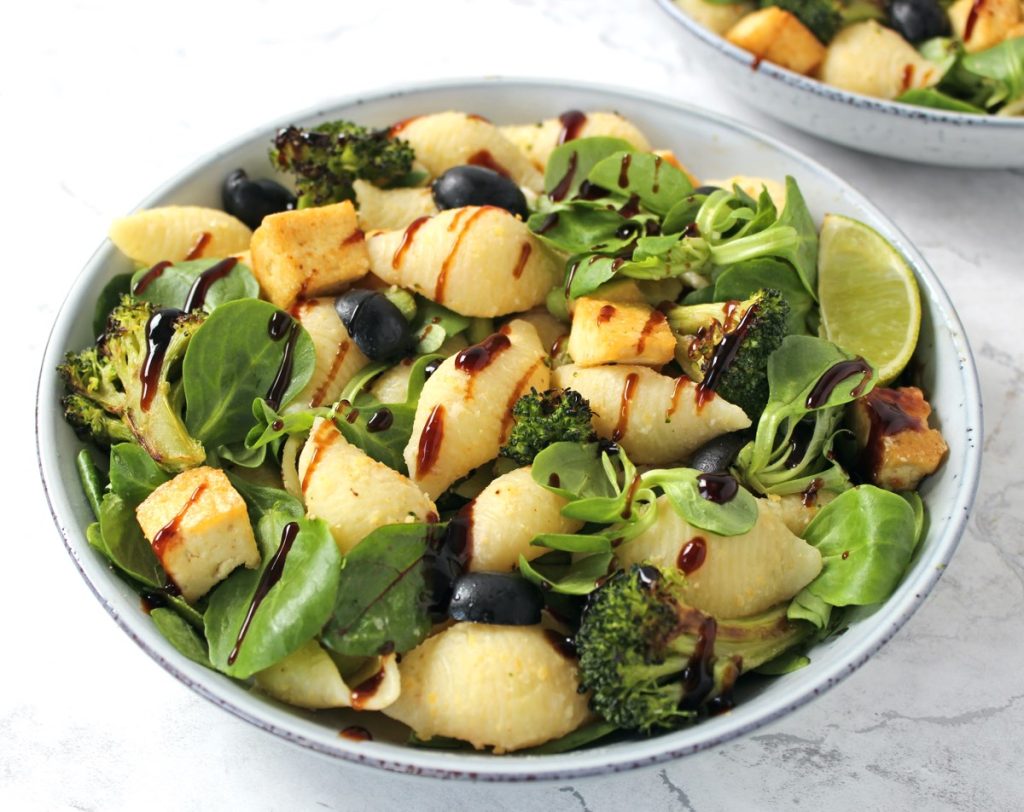 Not only is this dish a joy to eat, but it is packed full of nutritional goodness. It's rich in a whole array of minerals (especially iron, manganese, phosphorus, selenium, copper and calcium), antioxidants and vitamins A, C, E, K. It is high in fibre and protein, low in fat. This is the kind of pasta dish that leaves me 'zinging' on the inside. I hope you enjoy it as much as I do!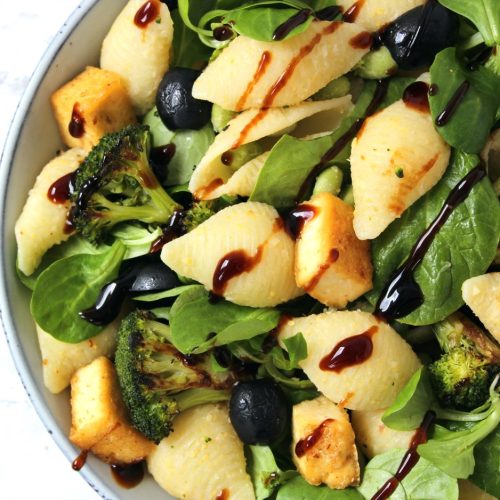 Super Greens Pasta Salad with Balsamic Glaze
This pasta salad can be eaten warm or cold, so perfect for serving as a main meal or packing into lunchboxes. I roast the broccoli (from frozen) as this is my favourite way to eat broccoli. Feel free to steam/boil/microwave the broccoli instead!
Ingredients
360

g

/ 12½ oz Conchiglie Rigate (pasta shells)

500

g

/ 5 cups frozen broccoli florets

1

TBSP

olive or organic rapeseed (canola) oil, plus extra for spraying

280

g

/ 10 oz extra firm tofu, cubed (and pressed, if needed)*

¼

tsp

garlic granules

¼

tsp

salt

130

g

/ 1 cup frozen soya beans (aka edamame beans)

16

black pitted olives, halved

1

TBSP

good quality extra virgin olive oil

30

g

/ 1 cup baby spinach leaves (or mixed green salad leaves)
Toppings
2

TBSP

Nutritional yeast**

4

TBSP

Balsamic glaze***
Instructions
Preheat the oven to 210C (190C fan) / 410F.

Arrange the frozen broccoli florets in a roasting pan. Place in the centre of the oven for 10 minutes, or until the broccoli has thawed. Tip the broccoli into a colander and drain over the sink. Slice any extra large pieces of broccoli in half. Return the broccoli to the roasting pan, spritz with an oil spray and stir through. Add a light sprinkling of salt then roast for a further 10-15 minutes, until the broccoli has browned round the edges.

Meanwhile, cook the pasta according to the instructions on the packet. 3 minutes before the pasta is ready, add the soya beans to the pan and bring back to the boil. Once the pasta and beans are cooked, drain and return them to the pan. Add 1 TBSP extra virgin olive oil and stir through. Set to one side.

In a large frying pan (skillet) heat the olive/rapeseed oil on medium heat. Add the tofu cubes and quickly toss them to coat in the oil. Sprinkle on the garlic granules and salt. Leave to cook for 3 minutes, or until the underside is golden brown then flip the cubes. Continue cooking until the tofu is golden brown on most sides.

Add the tofu cubes, olives, spinach and roasted broccoli to the pasta, and stir through. Divide between four bowls. Add a sprinkling of nutritional yeast and drizzle of balsamic glaze before serving. Any leftovers can be stored in an airtight container in the fridge for up to three days.
N.B. The above values are estimates. The actual nutritional values will vary depending on the brands and ingredients used.
Pin for later ⬇️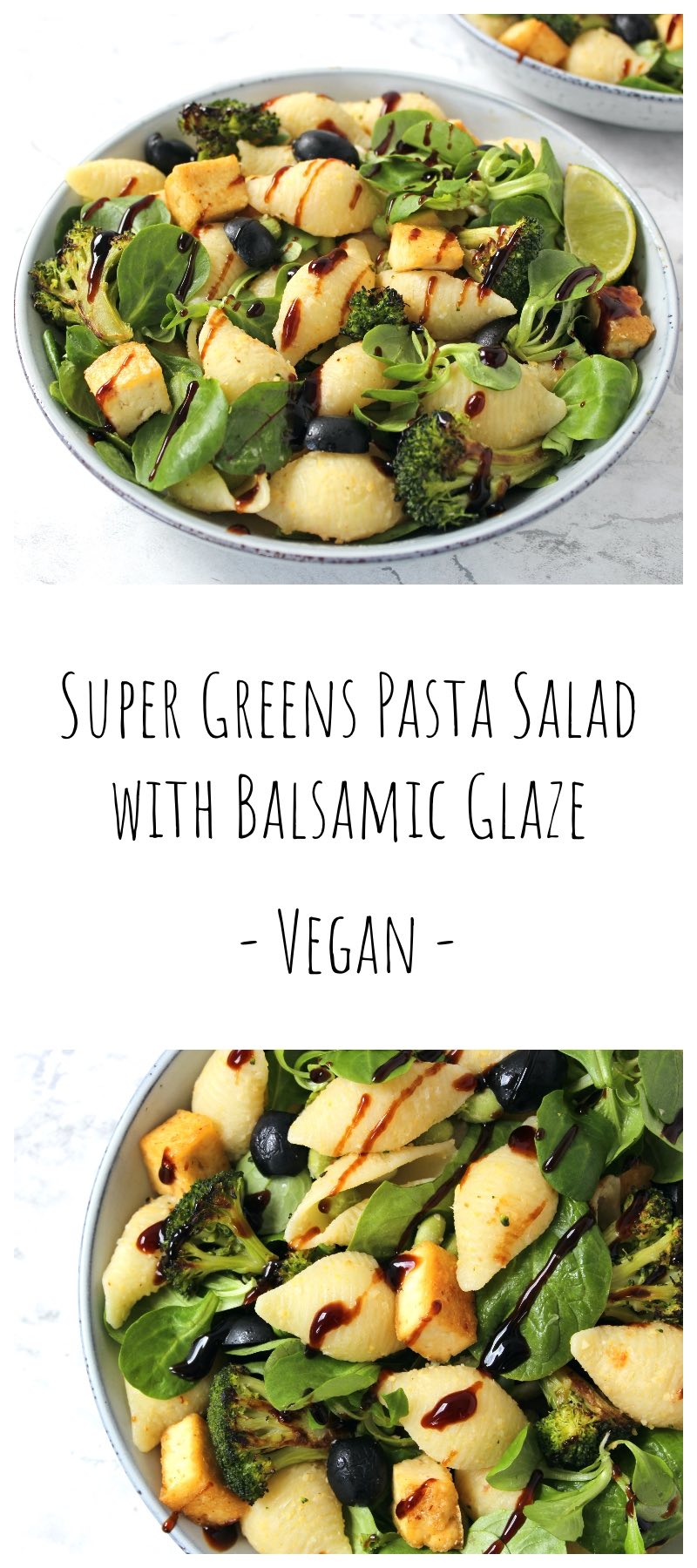 If you try this Super Greens Pasta Salad (or any other recipes on our blog), I'd love to hear your feedback and any suggestions for adaptations! Tag your photos with #bitofthegoodstuff on social media and they'll find their way to me. You can also connect with me on my social media channels here: Instagram, Twitter, Facebook, Pinterest.
With love,