Today I'm sharing a delicious plant-based alternative to scrambled egg on toast. Quick and easy to prepare, this recipe makes a great savoury breakfast or lunch option. Inspired by my friend Raj, I love to flavour my scrambled tofu 'egg' with a sprinkling of ground turmeric and garam masala spices which gives it a beautiful Indian flavour and golden hue. I've been making this Indian-style scramble for a couple of years now and it still remains my number one favourite tofu scramble. It's been a big hit with my family too. I hope you enjoy it as much as we do!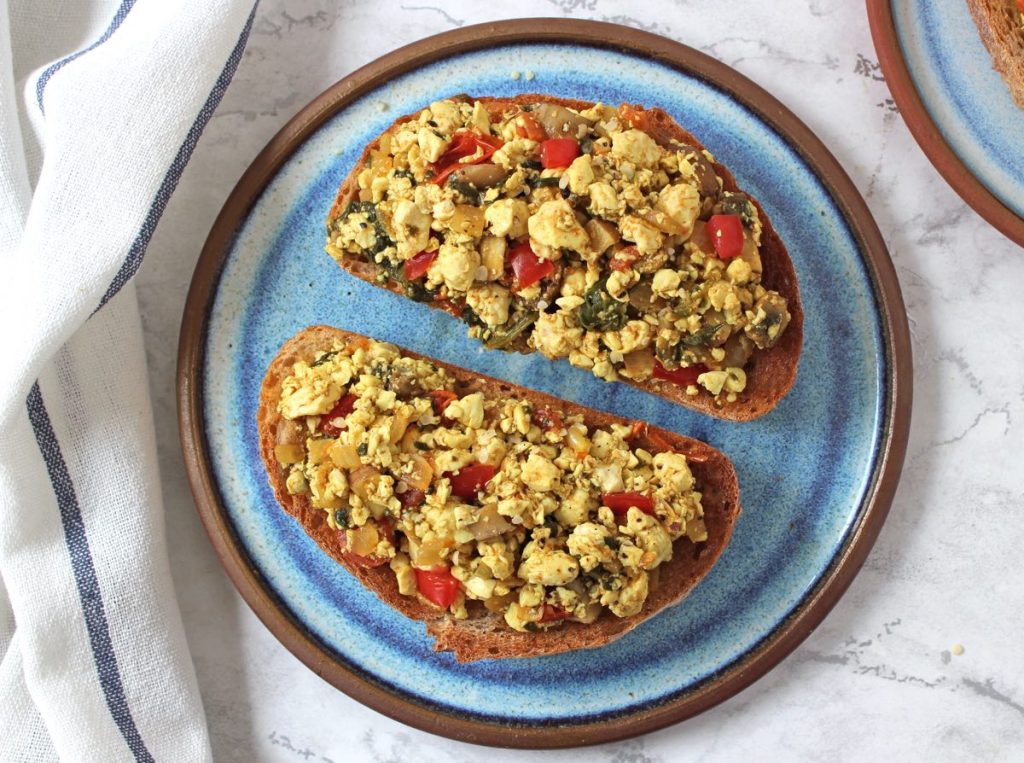 The inspiration for today's post was this photo I spotted in Issue 72 of the Vegan Life magazine for Scrambled Tofu with Kimchi Hot Sauce, Avocado & Hemp Seeds. This recipe, created by the lovely Katie White of Olive Wood Vegan reminded me of how much I enjoy using silken tofu as a scrambled egg substitute. I searched my blog and realised that I'd never got round to posting my favourite silken tofu scramble recipe, so it was high time that I put that right!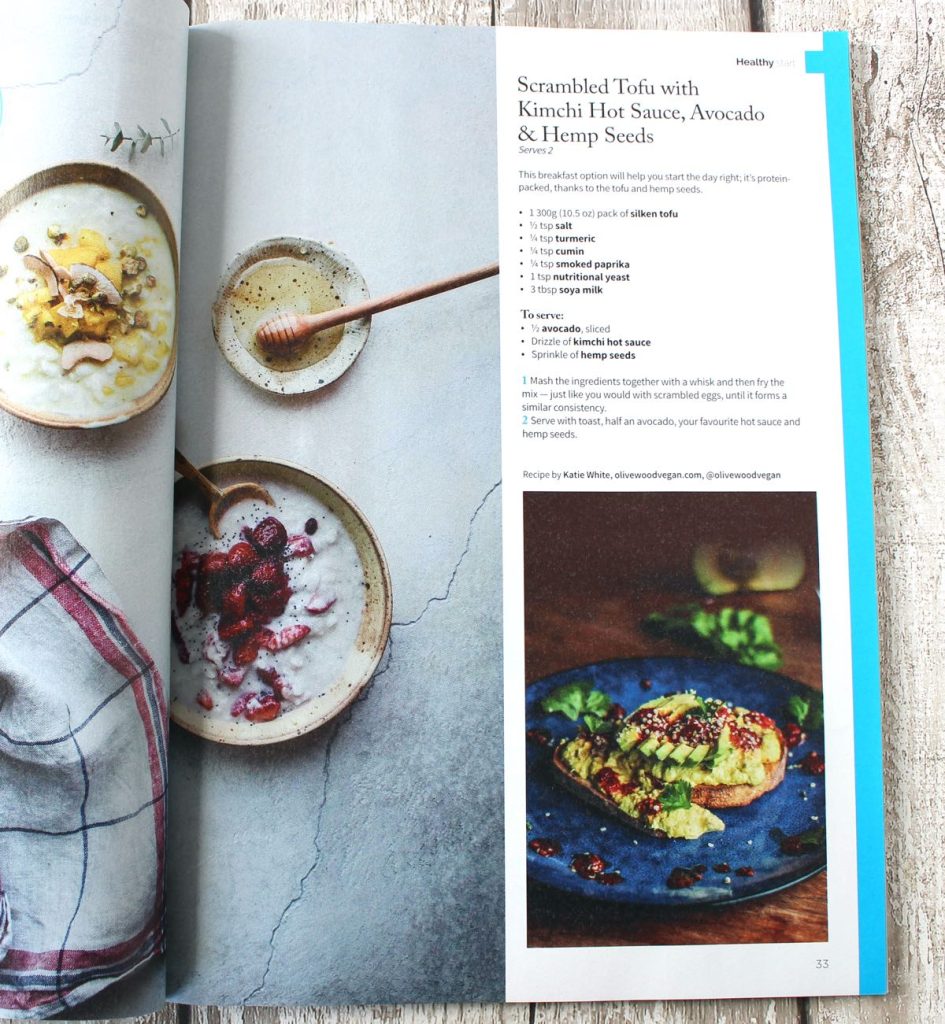 *Disclaimer: Vegan Life kindly sent me a complimentary copy of this magazine
When I first went plant-based in 2011, I used to always use 'regular' tofu in my scrambles (the one that you find in the chiller cabinets) and I've published a couple of recipes for these types of scrambles on the blog (Mediterranean Tofu Scramble Vegan All Day English Breakfast) as well as one in my Cookbook. Some people love using this kind of tofu in their scrambles but I've since discovered it's the soft, smooth, silky texture of Japanese silken tofu that really hits the spot for me.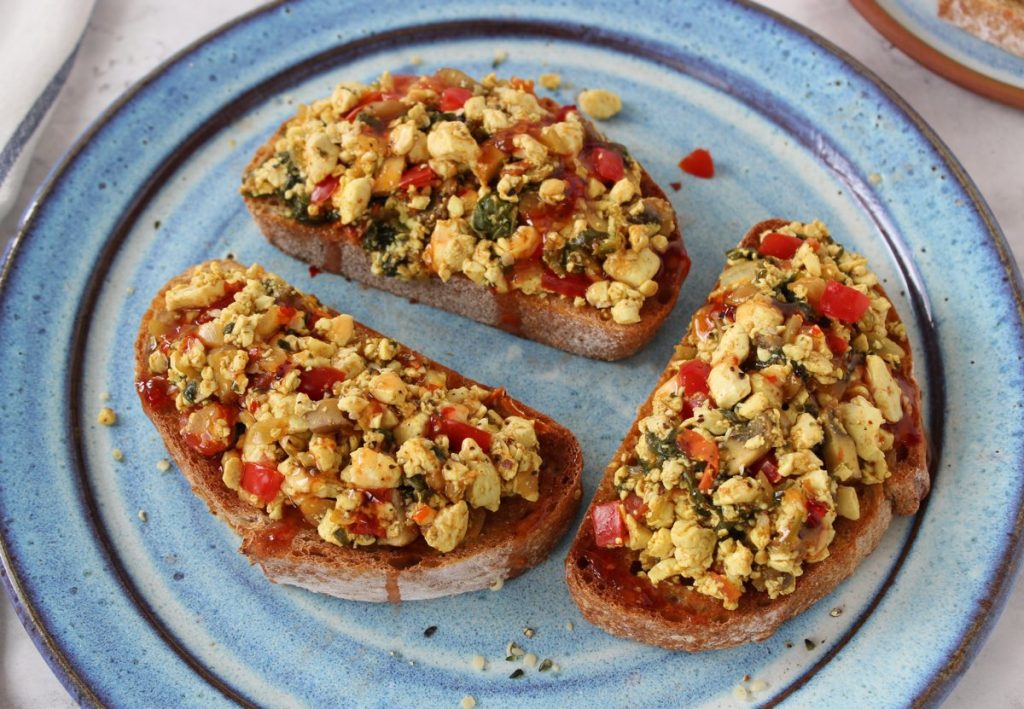 You'll find silken tofu on the world food aisles of larger supermarkets and in Asian supermarkets. It is usually packed in tetra pack cartons. My 'go to' brand is Clearspring Organic Japanese Tofu which is available from Waitrose and Marks & Spencer, as well as health food shops.
Silken tofu makes a wonderful cruelty-free substitute for eggs (click here to found out more about the British egg industry). Silken tofu also has a great nutritional profile. It is a good source of protein, low in fat and contains a wide array of minerals. Unlike eggs which are high in dietary cholesterol, tofu contains zero cholesterol.
The role of dietary cholesterol in increased risk of cardiovascular disease and mortality has been a subject of much debate in the past couple of decades and was brought back into the spotlight again in 2019, when the results of a large-scale study involving almost 30,000 participants were published in the Journal of the American Medical Association (JAMA). This study observed the health of the participants for an average of 17.5 years and discovered that for each half an egg consumed per day, people had a 6% higher risk of developing cardiovascular disease, and an 8% higher risk of death. For each additional 300 mg of cholesterol consumed per day (from eggs, meat and high-fat dairy products), participants had a 17% higher risk of developing cardiovascular disease, and an 18% higher risk of death. The researchers recommended that their findings be considered in future updates of dietary guidelines.
| | Silken Tofu (150g) | Eggs (150g) |
| --- | --- | --- |
| Calories | 124 kcal | 233 kcal |
| Protein | 14 g | 19 g |
| Carbohydrates | 5 g | 2 g |
| Fat | 5 g | 16 g |
| Saturated Fat | 0.8 g | 5 g |
| Cholesterol | 0 mg | 560 mg |
Date source: Cronometer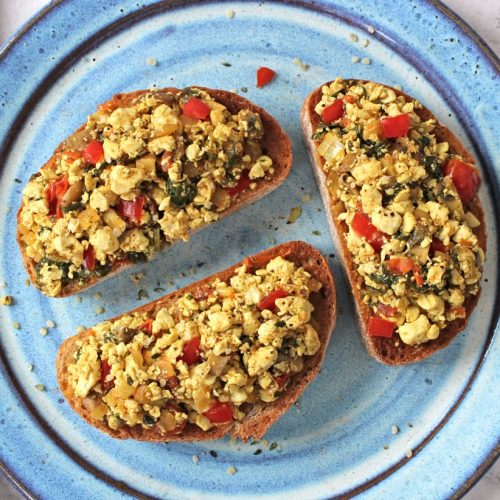 Indian-Style Scrambled Tofu 'Egg' on Toast
Scrambled silken tofu makes a great plant-based alternative to scrambled egg. In this recipe, I have used a sprinkling of ground turmeric and garam masala to give it a delicious Indian-inspired flavour.
While you can make scrambled tofu simply by pan frying the tofu with some spices, I also love to add some veggies for extra flavour and texture dimensions, as well as extra nutrients! I've included my favourite veggies in the recipe below, but feel free to add your own.
Ingredients
½

TBSP

olive oil

1

small brown onion

finely diced

4

medium chestnut mushrooms

diced

½

medium red bell pepper*

diced

¼

tsp

ground turmeric

1

package of silken tofu (about 300g)

drained

½

tsp

garam masala

¼

tsp

black salt (for an 'eggy' taste)**

2

TBSP

finely chopped coriander leaves (or use parsley or baby spinach leaves)

drizzle of sriracha or sweet chilli sauce (optional)
Instructions
Carefully place the silken tofu in a fine mesh sieve lined with kitchen paper or a clean tea towel. Leave over the sink or a bowl to drain.

Meanwhile, in a frying pan (skillet), saute the onion in a little olive oil until it starts to soften. Add the mushrooms and continue cooking until they start to brown, stirring regularly. Stir in the the red pepper and ground turmeric and continue cooking for a minute or so.

Add the drained tofu to the pan and mash with the a wooden spoon to scramble it. Sprinkle in the garam masala and black salt and stir through.

Continue cooking for a couple of minutes until the liquid has cooked off, stirring regularly. Taste test and add a touch more garam masala or salt, if desired.

Serve on warm toast. Any leftovers can be stored in the fridge for a couple of days.
Notes
* or you could use some fresh chilli pepper if you would like to add some heat!
** I buy my black salt (aka kala namak) from Amazon. It's really cheap and lasts a long time!
Pin for later ⬇️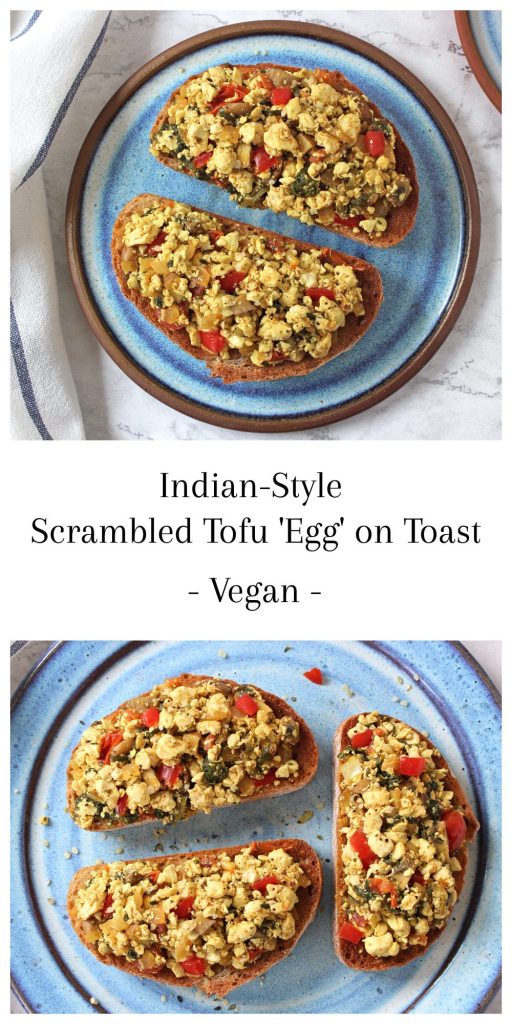 If you try this Indian-Style Scrambled Tofu (or any other recipes on our blog), I'd love to hear your feedback and any suggestions for adaptations! Tag your photos with #bitofthegoodstuff on social media and they'll find their way to me. You can also connect with me on my social media channels here: Instagram, Twitter, Facebook, Pinterest.
With love,

---
More of my favourite plant-based egg alternatives…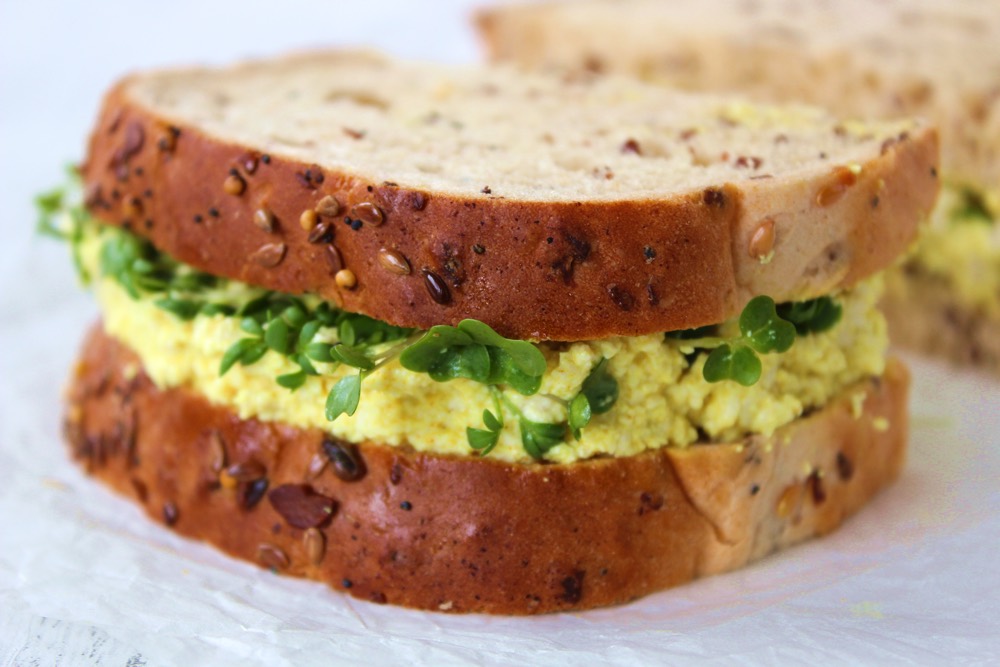 Vegan Spanish Omelette (Tortilla de Patatas)