With Easter fast approaching, we have officially entered hot cross bun season. I adore these sweet, fruity, spiced buns. How about you? Are you a fan?
While the supermarket shelves are laden with hot cross buns this time of year, I prefer to bake my own. That way, I get to make them dairy free, cut back on the sugar and fat content, and pack them with fruits and spice. 🙂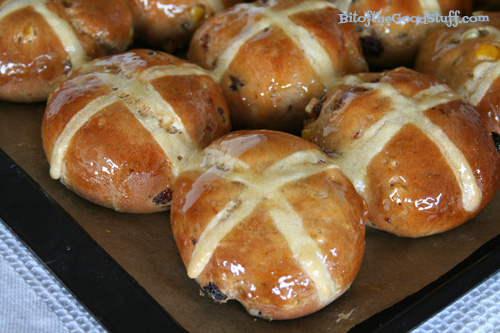 Baking your own hot cross buns is not as difficult as you may think. While it seems like a long process, it only takes around 30 minutes hands on time. For the majority of the time the dough is resting!
As an added bonus, if you make your own, you will be rewarded with the most amazing scent of freshly baked buns with hints of fruit and cinnamon spice wafting through the house. Believe me, it is so good!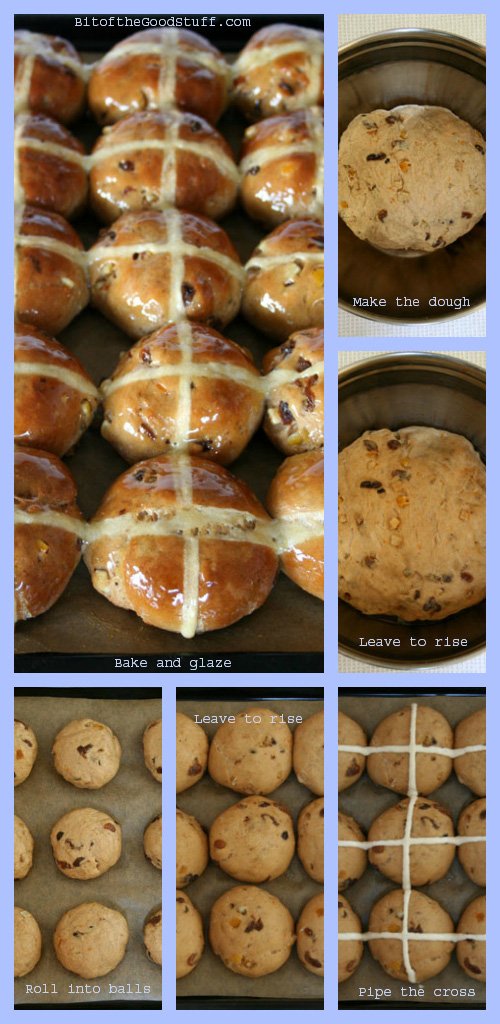 While hot cross buns are normally made with strong bread flour, I prefer to use plain (all purpose), which gives a more tender texture.
Here's how I make the Hot Cross Buns…
[print_this]
Hands on time: 30 minutes    Resting time: 1¾ hours
Cooking time: 20 minutes
Makes 15 medium or 12 large buns
Ingredients
Dough
250ml / 9 oz / 1 cup soya milk (or other non dairy milk)
1 tsp fast action / easy bake yeast
2 tbsp sugar
2 tbsp neutral flavoured vegetable oil, such as rapeseed (canola)
500g / 17½ oz / 3½ cups plain (all purpose) flour
1 tsp salt
4 tsp mixed spice
100g / 3½ oz / ½ packed cup sultanas or raisins
100g / 3½ oz / ½ cup Italian mixed peel
Finely grated zest of 1 organic/unwaxed orange
85ml / 3 fl oz / ¼ cup freshly squeezed orange juice (or other fruit juice)
Crosses
3 tbsp plain (all purpose) flour
2 tbsp water
Glaze
2 tbsp sugar
2 tbsp freshly squeezed orange juice (or other fruit juice)
Method
Gently heat the milk until it is lukewarm.  Remove from the heat and whisk in the yeast and sugar.  After a couple of minutes the yeast will start to froth.
In a large bowl, mix together the flour, salt, spices.  Stir in the sultanas, citrus peel and orange zest.  Make a well in the centre of the dry ingredients and stir in the oil, yeast milk mixture, and orange juice.  Bring together the ingredients using your hands.  The dough should be soft and sticky.  Depending on the type of flour used, you may need to add a little more liquid.
Turn out the dough onto a lightly floured surface and knead for 5 minutes or so, until the dough is smooth.  Place the dough in an oiled bowl, cover with a damp tea towel or oiled cling film (plastic wrap) and leave in a warm place for an hour or so until it has doubled in size.  If your house is cool (like ours), cover with oiled foil and place in the oven at 40C / 100F for an hour.
When the dough has risen, knead for a further 10 minutes then divide into 12 or 15 equal size balls.  To ensure that the buns are exactly the same size and bake evenly, I weigh the dough.  My dough tends to weigh about 1.125kg, so I tear off 75g for medium size buns.  Roll the dough into smooth balls and evenly space out on a large baking tray (28 x 40cm / 10 x 15") lined with non stick baking paper.  Cover with the damp tea towel, oiled cling film (plastic wrap) or foil and leave in a warm place for 45 minutes or so, until they have risen.
Heat the oven to 200C (190C fan) / 400F.
To make the crosses, mix 3 tbsp plain (all purpose) flour with 2 tbsp water to form a thick paste.  Spoon into an icing bag with a thin nozzle (or a plastic freezer bag and snip the corner).  Slowly pipe along each row of buns, then repeat in the other direction.  Place in the oven and bake for 20 minutes on the middle shelf, until golden brown.
To make the glaze, gently boil the sugar and fruit juice in a small pan for about 5 minutes until it starts to thicken into a syrup.  Brush over the buns while they're still hot.  Allow to set before serving. These buns are most delicious served warm or toasted.
The buns will last 2-3 days in an airtight container.  They also freeze well.  I tend to slice them in half before I freeze them so that they can be toasted without the need to defrost first.
[/print_this]
UPDATE EASTER 2017
It's been three years since I posted this recipe and it's great to hear that people are still finding it useful! I've loved seeing all the pics you've been sharing on social media, so thank you so much for tagging me! Check out these beauties, that @jameesarah shared on Instagram (you can check out Jamee's feedback in the comments section below this post).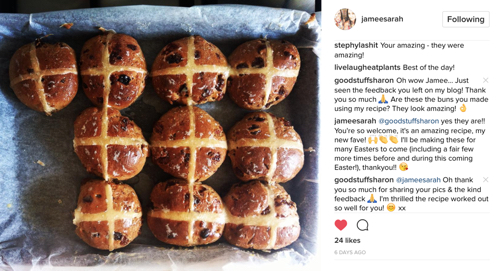 MORE READER REMAKES ❤️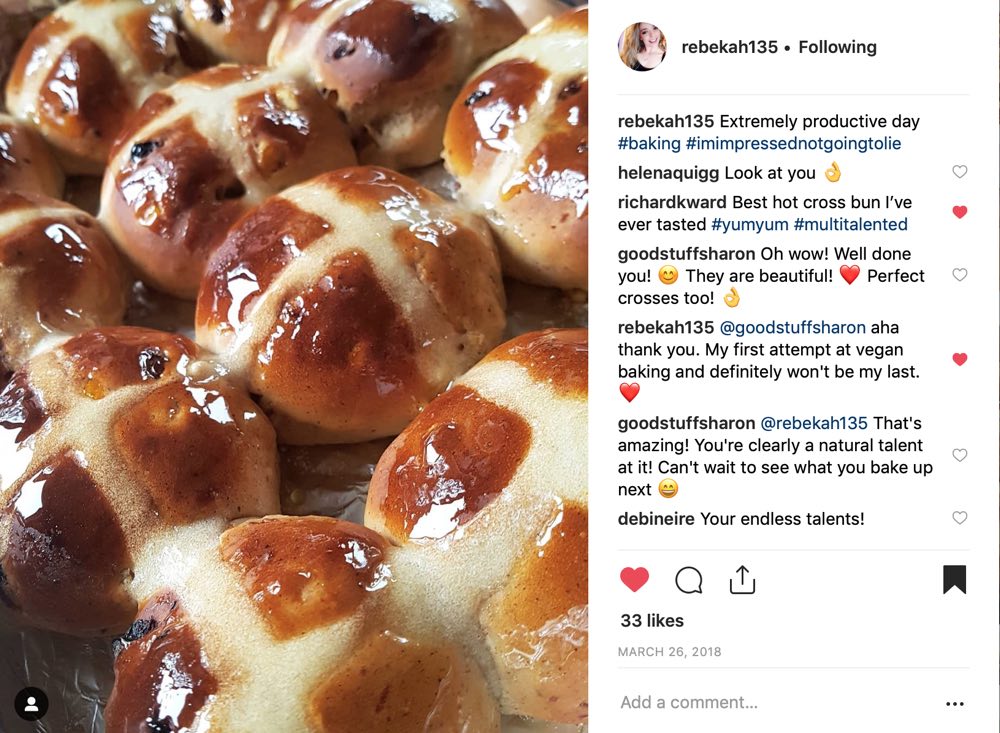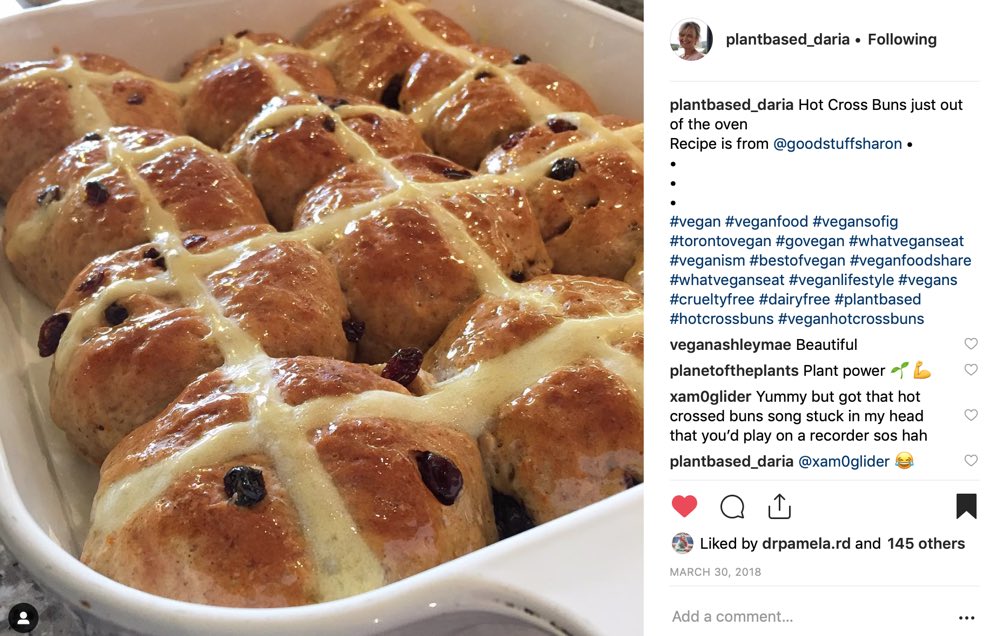 Back in 2013 when I shared this recipe, it was really difficult to find vegan hot cross buns in UK supermarkets, so I made them myself. Here we are in 2017, and vegan-friendly hot cross buns are available in practically every UK supermarket! Times sure are changing! 🙌🏻
You might also like…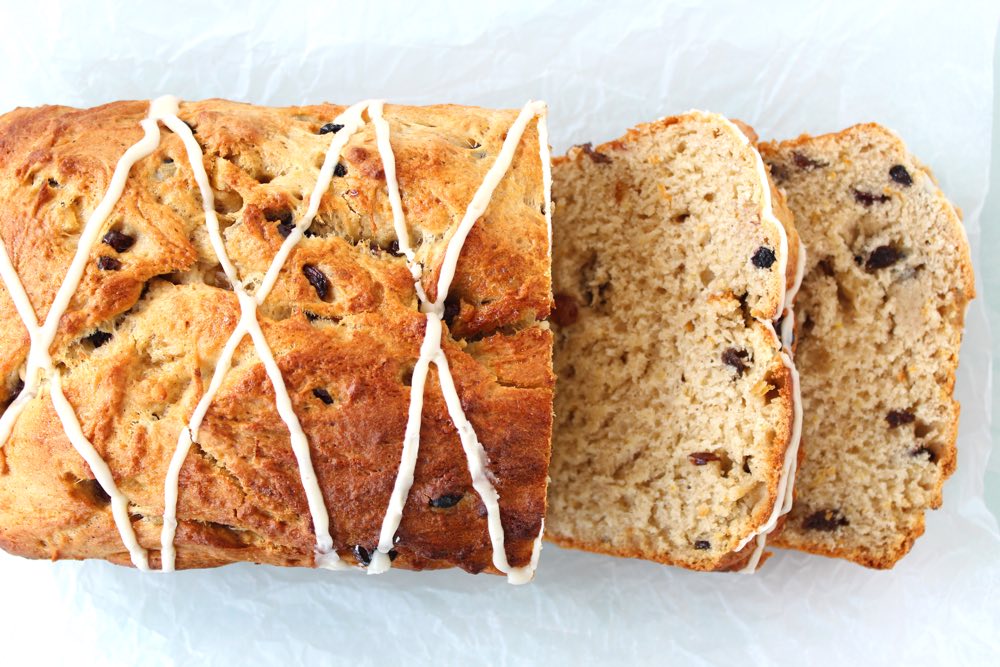 N.B. I've been a long-standing registered user of mySupermarket and would like to express my gratitude to them for sponsoring this post.