Hi everyone!
I'm back at long last!  Sorry I've been away so much longer than expected.  I hope you all had a wonderful Spring break.  While I've really valued my 'unplugged' time, I've been looking forward to my return to blogging world.  I've missed you guys!
So what have I been up to?  Well, over Easter, M, Lil' L and I were very fortunate to escape the freezing cold weather in the UK and head to the Canary Island of Lanzarote.  It was wonderful to spend some quality time with my boys, without all the distractions and 'busyness' of life back home.
We enjoyed chilling out on the beach and at cafes, chatting, reading, playing card games and sketching (cartoon drawing was particularly popular this holiday!)
We're huge fans of Cesar Manrique, and we loved spending time at the sites he designed, including Los Jameos del Agua, Jardin de Cactus and his own house (now a charitable foundation) which is situated in a lava field!
During the holiday, we also got to spend some quality time by ourselves.  M really enjoyed biking in the volcanic national park…
while I loved my daily runs along the coast path and meditation by the sea.
Lil' L loved playing on the beach, rock climbing…
and leaping!
However, in contrast to all this boisterous activity, sometimes you'd walk round the corner and find him meditating!
He also spent a lot of time reading.  He got through about seven books! ('Big Nate' was a popular read this holiday).
We did some great walks along the coast and in the volcanic national park.  Away from the resorts and towns, you could easily start to feel like you were on another planet!
To be honest, when I saw the newspaper headlines about the freezing temperatures and chilling winds in the UK, I wasn't particularly looking forward to our return.  However, we seem to have brought the good weather back with us.  Perhaps Spring has finally arrived for sure (fingers crossed!)  I'm loving the lighter mornings and evenings too ♥
Inspired by the sunshine and warm weather, I chose to make a pineapple cake for my study class this week.  It was no ordinary cake though… it was fat free, dairy free and egg free!  A friend gave me the recipe a few years ago.  She'd spotted it in a newspaper, but I believe it was originally published by Kim and Rachael of the 4 Ingredients phenomenon.
Since it has no fat, its texture is different to other cakes, but it's delicious none the less.  It's one of my all-time favourite cakes and I'm happy to report that it got the thumbs up from my study group friends too 😀
Here's how to make it…
[print_this]
Three Ingredient Pineapple Cake
Serves: 12
Ingredients
250g / 9 oz / 1¾ cups self raising flour*
200g / 7 oz / 1 cup unrefined caster sugar
1 x 432g / 15 oz tin of crushed pineapple
* alternatively use plain (all purpose) or wholemeal (wholewheat) flour and 2 tsp baking powder.  I use chapatti atta flour, which is a very fine wholemeal flour, available in the UK from the world food aisles of Tesco and Asda.
Optional glaze
1-2 tbsp pineapple or tropical juice
2 tbsp granulated sugar
Method
Grease a 22cm / 8½ inch cake tin and line the bottom with non stick baking paper.  Preheat the oven to 180c / 350F.
Sift the flour (and baking powder) into a mixing bowl.  Stir in the sugar.  Add the pineapple (entire contents of the tin, including the juice).  Mix until just combined.  Bake in the pre-heated oven for 40 minutes.
Optional glaze:  As soon as the cake comes out of the oven, prick it all over with a cocktail stick. Brush with juice and sprinkle on some granulated sugar.
Allow the cake to cool completely before removing it from the tin.  Transfer to an airtight container and store in the fridge (or slice and freeze).
[/print_this]
I wonder if this cake will work with crushed mangoes too? I'm definitely going to have to give it a try 😉
Have a wonderful weekend everyone.  I hope the sun is shining wherever you are xx
Link of the day: Orange and Almond Cake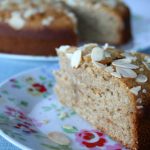 SaveSave