Sorry I haven't been around much these past few weeks, but I've been hanging out with Lil' L. He's growing up fast, and since this could be the last summer that he actually wants to hang out with me, I've been savouring every moment. We've had so much fun! This week's highlights (so far) have been hiking, biking, playing tennis, picnicking in the park, a trip to the cinema (How To Train Your Dragon 2) and playing in the kitchen 🙂
Last weekend we got back from our vacation and there was a postal delivery card waiting for us. First thing Monday morning, we hopped on our bikes and pedalled down to the post office. I jumped with glee when I saw that the mystery parcel was the latest The Vegan Kind Subscription Box. I couldn't wait to do the big 'reveal'!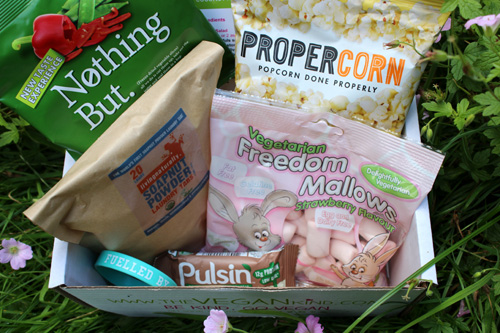 As usual, the box was filled with interesting brands and products that I'm excited to try out. Lil' L's eyes especially lit up when he saw these….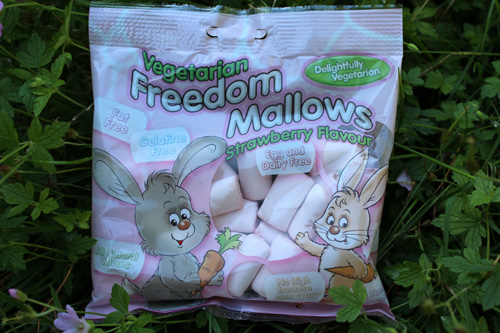 While regular marshmallows are made with gelatine (a slaughterhouse byproduct), Freedom Mallows are gelatine free, dairy free, egg free, gluten free and nut free, and thus suitable for vegetarians and vegans, as well as people with gluten, dairy and nut allergies/intolerances.
And it's incredible how similar they are to regular marshmallows, both in taste and texture. My mum loves marshmallows and even she can't tell the difference.
Over the winter, Lil' L enjoyed slicing and sprinkling vanilla mallows onto his hot chocolates. This time round, we thought it would be fun to make some Rocky Road. While I stood by, Lil' L set to work melting chocolate and coconut oil…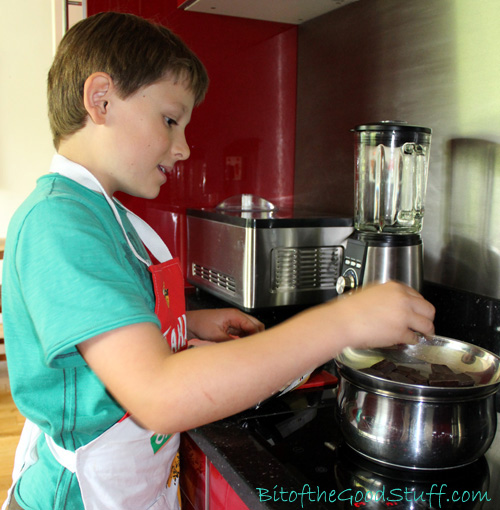 …bashing biscuits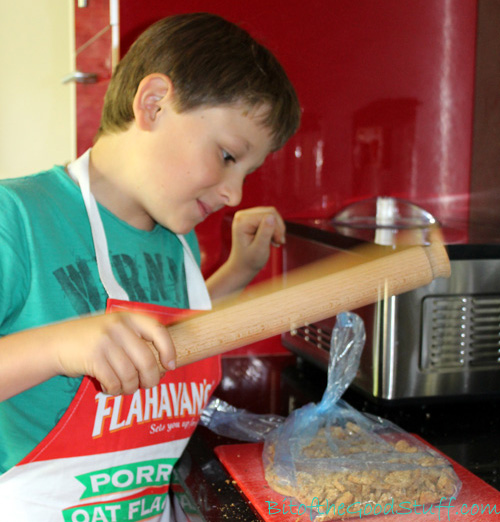 …then adding mallows and mixing it altogether. Since our mallows were strawberry flavoured, we thought it would be nice to finish off our Rocky Road with a sprinkling of freeze-dried strawberries (which we had left over from these Chocolate Crunch Hearts).
After a couple of hours in the freezer, the Rocky Road was ready to slice and sample. It got a huge thumbs up from Lil' L!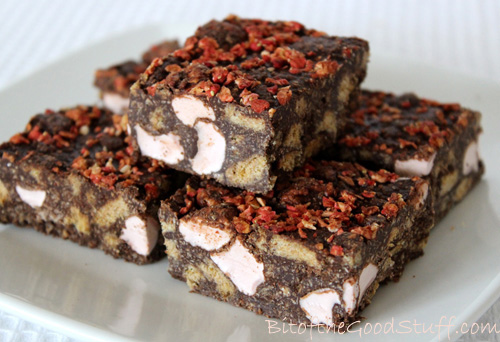 So far this week, he's enjoyed it as a treat snack at the cinema and the tennis courts. While it's a little too sweet for me, Lil' L reckons it'll be a hit with kids or anyone with a sweet tooth. It would be great for sharing at children's tea parties or selling at charity or school fundraisers. It would also make a lovely home-made gift for sweet-loving veggie friends, wrapped in a special box or tin ♥
[print_this]
Rocky Road… Vegan Style!
Got a sweet tooth? Then this treat is for you! It's easy and fun to prepare. It makes a great rainy day activity for veggie kids, young and old alike!
Makes about 12 pieces
Hands-on time: 15 minutes Ready in: 2 hrs 15 minutes
Ingredients
200g / 7oz dark chocolate (70% cocoa solids)
2 TBSP virgin coconut oil, plus extra for greasing
200g / 7 oz Digestive biscuits (or Rich Tea, Oreos or gluten free cookies)
75g / 2½ oz veggie marshmallows (e.g. Freedom Mallows)
Icing sugar, for dusting
Method
Grease and line a freezer-safe container about 12cm x 22cm (5 inches x 8½ inches) with baking paper. (I used a large loaf pan, but you could use a plastic, silicone or foil container).
Add a small amount of water to a saucepan and place a heat-proof bowl on top. Break the chocolate into chunks, place it in the bowl along with the coconut oil and gently heat, stirring occasionally until the chocolate has fully melted.
Meanwhile, place the biscuits (cookies) in a freezer bag. Press out the air and tie the bag shut. Bash with a rolling pin until you have a mixture of crumbs and small pieces.
If your mallows are large, slice them into halves or thirds.
When the chocolate has melted, remove from the heat and stir in the biscuits and mallows. Tip into the prepared pan and press down hard with the back of a spoon to remove air pockets.
Place in the freezer for about 2 hours, until solid. Using a sharp knife, slice into rectangles about 4 cm (1½ inches) in size. Add a light dusting of icing sugar for decoration.
Store in an airtight container in the fridge or freezer, where it will keep for weeks.
[/print_this]
In the UK, Freedom Mallows are available from Holland & Barrett, independent health food shops (including Harvest in Bath) and online.
Have a wonderful weekend everyone! xx