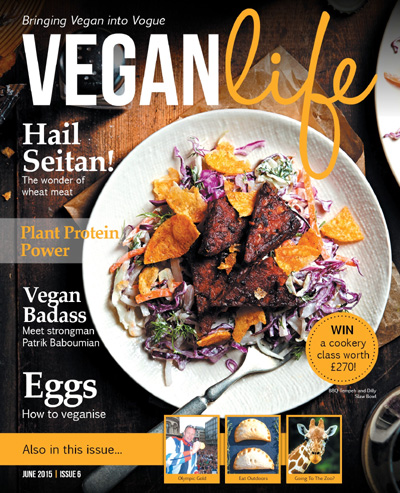 As usual, this month's issue of Vegan Life was packed with inspiring articles, as well as a whole bunch of mouth-watering recipes. I was especially excited to see the feature on Daniel Acevedo, Head Chef at Mildreds Vegetarian Restaurant in Soho, London. I've heard so many good things about this restaurant and one day hopefully I'll get to experience it for myself.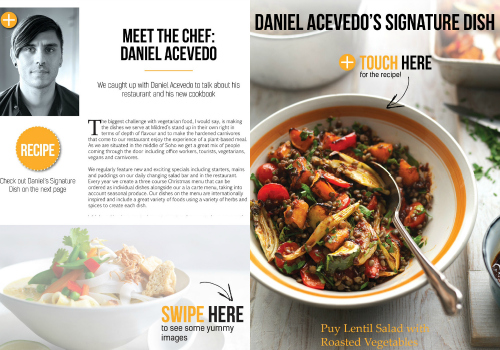 Until then, I was looking forward to re-creating Dan's signature dish at home… even if it did include the one vegetable that I professed to dislike: fennel.
Whenever people have asked me what my favourite vegetable is, my typical response has been "I love all vegetables… except fennel". I was never quite sure what it was about fennel I disliked. I just remember trying it a couple of times in restaurants and really, really disliking it. Anyway, last week I decided it was time I gave fennel another chance.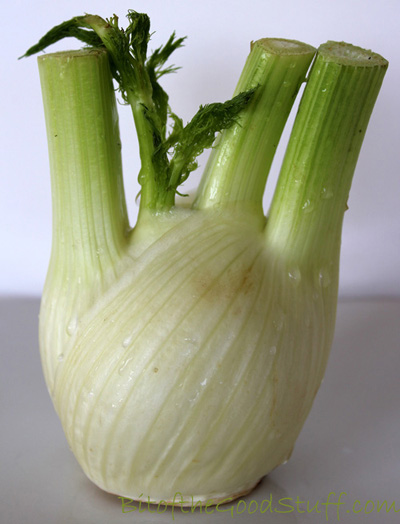 Dan's signature salad consists of a selection of colourful roasted veggies, lentils and leaves, drizzled in a tangy fennel seed dressing.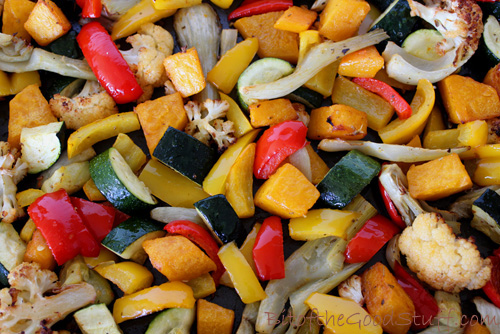 For me, it's the dressing that brings a salad to life and makes it 'sing'. Just check out the dressing that comes with this salad.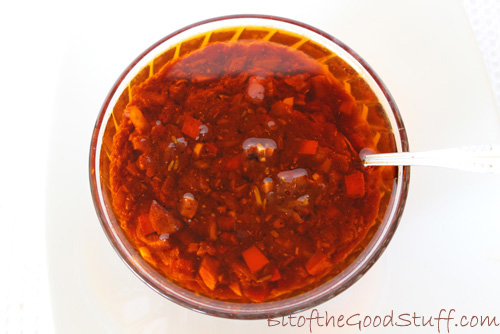 Vibrant, tangy with a hint of aniseed. This dressing is mind-blowingly good. It's amazing I had enough left to take this pic as I couldn't resist 'tasting' spoonfuls as it was simmering.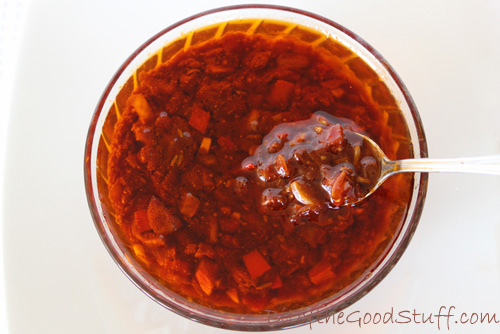 Typical of me, I did make a couple of adaptations to the recipe. For a start, I cheated and used a can of lentils instead of cooking them from scratch. I also substituted the tomatoes with roasted cauliflower. Lil' L isn't a fan of tomatoes (unless they're blended) and since trying the recipe for Roasted Cauliflower with Paprika and Oregano posted by Gluten Free SCD and Veggie, cauliflower has moved up the ranks from one of my family's least favourite vegetables to the 'love it' category. Dare I admit it… sometimes I roast a tray of cauliflower and eat the whole lot in one go. Honestly, it's that good.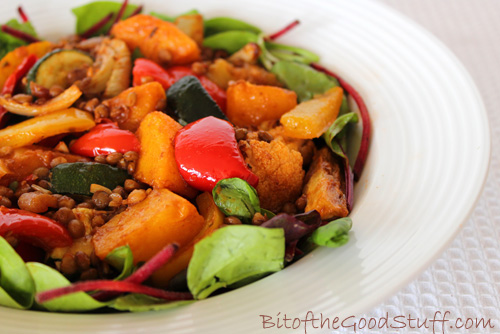 The first time I made Dan's signature salad, I ended up eating it twice in one day. For lunch, I served it with beetroot salad and, for a heartier main meal, I served it over couscous. The dressing soaked into the couscous, giving it the most amazing flavour.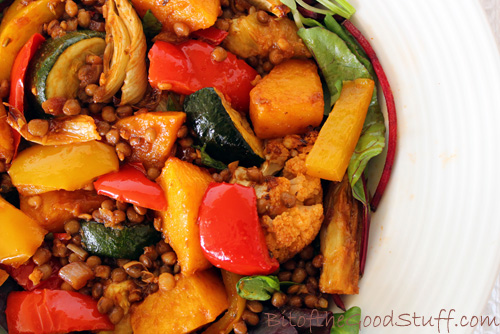 This is a recipe that I know I'll be making time and again this summer. It's perfect for al fresco lunches and is definitely special enough to serve to friends and family. It's got rave reviews from all the adults that I've served it to so far.
Lil' L gave it a big thumbs up too! It's the first time he's experienced fennel, so I'm really glad it was a more positive one than mine. I don't think the salad is going to be universally kid-friendly, but I know a few out there that love roasted veggies and tangy dressings so, if this is your kid, I'd definitely encourage them to give it a try.
[print_this] Adapted from the Puy Lentil Salad with Roasted Vegetables from Mildreds The Cookbook by Daniel Acevedo & Sarah Wasseman.
Delicious served warm or cold, this salad is perfect for al fresco lunches with friends and family. For a heartier evening meal, we love to serve it on a bed of couscous or millet. All the components can easily be made a day or two in advance. You can substitute the vegetables with any others you like roasted. The original recipe used cherry tomatoes (tossed in at the same time as the fennel), which I substituted with cauliflower.
Serves: 4-6
Hands on time: 30 minutes Cooking time: 30 minutes
Ready in: 40 minutes
Ingredients
Roasted Vegetables:
300g / 2 heaping cups butternut squash, peeled, deseeded and cut into 2cm / ¾ inch wedges
½ small-medium head of cauliflower, sliced into florets
½ tsp paprika
1 tsp dried oregano
Olive oil
1 fennel bulb, trimmed and sliced into 1cm / 1/3 inch wide strips
1 courgette (zucchini), halved lengthwise and sliced
1 red bell pepper (capsicum), deseeded and sliced
1 yellow or orange bell pepper (capsicum), deseeded and sliced
Salt and freshly ground black pepper
Dressing:
1 red onion, very finely diced
80ml / ⅓ cup olive oil
80ml / ⅓ cup balsamic vinegar
1 red chilli, deseeded and finely diced (also remove membrane if serving to small children as this is where the heat is concentrated)
3 garlic cloves, minced
2 TBSP dark brown sugar (or coconut sugar)
3 TBSP tomato puree (paste)
1 TBSP fennel seeds, toasted and lightly crushed
400g / 14 oz can of French lentils, rinsed and drained (I used Epicure Organic Bijoux Verts), or use 115g / 4 oz dried Puy lentils
Colourful salad leaves
Large handful toasted pumpkin seeds, for garnish
Method
Preheat the oven to 200C (180C fan) / 400F. If using dried puy lentils, bring a pan of salted water to the boil, add the lentils, lower the heat and simmer for 15-20 minutes until tender. Drain and set to one side.
For the roasted vegetables, arrange the butternut squash pieces and cauliflower florets in a large roasting pan. Sprinkle ½ tsp paprika and 1 tsp oregano over the cauliflower. Add a light sprinkling of salt to all the veggies. Drizzle in a little olive oil and stir to coat. Roast in the pre-heated oven for 10 minutes. Toss the fennel in a little oil, add to the pan and roast for another 10 minutes. Finally, toss the courgettes and peppers in a little oil, add to the pan and roast for a further 10 minutes, or until all the veggies are soft and starting to brown round the edges. Remove the pan from the oven, add the lentils and stir through to combine.
While the veggies are roasting, prepare the dressing. Dry fry the fennel seeds in a frying pan (skillet) on medium heat, stirring continuously. As soon as they start to brown and become fragrant remove from the heat. Lightly crush using a mortar and pestle or electric grinder. Place the olive oil, balsamic vinegar, red onion, chilli, garlic, sugar, tomato puree and crushed toasted fennel seeds in a small saucepan. Bring to a gentle simmer and cook for 4-5 minutes, stirring frequently until the sugar has dissolved. Set to one side to cool.
For the garnish, fry some pumpkin seeds in a drop of olive oil on medium heat, stirring regularly. As soon as they start to brown and pop, remove from the heat.
When ready to serve, arrange salad leaves in a large bowl. Add the roasted veggies and lentils. Drizzle on the dressing and stir through to combine. Sprinkle the toasted pumpkin seeds on top and serve.
[/print_this]
After experiencing this salad, I couldn't wait to get my hands on the Mildreds Cookbook, published last month. So many delicious sounding recipes in it. As soon as I've had a chance to try some out, I'll be sure to publish a review.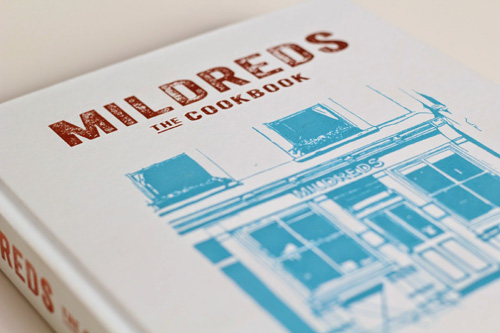 So, it turns out that I LOVE roasted fennel! It tastes a bit like roasted onion but with a subtle hint of aniseed. This is so different to my first experience of fennel, which was crunchy and overpowering. I'm so happy to be over the fennel issue. Now I can honestly say I love ALL vegetables. No exceptions 😉
Are there any vegetables that you profess to dislike?
SaveSave
SaveSave
SaveSave