In today's post, I'm sharing recipes for a delicious, quick and easy strawberry jam and 'treat snack' that the family has been loving lately: No Bake Strawberry Tarts ♥
But before I do so, there's an occasion that I must mark on this blog – Lil' L's first strawberry picking outing. I'd been dreaming about this moment for years.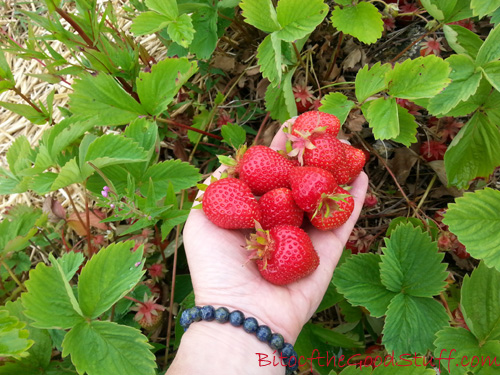 Until recently, neither for love nor money could Lil' L be encouraged to eat strawberries. Sadly, along with all other berries, as well as oranges, plums and grapes, strawberries fell in his 'too squishy' camp. On the odd occasion that he did actually attempt to eat one, he just ended up gagging and retching with tears streaming down his face. It was just too torturous to watch. He did like the flavour of berries though and would happily drink them in smoothies. As long as he was consuming the berries in some shape or form, I didn't really mind.
So I put the dream of berry picking with my son on hold. In fact, I'd pretty much given up on the idea that it would ever happen…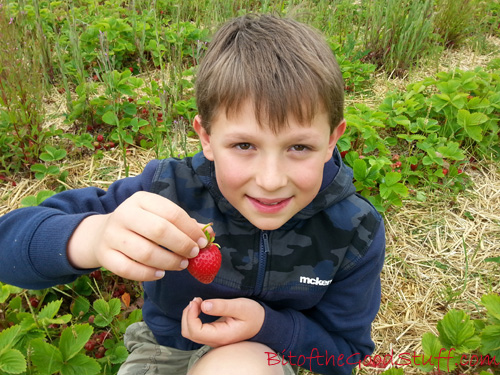 THEN, everything changed when we visited Spain this Easter. In the supermarkets, stacked crate upon crate were the lushest strawberries we'd ever seen. They were big, deep red, with the most incredible aroma. Spain must have had a glut of strawberries at that time as they were selling them off real cheap (3 euros for a whole crate!) We decided to buy one and Lil' L actually offered to carry it. I could see him eyeing up the strawberries. They were that inviting that he couldn't resist trying one. He took his first tentative bite… and lo and behold no gagging. He then proceeded to eat another five. You can imagine how ecstatic I was. Finally, at the age of 11, he'd moved on from loathing to loving strawberries.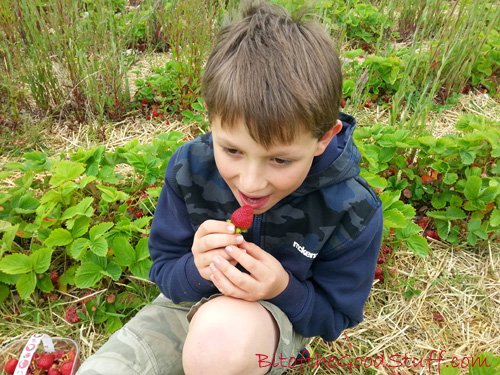 It was a joy to see him so enthusiastic about strawberry picking. He was filled with delight each time he found a 'perfect' strawberry. This week he's mentioned numerous times how much he enjoyed the outing. It was a long time coming, but definitely worth the wait.
The strawberries are so sweet and delicious, that we've been eating them by the handful. However, they don't keep fresh for long, so I've also frozen some for ice creams, sorbets and smoothies, as well as making batches of my favourite jam.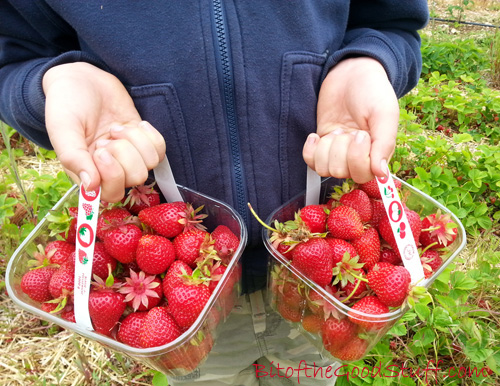 Berry Chia Jam has been buzzing around 'health food world' for a good few years now. I think I first came across is on Angela's Oh She Glows blog back in 2010. I don't know if she was the first to discover it, but if so full credit to her for such a simple yet innovative recipe.
While 'no added sugar' jams are widely available today (I love the St Dalfour range) still, for me, nothing beats the freshness of home-made berry chia jams. Plus, they are so easy to make. You just cook the strawberries for a couple of minutes, add the chia seeds and simmer for 20 minutes or so, then chill. It lasts up to a week in the fridge and is delicious slathered on toast and scones, swirled into yogurt parfaits, or as a filling for tarts…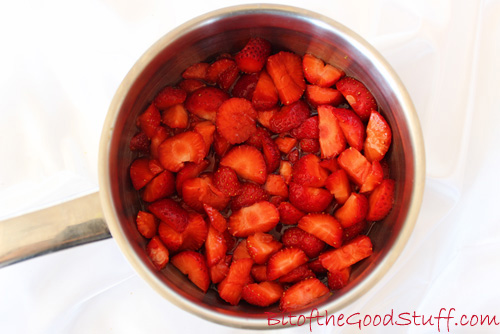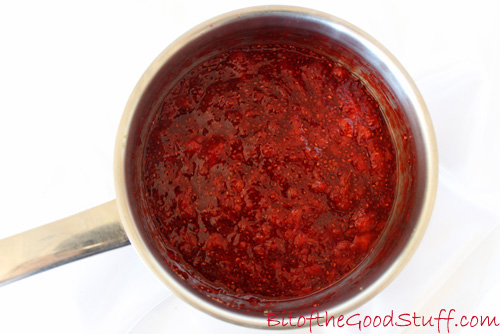 including these delicious and simple No Bake Strawberry Jam Tarts.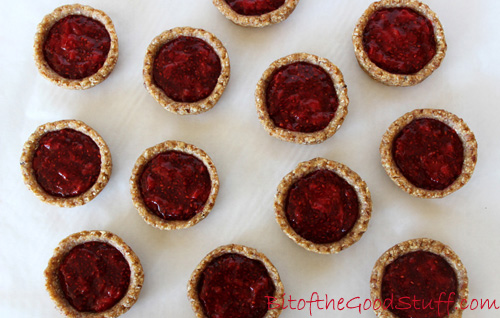 With last week's mini heatwave, I was in no mood for baking. However, these no bake tarts were just perfect. They're cool, light and fresh-tasting. Lil' L and M have been enjoying them as post school/work snacks. For me, they've felt like an indulgent (yet healthy) treat when I've needed a 'little something' late afternoon or in the evening.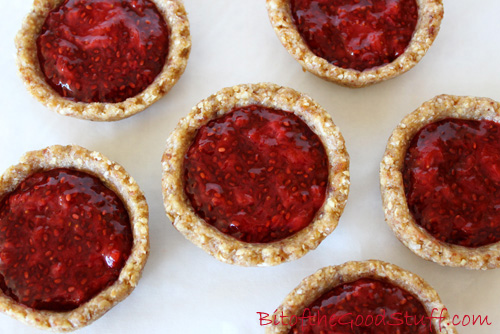 For the tart shell, I took inspiration from my Pina Colada 'Cheese' Cake crust. Packed full of nuts and dates, these shells are much healthier than pastry and provide a whole bunch of nutrients including protein, fibre, heart-healthy monounsaturated fats, omega-3 essential fatty acids, iron, zinc, magnesium, manganese and selenium. They have a beautiful, subtle caramel/vanilla flavour and while they aren't super firm they hold together fine with no jam leakage.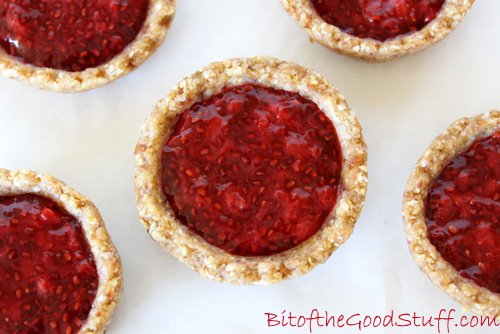 [print_this]
Makes 12 mini tarts
Hands on time: 25 minutes    Cooking time: 25 minutes
Ready in: 1 hour 25 minutes
Ingredients
Strawberry Chia Jam
200g / 7 oz / 1½ cups fresh or frozen strawberries, chopped
1½ TBSP maple syrup (or sweetener of choice)
½ TBSP freshly squeezed lemon juice
1 TBSP chia seeds
½ tsp vanilla extract
No Bake Tart Shells
50g/ 1¾ oz / ½ cup rolled oats (use certified gluten free, if needed)
40g / 1½ oz / ¼ cup cashews
30g / 1 oz / ¼ cup walnuts (or pecans)
100g / 3½ oz / ½ cup soft, sticky pitted dates (e.g. Medjool)
1 tsp maple syrup (or other liquid sweetener)
½ tsp vanilla extract
Pinch of salt
22g/ ¾ oz / ¼ cup desiccated coconut
Method
Prepare the jam: Gently cook the strawberries, syrup and lemon juice until the berries start to break down. Stir in the chia seeds. Bring to the boil then reduce the heat and simmer for 20 minutes, until the jam has started to thicken. Give it a stir now and then with a wooden spoon and mash the berries to break them down. Remove from the heat and stir in the vanilla extract. Transfer to a glass jar, leave to cool then add a lid and place in the fridge. The jam will thicken up as it chills.
While the jam is simmering, prepare the tart shells. Loosely line a shallow tart/mince pie tray with cling film (plastic wrap).* Place the oats and nuts in a food processor and blitz into crumbs. Add the dates, maple syrup, vanilla extract and salt and continue processing until the mixture starts to come together. Add the desiccated coconut and whizz for a few more seconds. The mixture should easily stay together when you press it. If it's still crumbly, keep processing until it sticks together.
Press the crumbs together to form a dough ball. Place between two pieces of baking paper (or use a large silicone pastry mat folded over) and roll out to a thickness of ½ cm / 1/5 inch. Press out using a 6 cm / 2½ inch pastry cutter and place in the lined tart tray. Repeat until all the dough is used up, re-rolling as needed. Chill in the fridge until the jam is ready. When the jam is completely chilled, spoon it into the tart shells and serve.
These tarts will keep in the fridge for up to a week.
Notes
*If you don't have a shallow tart tray, you can shape the tart shells by hand or by moulding them round one end of a rolling pin.
[/print_this]
Have you been berry picking this summer?