In today's post, I'm sharing a recipe for a delicious quinoa bowl that's just perfect for serving this time of year. It features roasted veggies, dried cranberries and crunchy pumpkin seeds, topped with a sweet balsamic glaze. We've been enjoying it as a light evening meal, with leftovers served for lunches later in the week. It can even be served cold, and Lucien's been taking it to school in his lunchbox.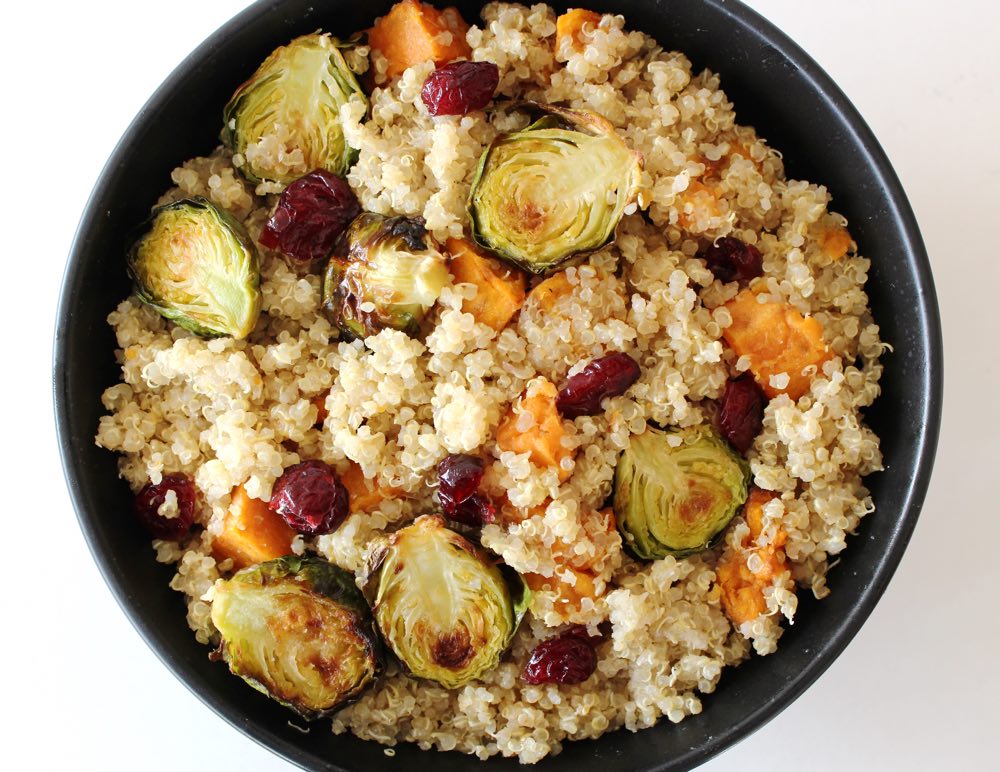 I must admit that I never used to be a fan of quinoa. I found the texture and flavour of plain quinoa quite strange and not particularly appealing. However, I discovered a couple of key steps that make it much more palatable…
Ensure the quinoa is thoroughly rinsed before cooking to remove the bitter saponin coating.
Flavour the quinoa using seasoning or a dressing.
One of my favourite ways to flavour quinoa is using a combination of toasted sesame oil and sweet white miso. These seasonings not only add a delicious savoury flavour but they also enhance the texture of the grain. (This is also my favourite way to flavour my Quinoa Sushi Rolls).
Quinoa has lots of health benefits, so I'm happy that I found a way to really enjoy the grain, rather than just eating it because 'it's good for me'!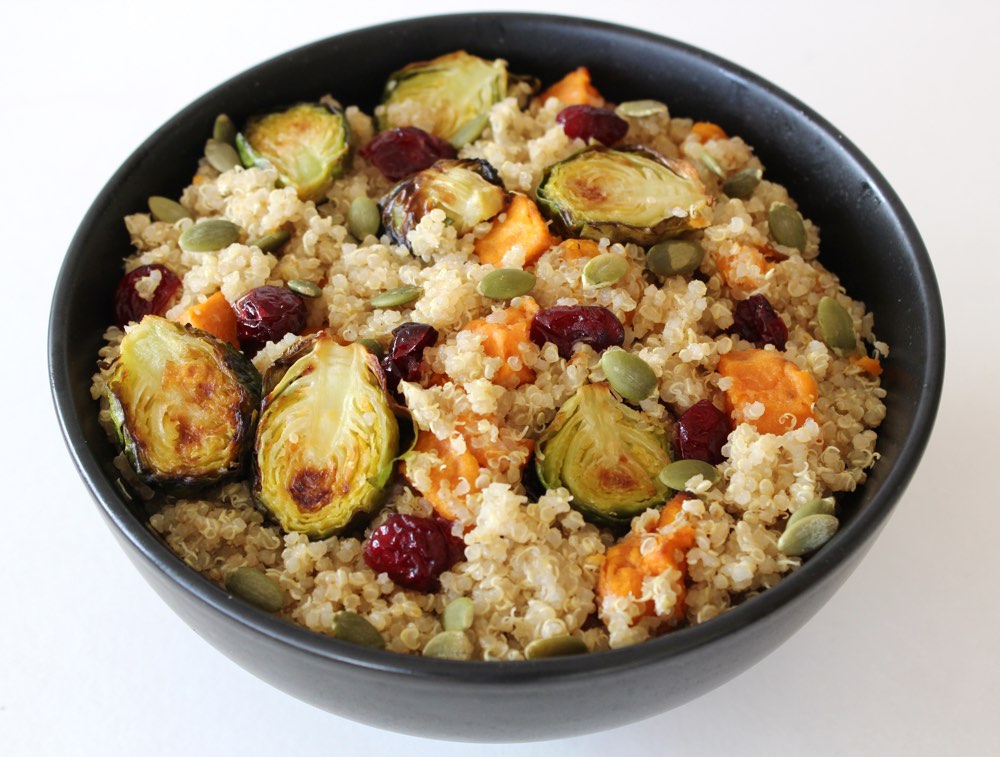 For this Winter quinoa bowl, I use a combination of roasted sweet potato and brussels sprouts. This dish has been a great way to entice Lucien to eat more sprouts. He won't touch the boiled or steamed varieties, but he'll happily eat pan-fried or roasted sprouts. One of his favourite sprout recipes is the Brussels Sprout Hash with Balsamic Red Onions & Pecans (p76 of the Bit of the Good Stuff cookbook) but I think this one is a close second. Of course, if you're not a fan of brussels sprouts in any shape or form, feel free to leave them out or substitute with another roasted vegetable.
This bowl is super easy to prepare. While the veggies are roasting, I cook the quinoa and prepare the Balsamic glaze (if using a home-made one rather than shop-bought). Once everything is cooked through, it's simply a case of mixing the quinoa, veggies, cranberries and pumpkin seeds together.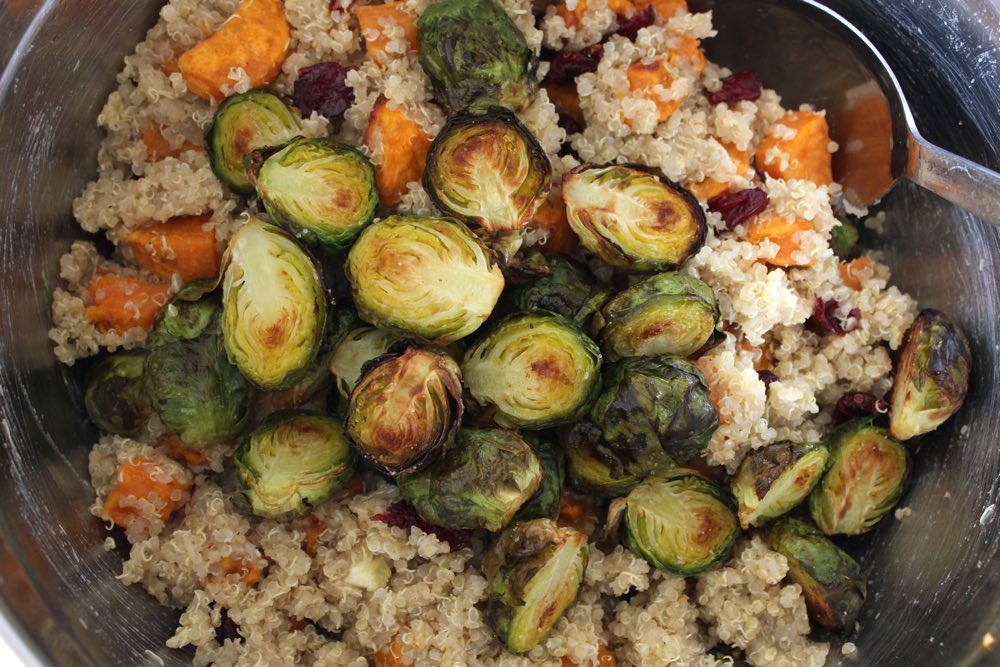 I recently discovered that pumpkin seeds can vary enormously in flavour, size and colour. For this recipe, I used Suma's organic pumpkin seeds which are smaller, lighter in colour and far tastier than the ones I'd previously bought from a big supermarket. I didn't need to toast the Suma seeds to improve the flavour as they were tasty raw.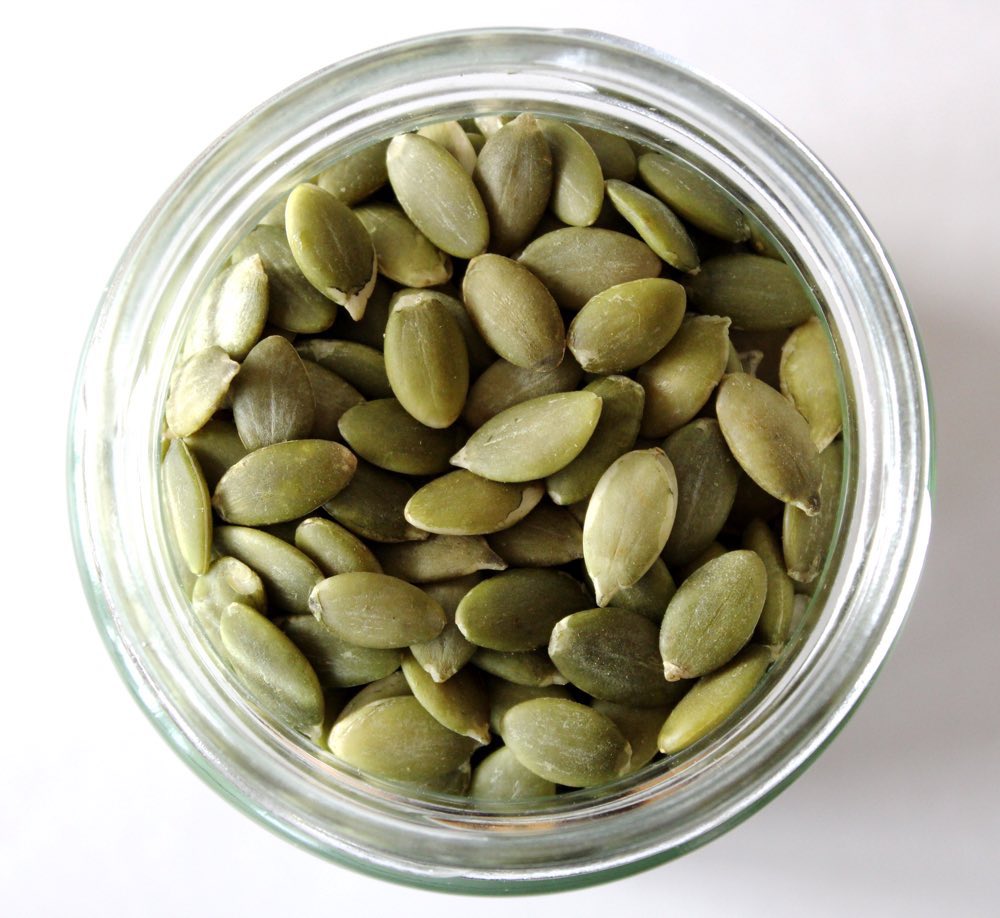 Just before serving, the bowl is dressed with a drizzle of balsamic glaze, which adds a beautifully rich, sweet and tangy flavour. Balsamic glaze is widely available in UK food shops, however if you can't get your hands on some, it's easy to make your own. Check out the tips in the recipe below to see how I do it.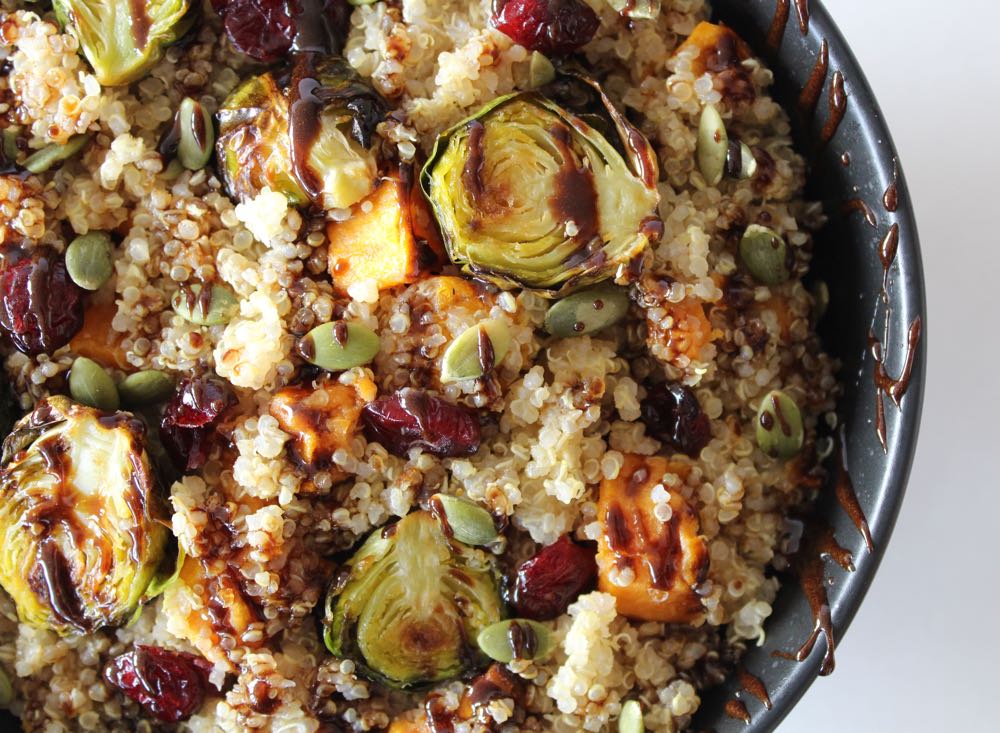 This bowl is not only tasty, but it's packed full of nutrient-rich ingredients, which help to keep us in good health. In particular, this dish is a good source of…
– Protein, Complex Carbohydrates and Fibre
– Vitamins A, B, C & K
– Minerals Zinc, Magnesium, Copper, Manganese, Potassium and Iron
– Antioxidant Phytonutrients, including Glucosinolates, which help boost the immune system and protect against disease
[print_this]
This Quinoa Winter Bowl is simple to prepare and is perfect for serving as a light evening meal or lunch. (For a more substantial meal, you could add in some slices of veggie sausage). I find it makes a great 'make ahead' option and can be warmed through in a frying pan (skillet) before serving. It can also be served cold and any leftovers make a great addition to lunchboxes.
Serves: 4
Hands on time: 20 minutes Ready in: 35 minutes
Ingredients
500g / 3 cups sweet potato, peeled and diced into small pieces (about 2cm x 2cm x 1.5cm / ¾" x ¾" x ½"))
2 TBSP olive oil, divided
16-20 brussels sprouts, trimmed and halved lengthways
300g/ 1½ cups quinoa
720ml / 3 cups water
1 TBSP toasted sesame oil
2 TBSP white miso (I used Clearspring Sweet White Miso)
55g / ⅓ cup dried cranberries (preferably sweetened with fruit extract, not sugar)
38g / ¼ cup pumpkin seeds, raw or toasted
Balsamic glaze, for drizzling (shop-bought or home-made – See Tip 2)
Salt and freshly ground black pepper
Method
Pre-heat the oven to 210C (190C fan) / 410F. Line two baking trays with non-stick baking paper.
Place the diced sweet potato in a large mixing bowl. Drizzle in 1 TBSP olive oil and stir until thoroughly coated. Transfer the potato to a prepared baking tray and distribute in a single layer. Season with salt. Roast for 30 minutes, or until cooked through.
Tip the brussels sprouts into the mixing bowl. Drizzle in 1 TBSP olive oil and stir through. Transfer the sprouts to the second baking tray. Arrange the sprouts cut side facing down. Season with salt (and black pepper, if desired).
When the sweet potatoes have roasted for 10 minutes, add the sprouts to the oven. Roast for 15 minutes, then flip them over and roast for a further 5 minutes, or until browned on both sides.
While the veggies are roasting, prepare the quinoa. First, rinse the quinoa (see Tip 1 below), then thoroughly drain and transfer to a saucepan. Add 3 cups water. Bring to the boil, then reduce the heat to low, cover with a lid and simmer for 15 minutes, or until the water has been absorbed and the quinoa is fluffy. Remove from the heat and leave to rest, covered with a lid, for 5 minutes. Drizzle in 2 tsp toasted sesame oil and stir through with a fork. Add 2 TBSP white miso and stir through until the quinoa is coated. Taste test and add more sesame oil/white miso if desired.
Tip the quinoa into the mixing bowl. Add the roasted veggies, cranberries and pumpkin seeds, and stir through. Transfer to bowls. Just before serving, add a drizzle of balsamic glaze.
This dish will keep for up to five days in the refrigerator.
Tip 1 To rinse quinoa, place it in a fine mesh sieve and rinse under cold running water, agitating it with your fingers for a couple of minutes.
Tip 2 If there is no shop-bought balsamic glaze on hand, I make my own by simmering ⅓ cup balsamic vinegar and 1 TBSP coconut sugar in a small pan, stirring from time to time. As soon as it starts to thicken, I remove it from the heat (it continues to thicken as it cools). I find this home-made version is best used immediately.
[/print_this]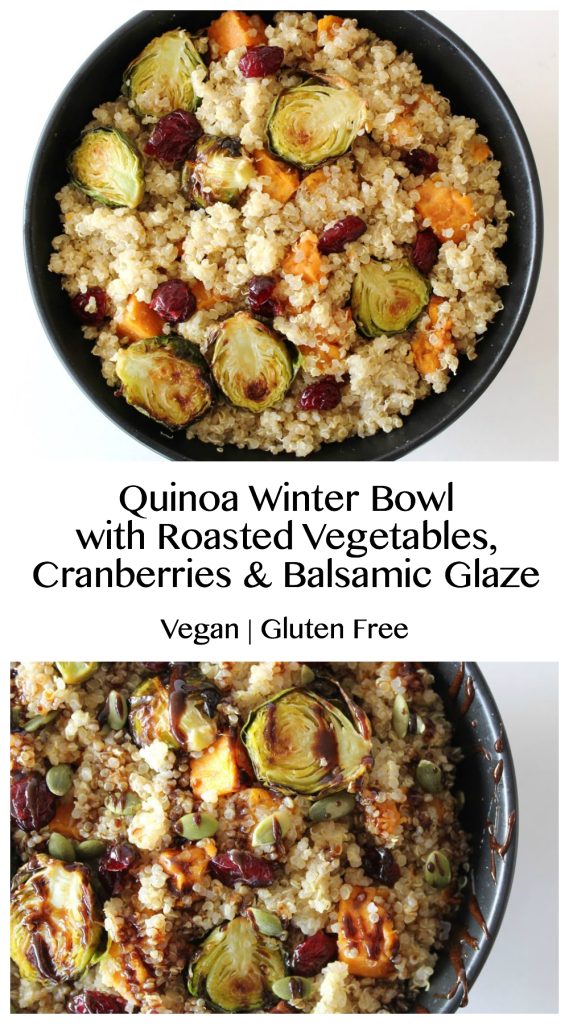 This recipe is being shared with the Suma Blogger's Network. Big thank you to Suma for supplying the following products used in this recipe…
– Suma Organic Quinoa
– Suma Organic Pumpkin Seeds
– Clearspring Sweet White Miso
– Meridian Organic Toasted Sesame Oil
– Aspall Organic Balsamic Vinegar
And just before I go, in case you missed the announcement on my social media channels, the digital version of the Bit of the Good Stuff Cookbook launched last week ✨ Available to order from my Bookshop, it's in PDF format, so compatible with any computer or tablet. The book is currently on sale for £5.50 and all profits are being donated to Tower Hill Stables Animal Sanctuary in Essex. If you haven't got a copy of the book already, the digital version is a great way to treat yourself to over 100 family-friendly vegan recipes and help feed some rescued animals at the same time 🐴🐮🐷 Win-Win!!

SaveSave
SaveSave
SaveSave
SaveSaveSaveSave
SaveSave
SaveSave
SaveSave
SaveSave
SaveSave
SaveSave
SaveSave