In today's post, I'm delighted to share with you a new book that's dedicated to one of my favourite foods of all time… HUMMUS! This stylish book, humorously title 'Hummus Where The Heart Is' is the latest publication by cooking teacher and cookbook author, Dunja Gulin. It features over 50 vegan-friendly recipes, each one accompanied by a stunning photograph taken by London-based food & lifestyle photographer, Mowie Kay.
If you thought hummus was a bit dull and bland-looking, this book will completely change your perception. The pages are filled with a riot of colours, from the vibrant oranges of spicy lentil hummus, fresh greens of pea and basil hummus, through to the rich browns of cacao and rum hummus… yes there is even chocolate hummus in this book!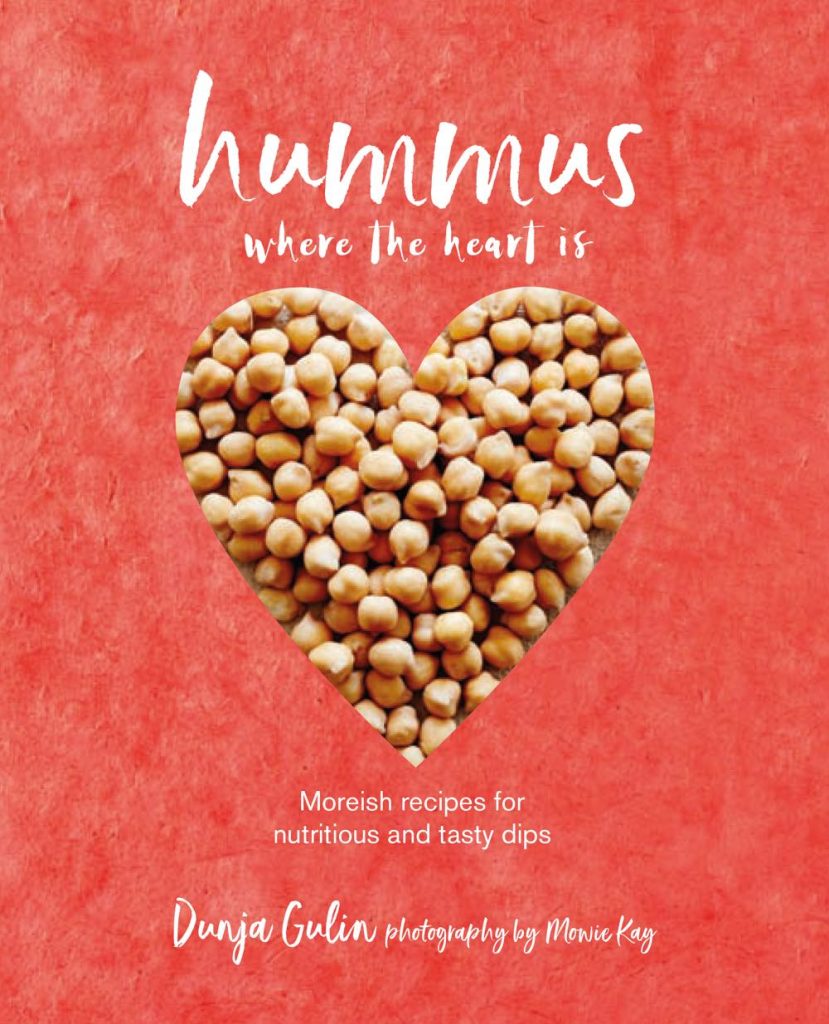 All the recipes have simple-to-follow instructions (with the ingredients listed in grams and cups). I was pleased to find that all the essential ingredients for the recipes are easily accessible in UK shops and when a recipe calls for a 'specialist' ingredient, it's listed as an optional add-in.
Savoury hummus recipes are divided into three chapters depending on the main ingredient – Chickpeas – Beans and Lentils – Veggies and Nuts. So far, I've tried three recipes from these chapters – Pea and Basil Hummus, Cauliflower Hummus and Mediterranean Tomato Hummus. All three were delicious and easy to make.
If you have hummus that's languishing in the fridge and needs using up (a rarity in our house!) then there's a helpful chapter on how to use your leftover hummus to make burgers, salad dressings and much more besides.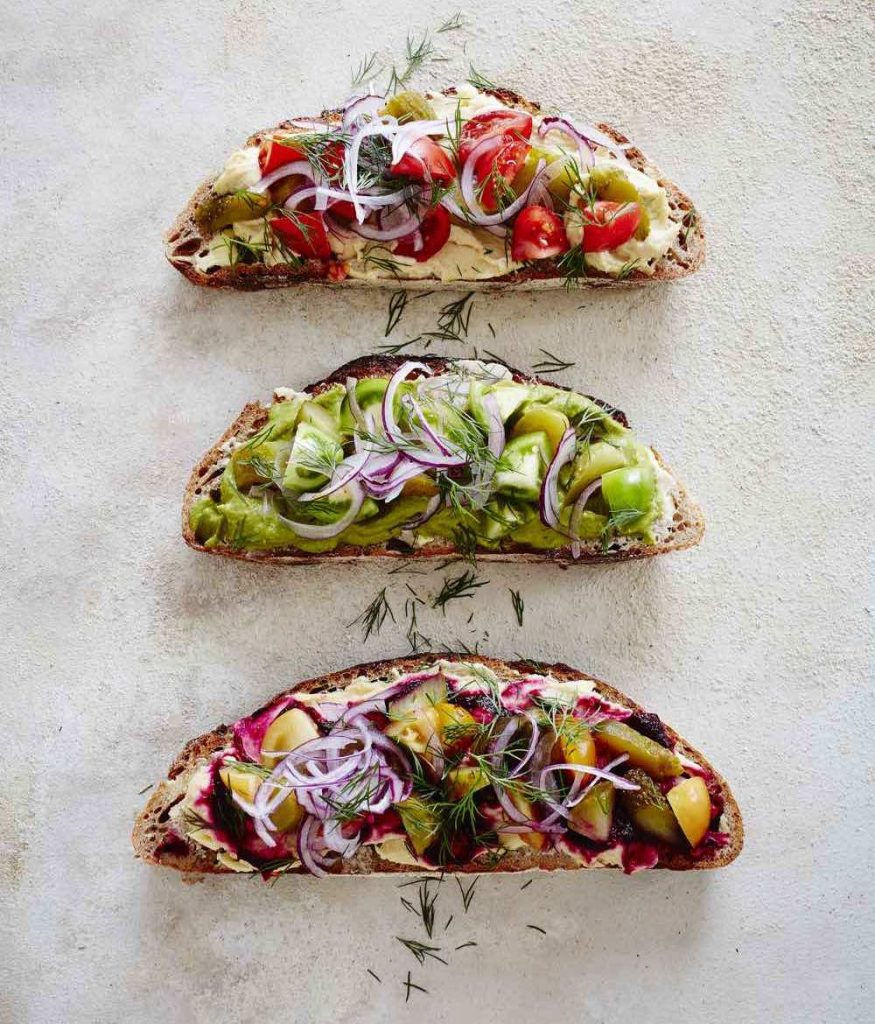 The final recipe chapter is 'Sweet Treats'. I've never used chickpeas in desserts before and was intrigued to give it a try. The first recipe I made was the Cacao and Rum Hummus Pudding with Chickpea Cream. It may sound odd but it was very tasty indeed! Instead of using rum, I used rum essence (which I also use in my Pina Colada Cheesecake) and it worked perfectly. I absolutely loved the flavour of this dessert and will definitely be making it again. I think it would be a great dessert to serve to children too (just don't tell them what the 'secret ingredient' is unless they're okay about beans featuring in their sweets).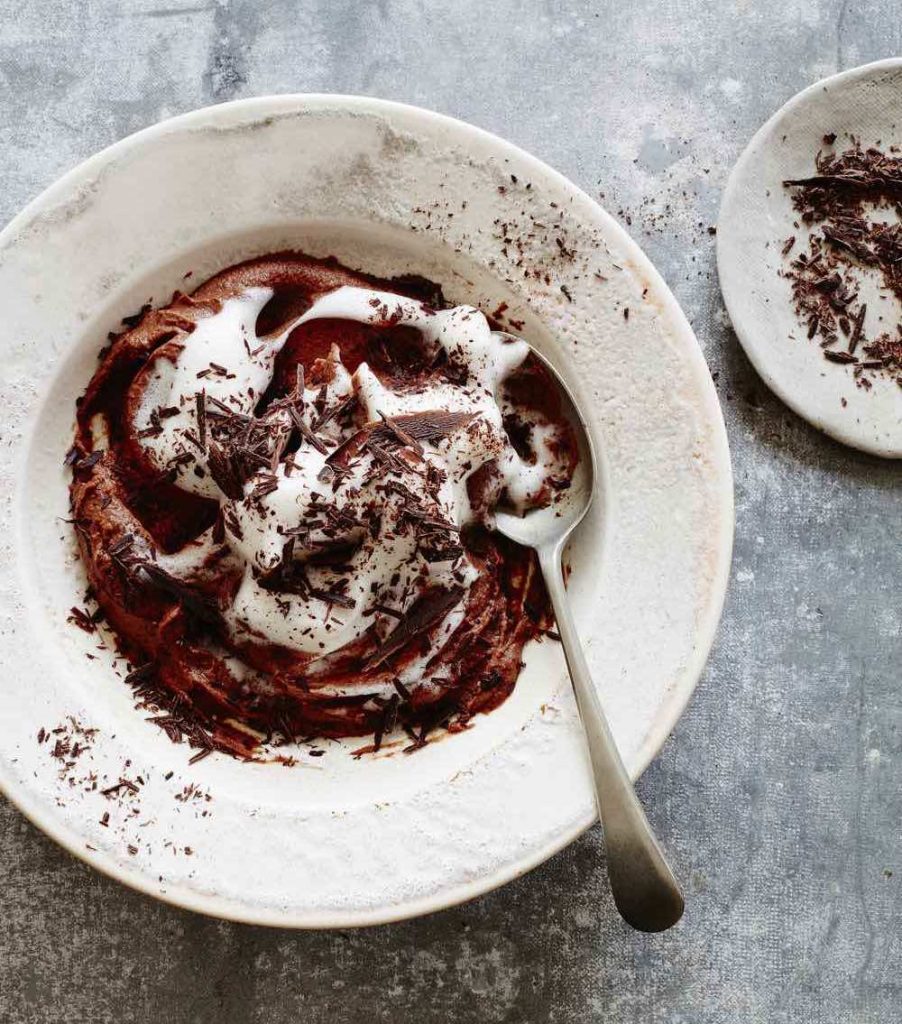 I was kindly given permission to share a recipe from the book and, after some deliberation, I've gone for the Pea and Basil Hummus. This recipe is just perfect for this season. It has the most beautiful texture and fresh flavour, as well as that gorgeous, vibrant green colour. The first time I made it for the family, it was devoured within seconds. Always a good sign! This is one recipe that I'll definitely be making time and again.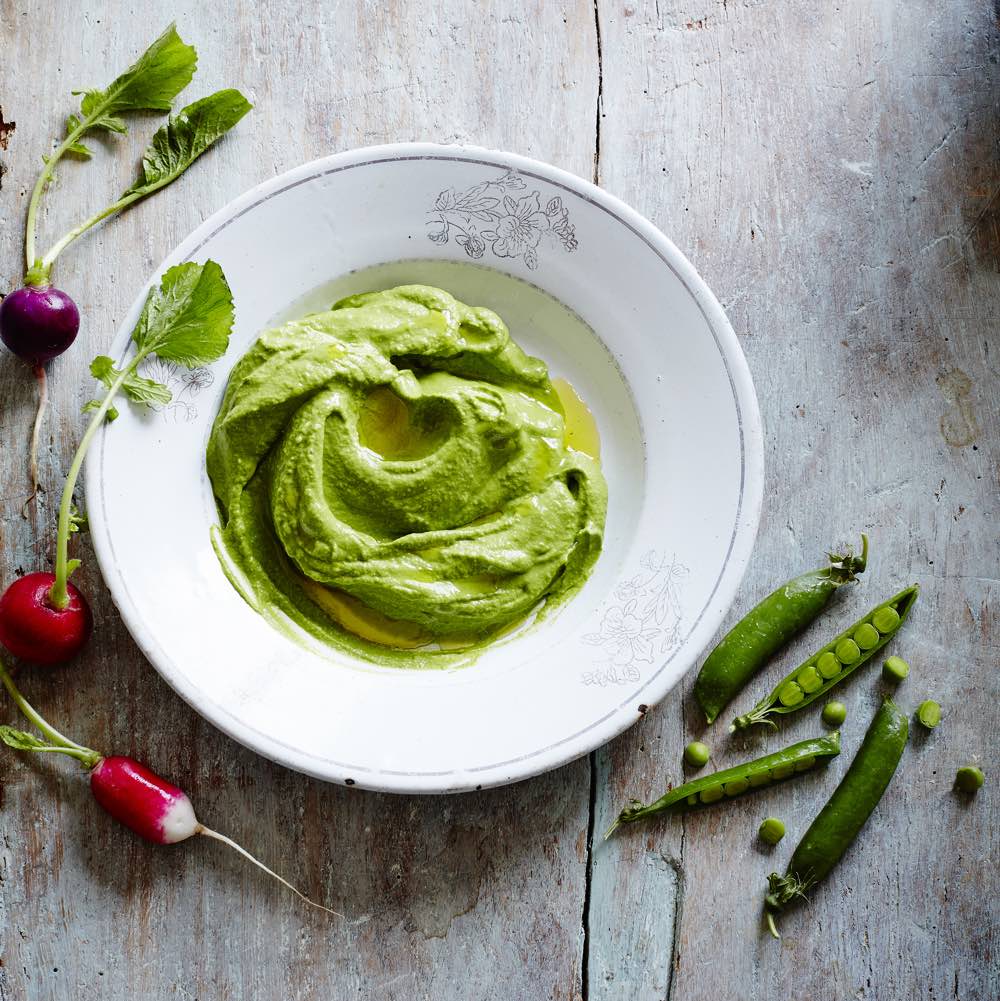 [print_this]
Pea and Basil Hummus
Extract from Hummus Where the Heart Is by Dunja Gulin. Reproduced by arrangement with Ryland Peters & Small
"This thick hummus-like spread made with green peas is so good! The texture always surprises me, since peas might seem light and watery, however, the finished dip has an amazing smooth texture, strong flavour and punchy colour. A simple recipe, but delicious and very lunch-worthy!"
720 ml/3 cups water
260 g/2 cups fresh or frozen peas
10 g/ ½ cup basil, plus a few leaves to garnish*
1 tablespoon olive oil,plus extra for drizzling
2 garlic cloves**
2 tablespoons sunflower seed butter***
½ teaspoon cumin seeds, dry-roasted and crushed (optional)
½ teaspoon salt, or to taste
MAKES ABOUT 2–4 SERVINGS
Bring the water to the boil, add the peas and cook, covered, until soft but still green (about 8–10 minutes). Drain, saving the cooking water. Blend in a food processor or blender with all the other ingredients until thick and creamy, adding about 60 ml/ 1⁄4 cup of the cooking liquid as necessary. Drizzle with extra olive oil to serve, if you like.
Notes on my adaptations
* I used frozen basil
** I used 1 tsp of garlic and ginger paste instead of raw garlic (as I'm not a fan). The flavours worked perfectly for this recipe.
*** Instead of sunflower butter, I used 1 TBSP tahini
[/print_this]
It's unusual for me to find more than a couple of recipes in a cookbook that I'm eager to try, but that's not the case with this one. I'm planning on working my way through the entire book and next on my list are these four beauties…
Spicy Red Lentil Hummus
Greek-style Hummus
Carob Hummus Mousse
Fudge Cookies
And my verdict on Hummus Where The Heart Is? Well if you're a hummus lover like me, then this book will be perfect for you. I'm really enjoying experimenting with new flavour combinations, as well as trying different pulses and vegetables in my hummus. I've also discovered that chickpeas can be blended to make delicious desserts. Who would have thought? This book would also make a lovely gift for hummus-loving friends and family. It's a beautifully-designed, quality hardcover book filled with creative recipes and stunning photography.
Big thank you to Ryland Peters & Small for supplying me with a copy of this publication and giving me permission to post the photographs and recipe.
All the images contained within the post are © Ryland Peters & Small and cannot be used without express permission. The recipe text is © Dunja Gulin.