In today's post, I'm sharing a recipe that caught my eye in this month's Vegan Life magazine. These 'Chickpea Nuggets' have been a big hit with the family and we've made them multiple times in the past couple of weeks. They're simple to prepare, packed full of nutritional goodness and budget-friendly too!
I had my first experience of vegan nuggets a couple of weeks ago at a fast food establishment in Valencia, Spain (yes, Valencia has vegan fast food joints! How cool is that?) The fast-food nuggets were okay, but the home-made variety win my vote. They just taste more like 'real food' to me. Plus they definitely make me feel better on the inside.
The main ingredients in these nuggets are oats and chickpeas. Both ingredients are packed full of nutrients including protein, complex carbs, dietary fibre, B vitamins, iron, zinc and magnesium.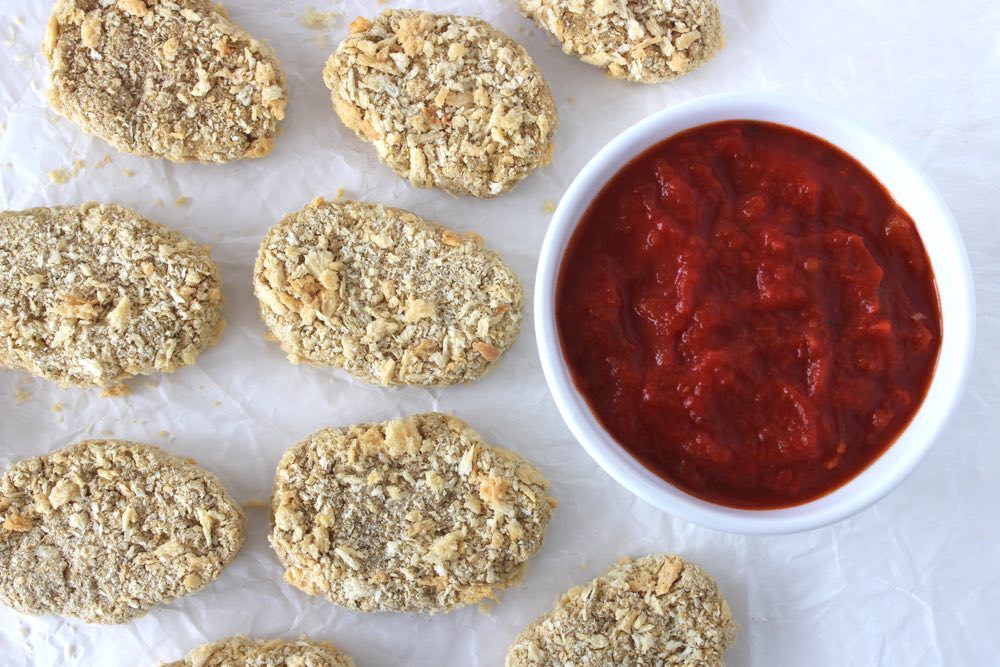 The nuggets are great for dipping into all kinds of sauces. We love mayo, BBQ sauce, even hummus, but our current favourite has to be home-made chunky tomato sauce. I've posted the recipe below in case anyone else fancies trying it. I find it tastes much nicer than shop-bought tomato sauce (fresher and less processed) plus it's rich in vitamin C, which helps our bodies absorb all the iron in the nuggets.
To make the outside of the nuggets nice and crispy, I used Panko breadcrumbs which can be found on the world food aisle in supermarkets (in the Japanese section). Onion powder is not currently available in UK supermarkets (such a shame as it's really useful!) however you will find it in independent health food shops and online. (I buy mine in Harvest Coop in Bath).
Along with the onion powder, the nutritional yeast helps to give these nuggets a delicious, savoury flavour. I use the Marigold nutritional yeast flakes with added B12, also available from health food shops and online.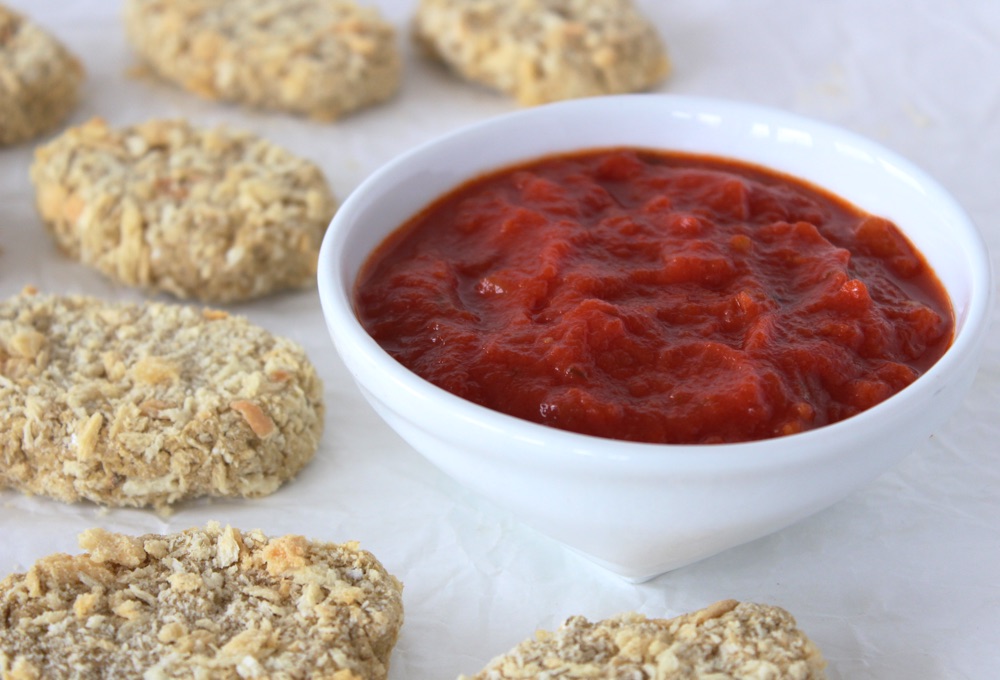 [print_this]
Chickpea Nuggets
These nuggets are simple to make, packed full of nutritional goodness, budget-friendly and versatile! We love to serve them for lunch, as a healthy snack and as a main meal (alongside potato wedges, baked beans and a side salad). They are best served straight from the oven (when the outer coating is super crispy), however they can also be eaten cold and make a great addition to school and work lunchboxes.
Recipe lightly adapted from Heather Lawless and Jen Mulqueen's 'Chicknuggets' in The Chickpea Revolution, featured in the April 2018 edition of Vegan Life magazine.
Makes 12 nuggets (serves 2-3)
Hands on time: 15 minutes Ready in: 30 minutes
Ingredients
40g / heaped ½ cup panko breadcrumbs or wholegrain breadcrumbs (I used panko)
50g / ½ cup rolled oats
400g / 14 oz can chickpeas, thoroughly drained (reserve the chickpea water aka 'aquafaba')
½ tsp garlic powder or granules
1 tsp onion powder
½ tsp salt
2 TBSP nutritional yeast
60ml / ¼ cup aquafaba
Method
1. Heat oven to 190C (180C fan) / 365F.
2. Place the breadcrumbs on a rimmed baking sheet and bake until golden (about 5-7 minutes).
3. Place the oats in a food processor and process into a flour.
4. Add the chickpeas to the food processor, along with the garlic powder, onion powder, nutritional yeast and salt. Pulse until crumbly. Add the chickpea water and continue to process until the contents form a ball. If the mixture feels a little wet, add more oats.
5. Divide the mixture into 12 equal portions and shape into nuggets. Coat each nugget completely in the toasted breadcrumbs and place on a baking tray lined with baking paper.
6. Bake for 15-20 minutes, or until firm. Serve with your favourite dip.
7. Any leftover nuggets can be stored in the fridge for up to five days.
Chunky Tomato Sauce
Makes about 400g / 1¼ cups
Hands on time: 5 minutes Ready in: 20 minutes
Ingredients
400g / 14 oz can organic chopped tomatoes
2 TBSP tomato puree (paste)
1 TBSP extra virgin olive oil
1 tsp unrefined sugar
½ tsp salt
1 tsp dried oregano
Method
1. Place all the ingredients in a pan and bring to the boil. Reduce the heat and simmer for 15 minutes, or until the mixture has thickened slightly. Use a wooden spoon to break up any large chunks of tomato. Taste test and adjust the seasoning to suit.
2. Stored in an airtight container, this sauce will keep for five days in the fridge.
[/print_this]
Big thank you to Heather Lawless, Jen Mulqueen and Vegan Life magazine for the inspiration! This is definitely a recipe I'll be making time and again.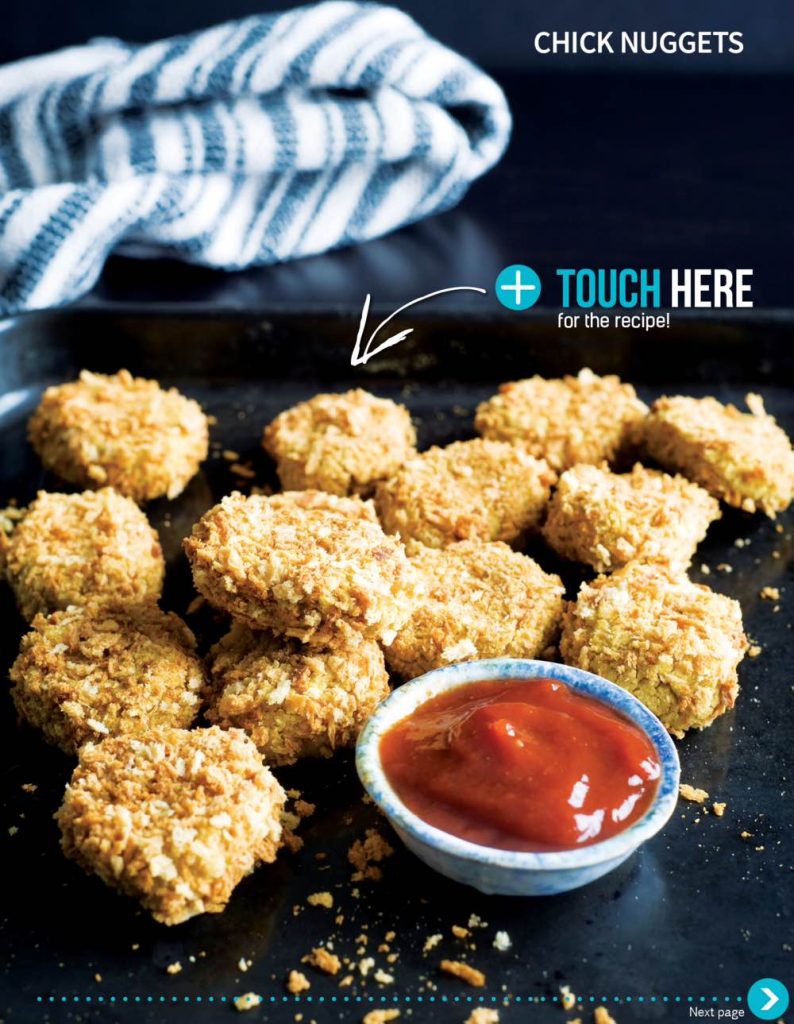 Pin for later ⬇️