Tofu scrambles are one of my family's favourite easy weeknight meals. They take 20 minutes or less to make, use just one pan and can be flavoured myriad ways, which means they never get boring. The scramble recipe I'm sharing in today's post is filled with beautiful colours and flavours inspired by the Mediterranean ☀️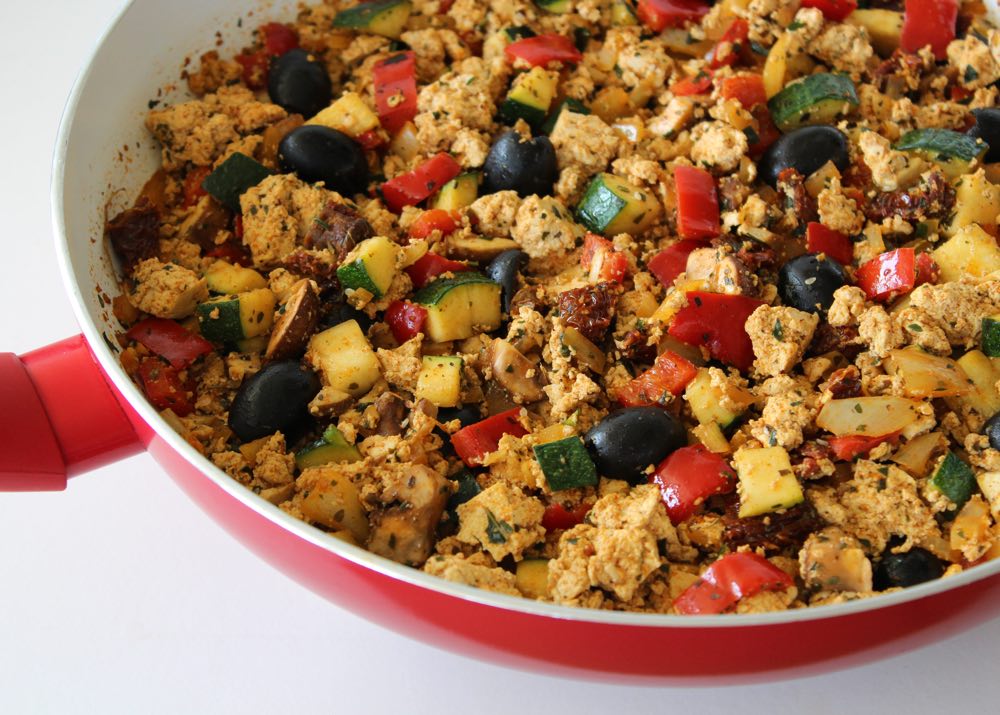 Fresh, crisp sweet peppers and zucchini, salty black olives and rich sun-dried tomatoes make one tasty combination of flavours and textures. A splash of soy sauce and sprinkling of mushrooms adds an extra hit of 'umami' deliciousness.
To enhance the flavour even further, I sprinkle in a couple of my favourite herbs – fresh basil and dried oregano – and spices – smoked paprika and ground cumin. The smoked paprika turns the tofu a beautiful red colour, as well as adding a delicious smoky flavour.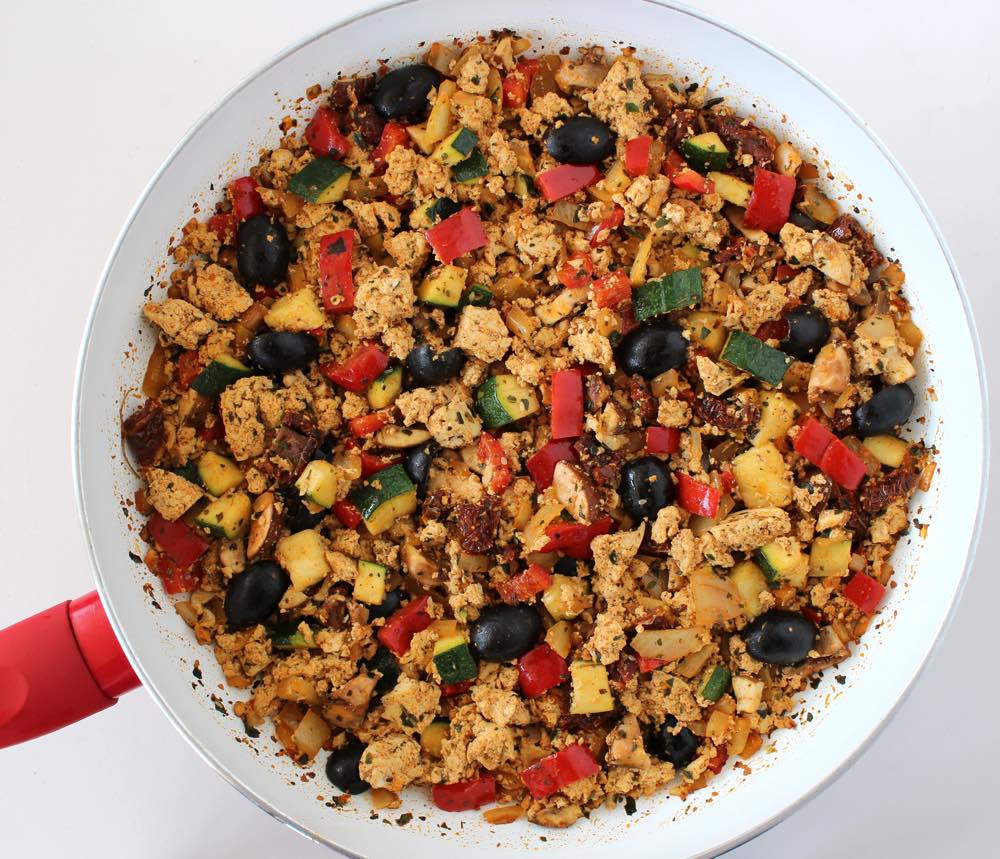 I've always loved using dried herbs and spices in my cooking (and have a whole shelf in my pantry dedicated to them!) but I've only recently starting learning about their health benefits.
Do you know which food category averages the most antioxidants? Take a guess…
Nope, it's not fruits.
Nor vegetables.
It's herbs and spices!!
By sprinkling just a single teaspoon of dried herbs or spices on your food, you can double, triple, quadruple or more its antioxidant content. Incredible!
Here's what Dr Michael Greger has to say in his epic "nutrition bible" How Not To Die …
Antioxidants, in a Pinch
The food category that averages the most antioxidants is herbs and spices.
Let's say you prepare a nice healthy bowl of whole-wheat pasta with marinara sauce. Together, they may achieve a score of about 80 units of antioxidant power (approximately 20 units from the pasta and 60 from the sauce). Add a handful of steamed broccoli florets, and you may end up with a delicious 150-unit meal. Not bad. Now sprinkle on a single teaspoonful of dried oregano or marjoram, oregano's sweeter and milder twin. That alone could double your meal's antioxidant power, up to more than 300 units.
How about a bowl of oatmeal for breakfast? By adding a teaspoon of cinnamon, you could bring the antioxidant power of your meal from 20 units to 120 units. And if you can stand the punch, adding a pinch of cloves could bring your unassuming breakfast up to an antioxidant score of 160 units.
Plant-based meals tend to be rich in antioxidants on their own, but taking a moment to spice up your life may make you meal even healthier.
p50, How Not to Die
Having read this, I'll be sprinkling those herbs and spices even more liberally from now on!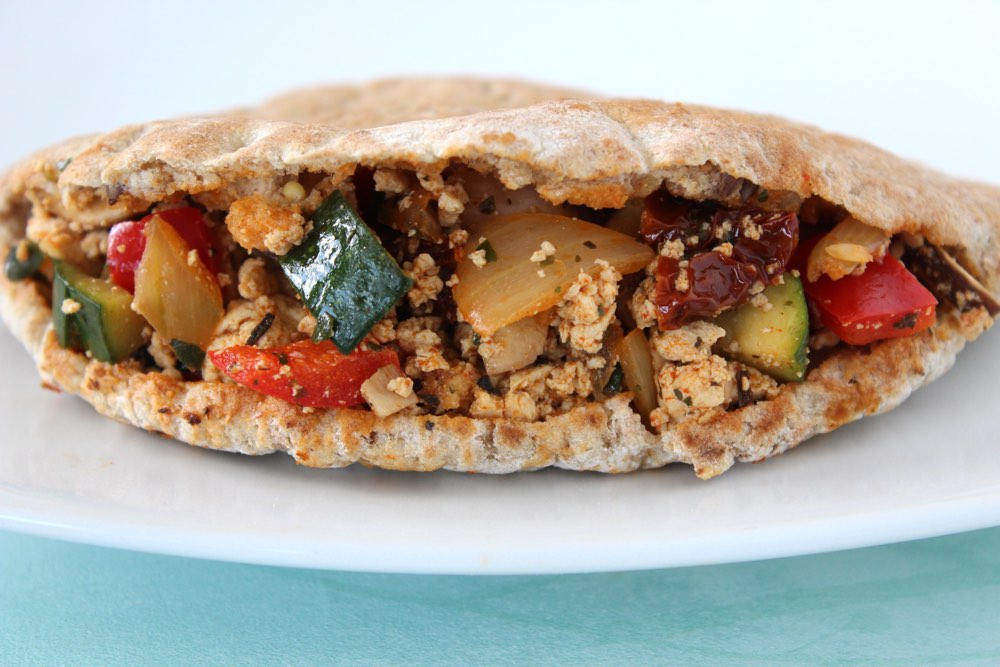 [print_this]
This tofu scramble makes a delicious, quick 'n' easy supper, lunch or brunch. It comes together in just 20 minutes and only uses one pan (my favourite kind of meal!) It's protein- and calcium-rich (thanks to the tofu) and packed full of antioxidant-rich veggies, herbs and spices. We love to serve it on wholegrain toast at home and stuffed into pitta breads for school and work lunchboxes.
Serves 4
Hands-on time: 20 minutes Ready in: 20 minutes
Ingredients
1 TBSP olive oil (I use the oil from the sun-dried tomato jar)
1 brown onion, diced
2 garlic cloves, minced (or 1-2 TBSP frozen minced garlic)
1 sweet romano or bell pepper, deseeded and diced
½ medium courgette (zucchini) (about 100g), diced
1 block organic firm tofu (about 400g / 14 oz)
2 tsp smoked paprika
1 tsp ground cumin
1 TBSP tamari or reduced salt soy sauce
½ TBSP dried oregano (or Italian seasoning)
2 TBSP fresh or frozen basil, finely chopped
100g / 1 cup chestnut (or crimini) mushrooms, diced
8 oil-packed sun-dried tomatoes, chopped
12 black pitted olives, halved
Optional extras (for a nutrient boost)
2 TSBP nutritional yeast with B12
Sprinkling of hulled hemp seeds
Method
1. Gently heat the oil in a large frying pan (skillet). Add the onion and cook for a couple of minutes. Stir in the garlic, sweet romano/bell pepper and courgette, and continue cooking for a further 2-3 minutes.
2. Drain the tofu, then crumble it into the pan. Sprinkled the smoked paprika and cumin on top, and stir until the tofu is fully coated in the spices.
3. Add the remaining ingredients to the pan (tamari/soy sauce, oregano/Italian seasoning, basil, mushrooms, sun-dried tomatoes and olives) and stir through. Continue cooking for about 5 minutes.
4. Taste test, and adjust the seasoning to suit. Sprinkle on some nutritional yeast and hemp seeds, if desired, then serve.
5. Any leftover scramble can be stored in an airtight container for up to five days. It is also freezable.
[/print_this]
Pin for later ⬇️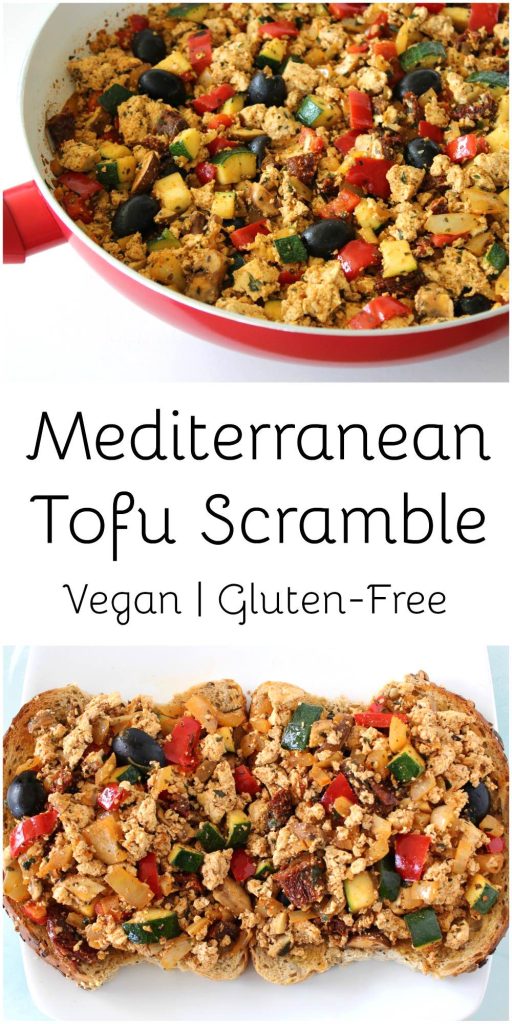 Big shout out to the lovely people at Suma who supplied me with ingredients that I used to create this recipe. The following organic ingredients are available from Suma and can be purchased in the UK from independent health food shops and online:
– Suma Organic Sundried Tomatoes in Olive Oil with Thyme
– Clearspring Organic Tamari Soya Sauce
– Suma Organic Smoked Paprika
– Suma Organic Ground Oregano
– Cauldron Foods Organic Firm Tofu
Do you enjoy using dried herbs and spices? If so, what are your top favourites? It's hard for me to pick just one, so here are my current top five (in no particular order) ….
✦ Dried Oregano
✦ Fresh Basil
✦ Smoked Paprika
✦ Ground Cumin
✦ Ground Sweet Cinnamon
If you try this Mediterranean tofu scramble recipe, please come back and leave a review. It's so helpful to me (and other readers) to hear your experiences and ideas for variations. Thank you! ❤️