In today's post, I'm sharing a new plant-based burger recipe that my family has been loving lately… the Sweet Potato Bhaji Burger. The burgers are filled with simple ingredients – sweet potato, onion, chickpea flour and kale – which also happen to be nutritional powerhouses, providing an array of vitamins, minerals and antioxidants ✨ The Indian spices used to flavour the burgers – cumin, garam masala and turmeric – notch up their antioxidant potency even further.
Not only are they quick and easy to make, but they're super cheap too! According to my calculations, it cost just £1.07 to make six burgers. That's 18p per burger. Bargain!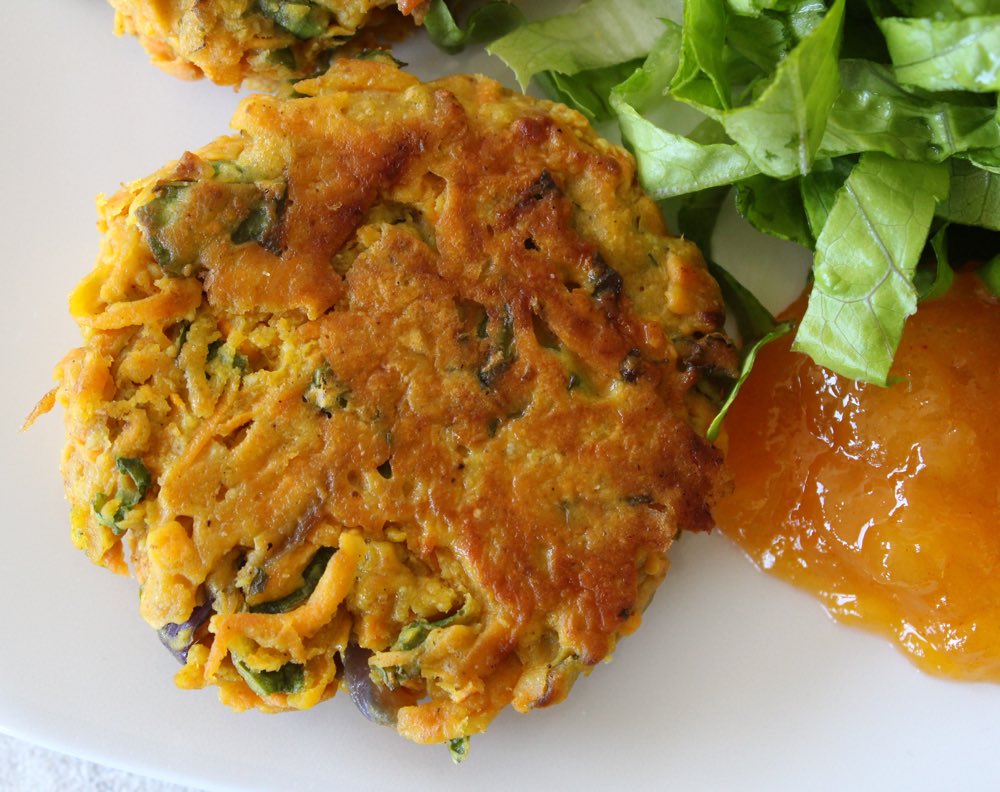 The inspiration for the this recipe came from last month's issue of Vegan Life magazine (the one with the cute mini donuts on the front cover). On pages 78-79, a recipe for Sweet Potato Onion Bhajis caught my eye. I love onion bhajis but I've never made them with sweet potato before. I was excited to give them a try!
As often happens with me, I started out following the recipe then discovered that I didn't have all the required ingredients. Then inspiration started flowing and, before I knew it, the thing I was intending to make morphed into something else. I guess that's all part of the creative process!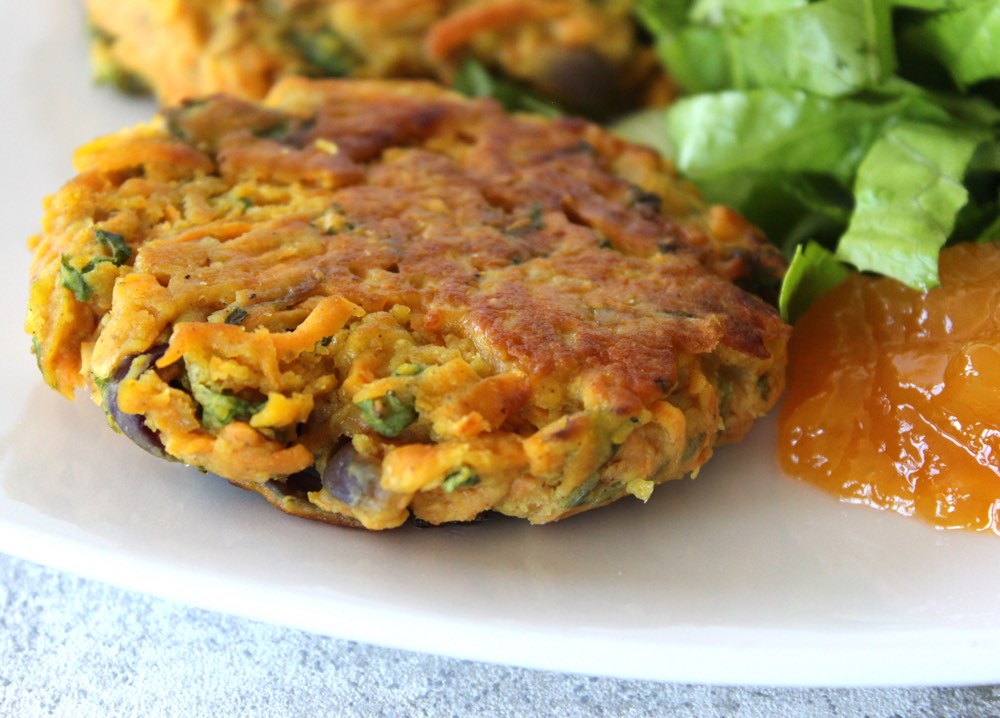 On my first attempt at the bhajis, I pressed the batter down so that the middle cooked through evenly, but I pressed a bit too hard. As a result, they ended up looking more like burgers than bhajis! Going with the flow, I decided to serve them in buns topped with mango chutney. The family enjoyed them, though we found the flavour of the chickpea flour quite dominant. In the second trial, I decided to stick with the bhaji burger theme, but reduced the amount of chickpea flour by half and tweaked the Indian spice mix. The result? Big thumbs up from the family. Yay!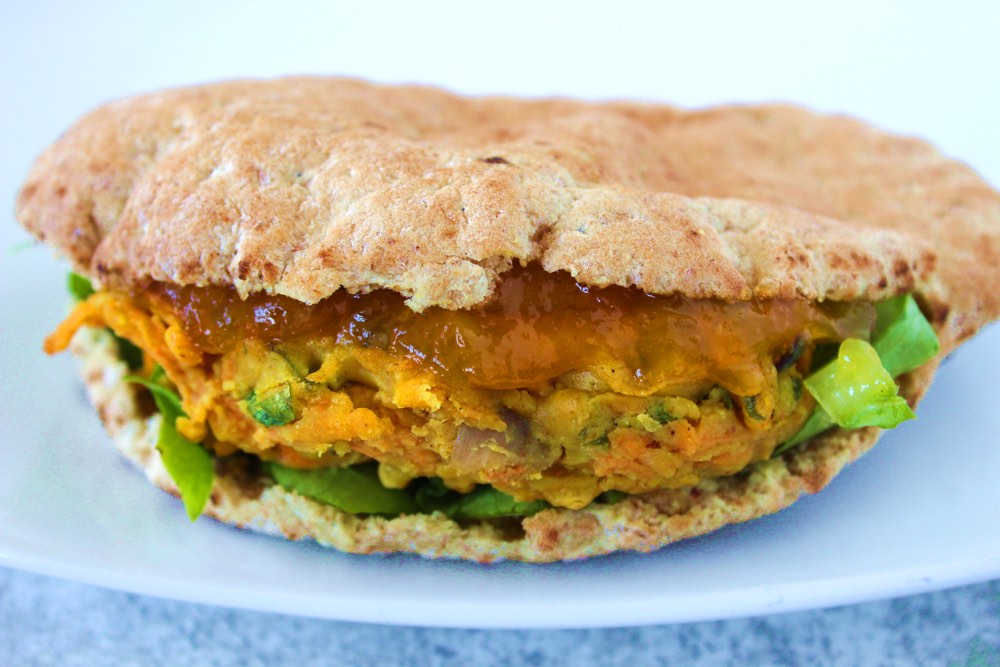 Since then, I've made the burgers at least a couple more times and I know I'll be making them time and again in the future. This recipe is a keeper!
These burgers are easy to make, budget-friendly and packed full of nutritional goodness. For an evening meal, we love to serve them in buns, topped with mango chutney and crisp lettuce leaves, with side servings of baked beans and potato wedges. They also make a delicious filling for sandwiches or pitta breads.
Recipe inspired by 'Sweet Potato Onion Bhajis' in Vegan Life magazine, Issue 39
Hands on time: 22 minutes Ready in: 30 minutes
Makes 5-6 burgers
Ingredients
1½ TBSP olive oil (divided)
1 medium onion (130g), finely chopped
250g / 2 packed cups sweet potato, grated
140g / 1 cup gram flour (aka chickpea flour)
120ml / ½ cup water
1 tsp garlic powder or granules
1 tsp ground cumin
1 tsp garam masala (or your favourite curry blend)
½ tsp salt
¼ tsp ground turmeric
1 TBSP tomato puree (paste)
40g / 1 packed cup kale or spinach, finely chopped
Method
1. Gently heat ½ TBSP oil in a large frying pan (skillet) and cook the onions for about 4 minutes, until they start to soften.
2. Meanwhile, grate the sweet potato (no need to peel it).
3. Sieve the chickpea flour into a large mixing bowl. Add the garlic powder/granules, cumin, garam masala and salt, and stir through. Add the water and continue stirring until it becomes a smooth, thick batter.
4. Add the grated sweet potato to the bowl, along with the tomato puree, kale/spinach and cooked onions. Stir thoroughly until the sweet potato is fully coated in the batter.
5. If possible, use two frying pans (skillets) to save cooking time. Coat the bottom of the frying pan(s) in oil and heat on medium heat. Scoop about half a cup's worth of burger mixture and drop it into the pan. Press down on the mixture to flatten it into burger shape. You should be able to fit another three burgers into the pan, but make sure not to crowd them.
6. Cook the burgers until golden brown on the bottom (about 4 minutes), then use a slotted turner to carefully flip them over. Continue cooking until brown on the second side (another 4 minutes or so).
7. The burgers can be eaten hot or cold. Any leftovers can be stored in the fridge for up to five days. I haven't tried freezing them yet, but I'm pretty confident that they will be freezable. As soon as I've tested this, I'll report back.
Pin for later ⬇️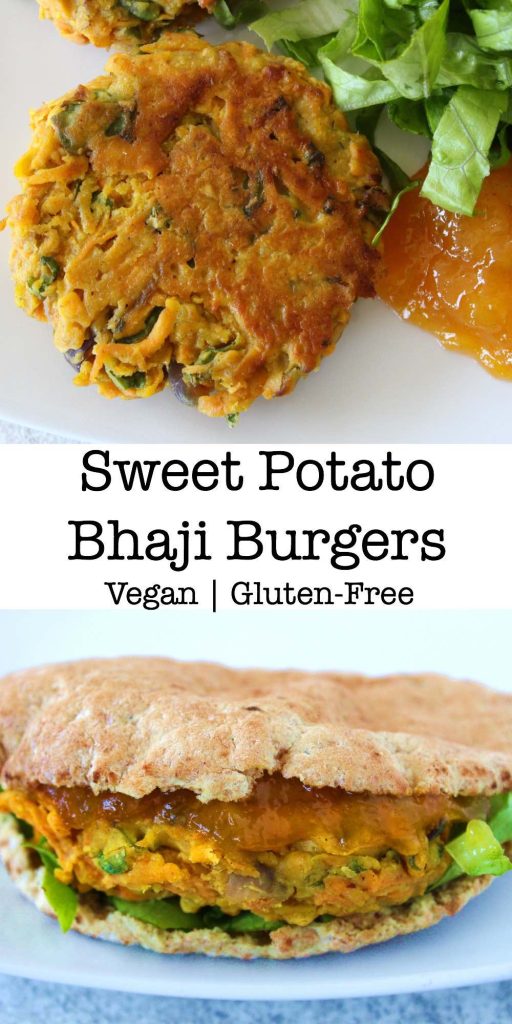 If you try these burgers, please come back and leave a review. It's so helpful to me (and other readers) to hear your experiences and ideas for variations. Thank you! ❤️

SaveSave
SaveSave
SaveSave
SaveSave
SaveSave
SaveSave
SaveSave
SaveSave
SaveSave
SaveSave
SaveSave
SaveSave
SaveSave
SaveSave
SaveSave
SaveSave