Hey lovely people! Today, I have a new, tasty sandwich filling for you. It's creamy, crunchy, tangy and gently spiced with the flavours of India. It also happens to be packed full of nutrients. This is a sandwich filling that will leave you feeling full and energised. Just what you need to see you through a busy afternoon at work or school.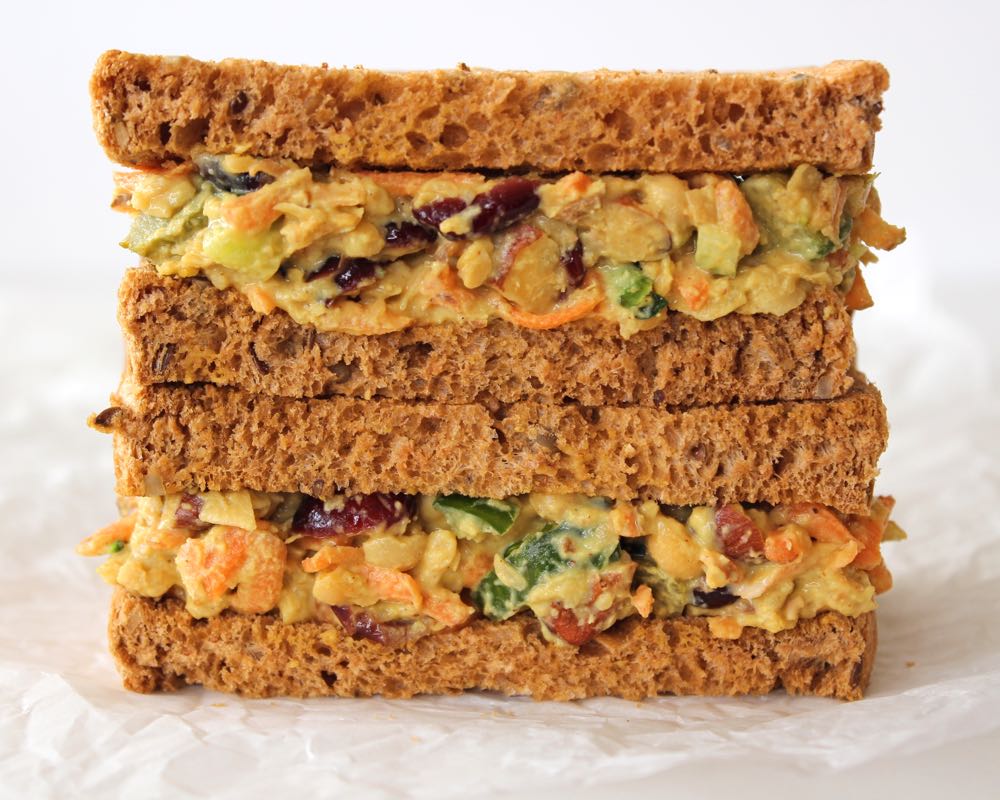 For most of his school life, Lucien has chosen to take a packed lunch. In the primary years especially, this encouraged me to get creative and 'think outside the box' as I couldn't rely on traditional sandwich fillings like cheese or peanut butter. In fact, during his entire seven years of primary school, he didn't take a single traditional sandwich in his lunchbox. Instead, we tended to fill his box with leftovers from the previous night's dinner – fajita wraps, pizza slices, tofu frittata, roasted vegetable pasta, Moroccan couscous, chunky soups, and even leftover Moroccan tagine and sweet potato curry!
These non-traditional lunchboxes continued into secondary school. Since this was our 'norm', I didn't think much of it, but I did chuckle when one of the parents pulled me to one side and said "Did you know, your son's lunchboxes are creating lunchbox envy?" Apparently his friends were going home and telling their parents all about his lunches and how tasty they looked. The vegan kid giving his friends' lunchbox envy? That's pretty cool!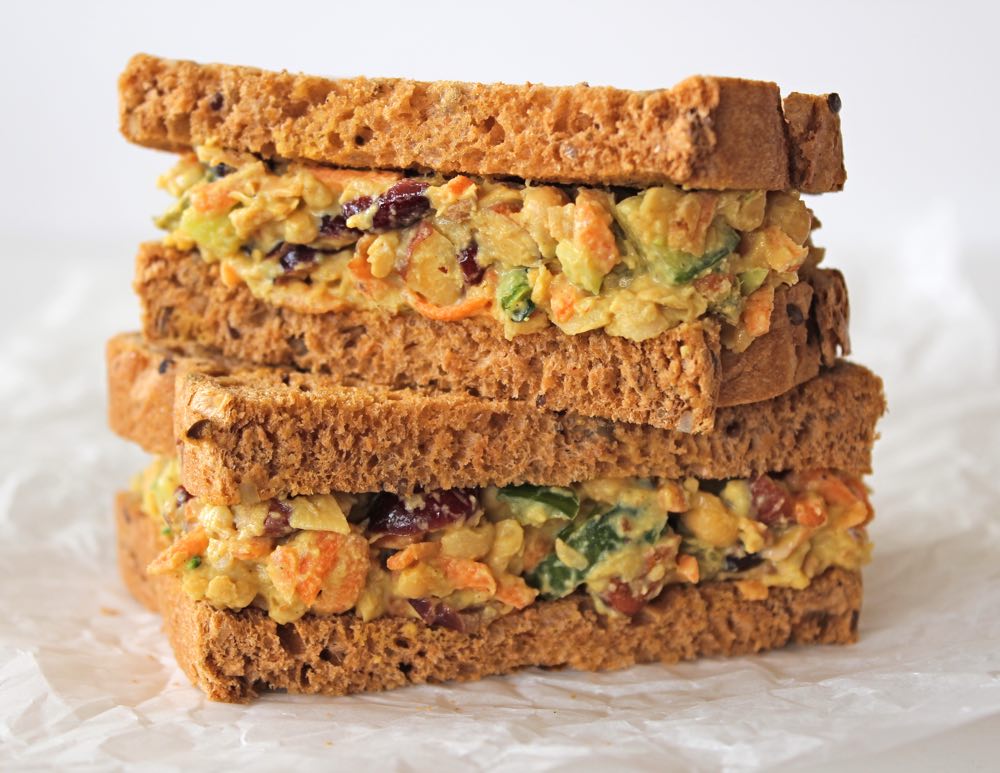 Anyway, this academic year, I'm determined to keep those lunchboxes varied and interesting, not just for Lucien's sake, but also for all those secondary school kids peering into his box and wondering what vegans eat. You never know, it might just start to sow a few seeds of inspiration 😉
Lately, a lot of my inspiration for new recipe creations has been the Vegan Life magazine, and today's recipe is no exception. In this month's issue, it was the dressing for this Curried Broccoli Salad that caught my eye, as it's main ingredient is tahini (aka sesame paste).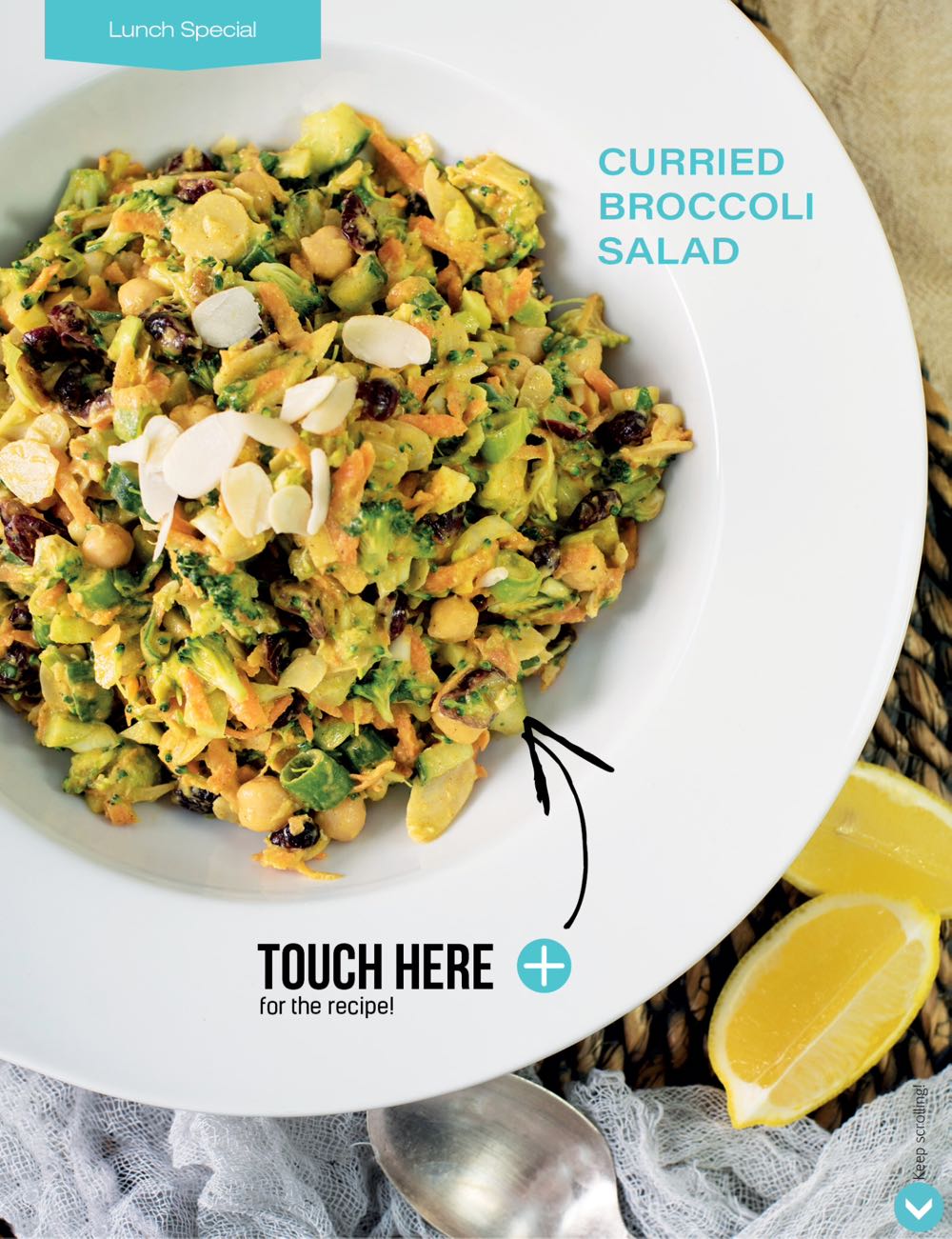 Lately, I've been on the lookout for new ways to incorporate tahini into our meals as it's so nutrient-dense. It turns out that this curried salad dressing combined with a little mayonnaise is the perfect condiment for an Indian-style 'chickpea smash' sandwich filling.
It makes a delicious sandwich filling in its own right… or you can fully load it with extra salad, which is how I like it!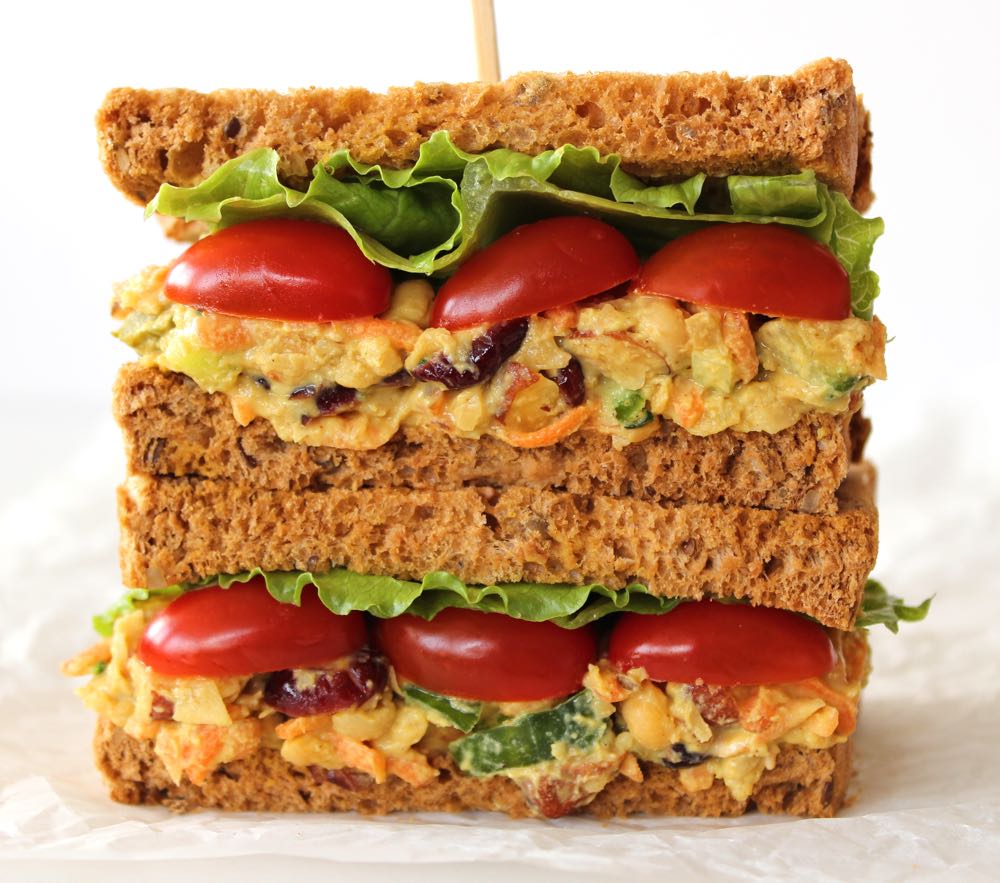 This 'Curried Chickpea Smash' has been a huge hit with the family and it's become a new favourite lunchbox addition for Lucien. We hope you enjoy it too!
[print_this]
This sandwich filling is creamy, crunchy, tangy and gently spiced with the flavours of India. It's packed full of nutritional goodness, including lots of plant protein, complex carbs, heart-healthy fats, vitamins, minerals and antioxidants which will make you feel full and energised. Just what you need to see you through a busy afternoon at work or school!
Serves 5
Hands on time: 20 minutes Ready in: 20 minutes
Ingredients
Salad
400g / 14 oz can chickpeas, drained
130g / 1 cup cucumber, diced
2 medium carrots (150g), grated (or whizzed in a mini chopper)
75g / ½ cup cornichon gherkins (dill pickles), diced
50g / ⅓ cup dried cranberries (preferably sweetened with fruit juice)
40g / ¼ cup roasted almonds, roughly chopped (I love to use the Tamari Roasted Almonds from the Bit of the Good Stuff Cookbook p182)
Curried Salad Dressing
4 TBSP light tahini
½ TBSP almond butter
2 TBSP vegan mayonnaise (I use home-made)
½ TBSP ginger paste (or grated fresh ginger)
2 tsp apple cider vinegar
2 tsp maple syrup (or syrup of choice)
1 tsp garam masala
¼ tsp ground turmeric
¼ tsp salt
3-4 TBSP water
Method
Prepare the salad dressing: Give the tahini a good stir in its jar so that the solids and oils are combined, then scoop 4 tablespoons into a small bowl. Add all the remaining ingredients and stir vigorously until fully combined and smooth. If the dressing is a little on the thick side, add more water, one tablespoon at a time, until you reach the desired consistency. Taste test and add more nut butter, mayonnaise or spices, if desired.
Tip the drained chickpeas into a large mixing bowl and roughly mash using a potato masher. Add the remaining salad ingredients to the bowl, along with the dressing. Stir until thoroughly combined. Transfer to an airtight container and store in the refrigerator, where it will keep for up to five days.
[/print_this]
Products I used in this recipe…
– Suma Organic Light Tahini (available in UK independent health food shops)
– Aldi Smooth Almond Butter
– Morrisons Cornichons with Herbs (Cornichon Gherkins with Dill in Vinegar)
– KTC Ginger Paste (from the world food aisle in Sainsbury's)
– East End Garam Masala (from the world food aisle in Tesco)
Pin for later ⬇️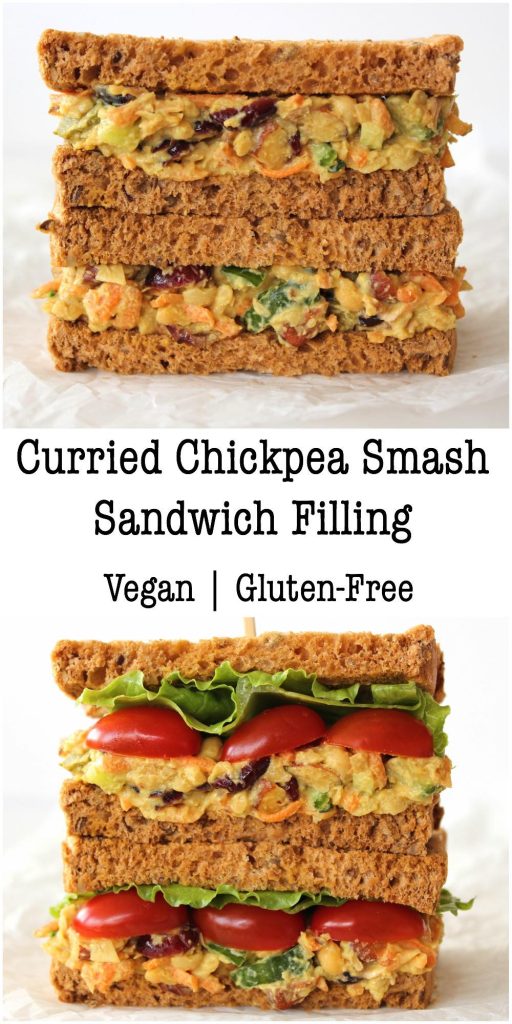 Looking for more sandwich inspiration? Check these out …
✨ My Top Vegan 7 for British Sandwich Week
✨ Ash from Viva!'s Vegan Muffaletta
✨ Pulled Jackfruit BBQ Sandwiches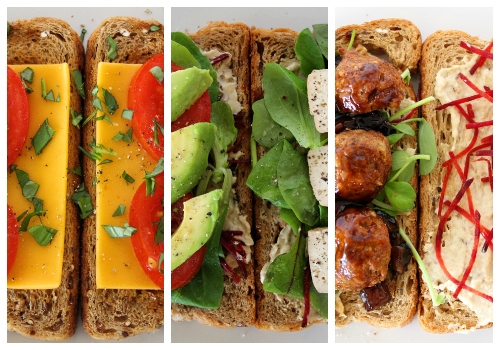 If you make this recipe, I'd love to hear your feedback and any suggestions for adaptations. Tag your photos with #bitofthegoodstuff on social media and they'll find their way to me. You can also connect with me on my social media channels here: Instagram, Twitter, Facebook, Pinterest.
With love,