Today, I'm finally publishing my recipe for vegan carrot cake. It contains no dairy or eggs, yet tastes just as good (if not better!) than its traditional counterpart. This was the cake that I chose to bake for my mum's and father-in-law's birthdays this year and I'm pleased to say, it went down a treat!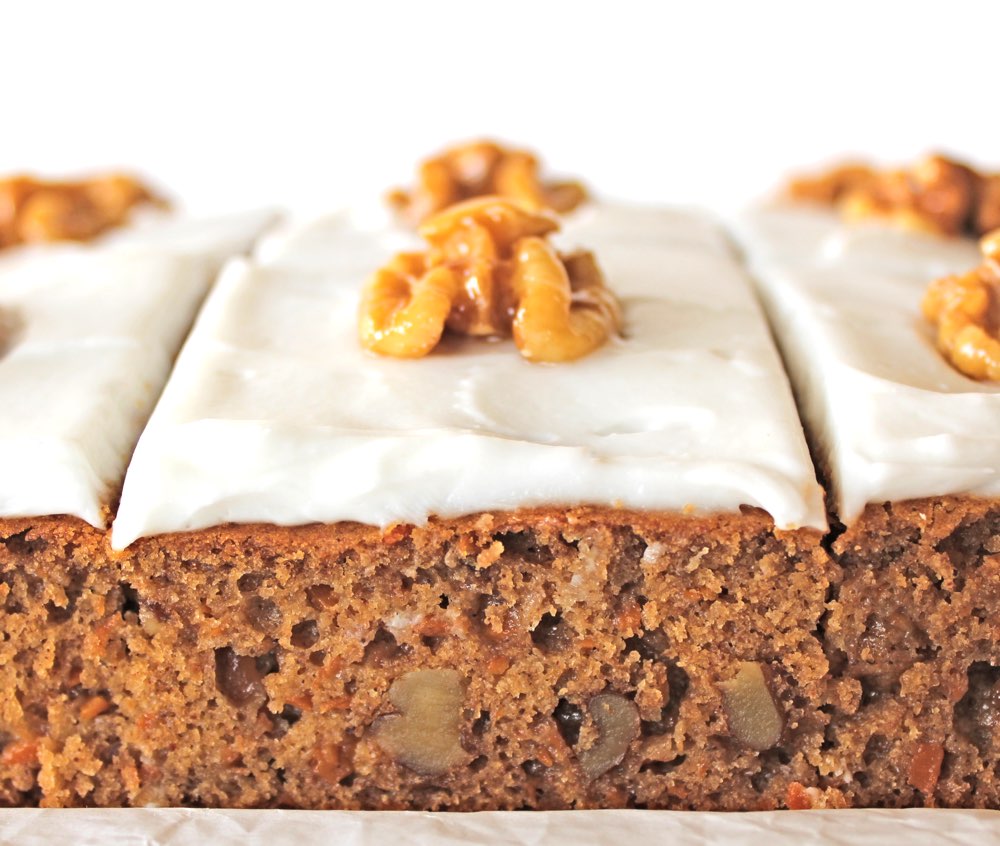 I must admit, this recipe has been a long time coming (the culmination of about two years' worth of experimenting!) Carrot cake is one of my all-time favourites so I was determined to keep experimenting until I'd created a vegan version that replicated the one of my childhood memories. I had set the bar high!
My family were very willing cake testers and gave positive feedback on all the various versions I created but, for me, they were never quite right. The main issue that I needed to nail was the texture. If you're a carrot cake connoisseur, you'll know that it has a very specific texture. It isn't like a traditional 'light and fluffy' sponge cake. It's a lot more dense and moist; almost fudge-like.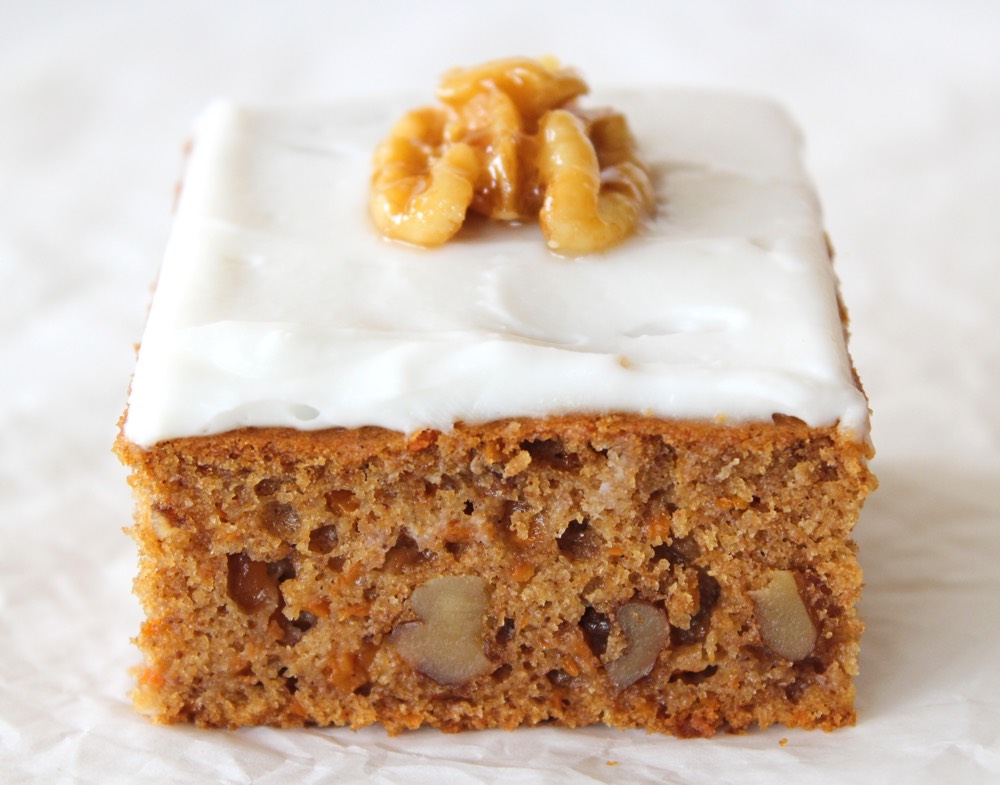 It had been at least 20 years since I'd eaten a traditional carrot cake so my reference point was pretty old (and with questionable reliability!) but this Easter I finally got to indulge in carrot cake once more; and at the most unexpected of places… the vegan fast food joint 'Vurger' in Valencia, Spain.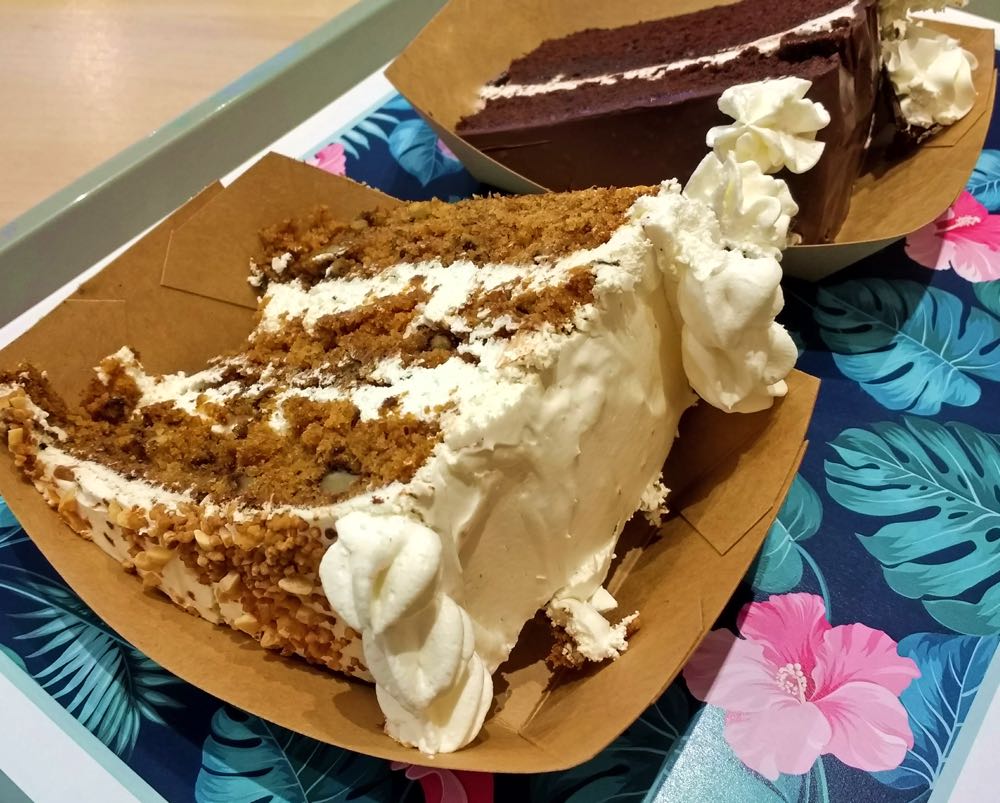 After we'd ordered our burgers and were making our way to the seating area, I caught sight of a glass cabinet filled with the most incredible-looking cakes. Each one was at least three layers tall and covered in the most beautiful frosting. There were a selection of flavours on offer, including double chocolate, chocolate cherry, and carrot cake. Much to our delight, we discovered that another vegan fast food joint called 'Aloha' also stocked these beautiful cakes. My family ended up going to Vurger and Aloha three times, just so we could try out all the cakes!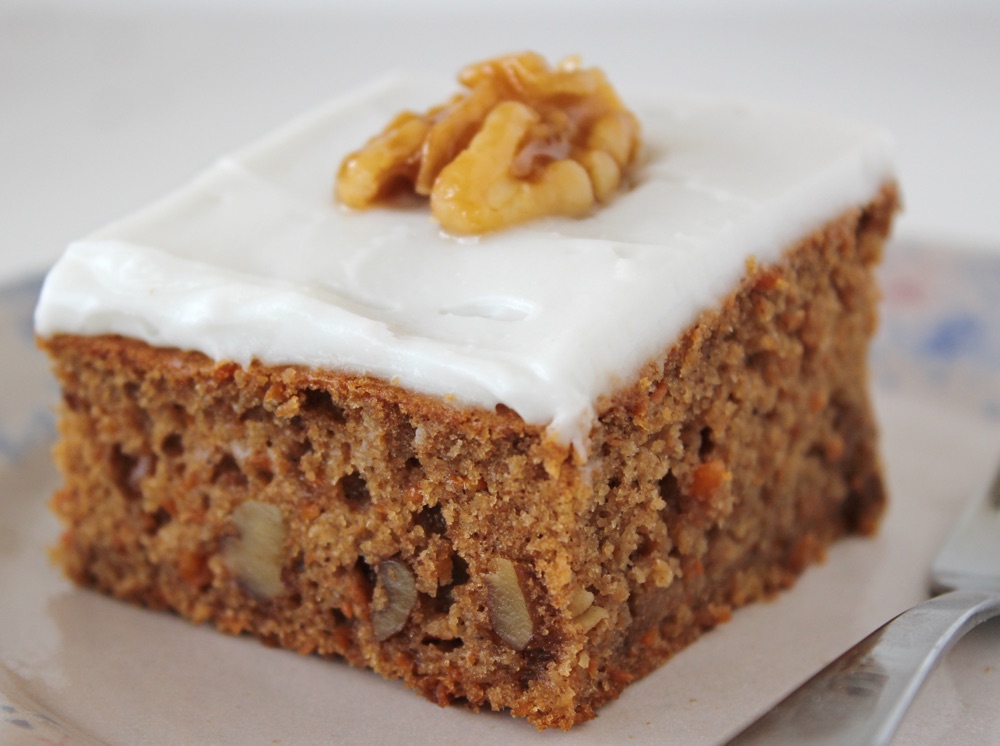 Filled with fresh memories of how carrot cake should taste, as soon as I returned home I dusted off my scribbled experiments and enthusiastically set to work on 'perfecting' my recipe. I experimented with different ratios of wet/dry ingredients, varying ratios of carrots and nuts, different shape tins and baking times, and finally came up with a recipe that I'm 100% happy with. It might not be to everyone's taste but, for me, this cake is just spot on flavour and texture-wise. It's dense and moist, with plenty of carrot and walnuts for added layers of texture. It's not sugary sweet, but instead flavoured with beautiful, warming spices.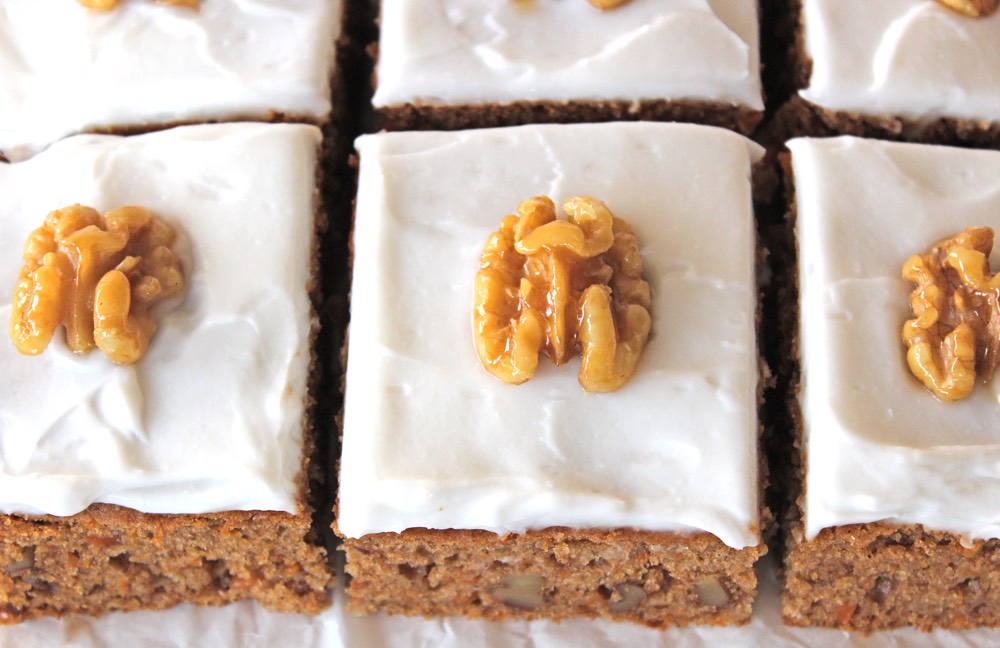 Cream cheese frosting is the perfect topping for this cake. A few years ago, it was difficult to find vegan cream cheese here in the UK (let alone a great-tasting one!); however lately there's been an explosion of dairy-free 'cheeses' entering our shops. When it comes to vegan cheese, everyone's tastes differ so it's worth trying a few and seeing which one most appeals to your taste buds. Two of my personal favourites are Violife Creamy Original and Tofutti Creamy Smooth Original. These have a very subtle cheese flavour, with a lovely creamy texture, making it perfect for cake frosting. I've also used Sheese Creamy Original and Tesco Free From Soft Cheese for topping carrot cake. These two have a stronger cheese flavour so need a touch more icing sugar to balance the flavours.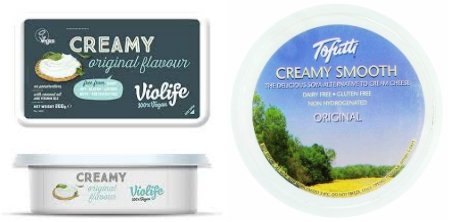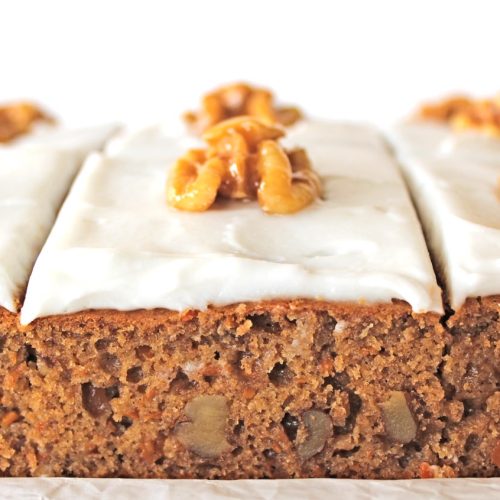 Vegan Carrot Cake with Cream Cheese Frosting
For me, this recipe epitomises everything that I love about carrot cake. It's dense and moist, with a generous amount of carrots and walnuts. It's not sugary-sweet, but beautifully flavoured with warming spices. It's had great feedback from my friends and family. I hope you enjoy it too!
Ingredients
240

ml

/ 1 cup soya milk

2

tsp

apple cider vinegar

100

g

/ ½ cup soft brown sugar or coconut sugar

80

ml

/ ¼ cup syrup of choice

(I use maple syrup or coconut blossom syrup)

100

ml

/ ½ cup neutral-flavoured oil

(I use rapeseed (canola) oil, grapeseed oil or sunflower oil

240

g

/ 2 cups carrot

grated

140

g

/ 1 cup plain (all purpose) flour

140

g

/ 1 cup fine wholemeal (whole wheat) flour or chapatti flour

1½

tsp

baking powder

½

tsp

bicarbonate of soda (baking soda)

½

tsp

salt

2

tsp

mixed spice

or pumpkin spice

1

tsp

ground cinnamon

50

g

/ ½ cup walnuts

chopped
Vegan Cream Cheese Frosting
1

tub vegan cream cheese (around 200g / 7 oz)

2½ – 5

TBSP

icing (confectioners) sugar
Maple-Glazed Walnuts
9

walnut halves

1

TBSP

maple syrup
Instructions
Grease a 21 cm x 21 cm / 8" x 8" square baking pan and line with non-stick baking paper. Preheat the oven to 180C (160C fan) / 350F.

Grate the carrots either using a box grater or mini chopper. Roughly chop the walnuts.

Whisk together the soya milk and vinegar in a large mixing bowl using a hand whisk or fork. Add the sugar, syrup and oil. Continue whisking until fully combined.

In a separate bowl, add the flours, baking powder, bicarbonate of soda, salt, mixed spice and cinnamon. Stir through to combine.

Fold the dry ingredients into the wet ingredients. Add the grated carrot and chopped walnuts and stir through until evenly distributed.

Transfer the mixture to the prepared tin. Using a spatula, distribute the mixture evenly in the tin and smooth the top. Place in the centre of the oven and bake for 45 minutes, or until a skewer inserted through the middle comes out clean and the top of the cake is springy to the touch.

Leave the cake in the tin for at least an hour, or until completely cool (it will continue to firm up as it cools), then peel off the baking paper and transfer to a chopping board. Using a bread knife, trim the four edges of the cake to neaten them up.

Meanwhile, place the cream cheese in a bowl. Sieve in the icing sugar, then beat using electric beaters until just combined (do not over-beat, otherwise the cheese may become runny). Taste test and add more sieved sugar, if desired. Beat once more to combine. Store the cream cheese in the fridge until needed.

Preheat a frying pan (skillet) on a medium-high heat. Add the walnuts and dry fry for 2 minutes, stirring continuously. Add the maple syrup and continue stirring for about 3 minutes, until the nuts are fully coated and the syrup has caramelised and become very sticky. Space out the nuts on a piece of non-stick baking paper. As they cool, the nuts will firm up and become shiny. Store in an airtight container in the fridge until ready to use.

Once the cake is completely cooled, distribute the cream cheese over the top of the cake using a knife. Slice the cake into squares, add the maple-glazed walnuts, then chill the cake in the fridge until ready to serve.

This cake will keep for up to five days in the fridge. It is also freezable (without the frosting). The cream cheese frosting is best added on the day that it is to be served as the lighter coloured cheeses (like Violife, Tofutti) can discolour over time.
Pin for later ⬇️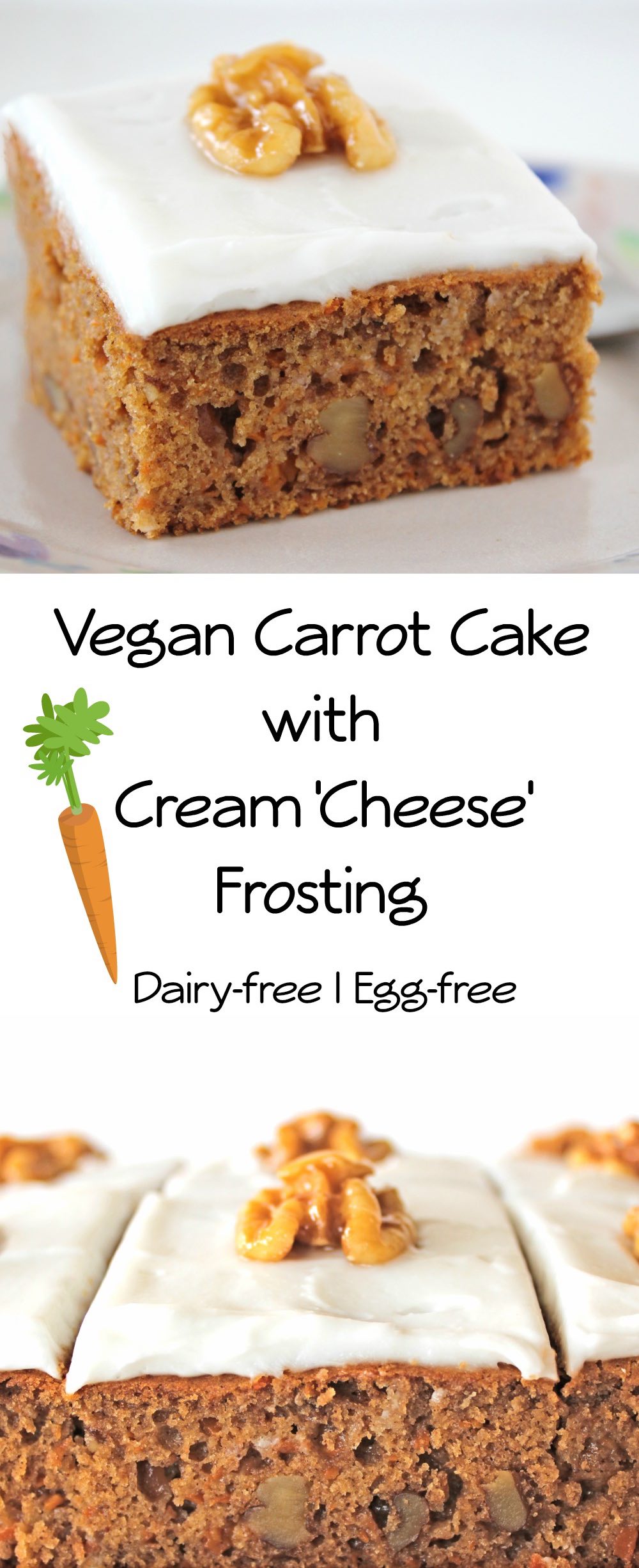 This recipe is being submitted to the Suma Blogger's Network. Big shout out to the lovely people at Suma who supplied the ingredients I used to create this recipe.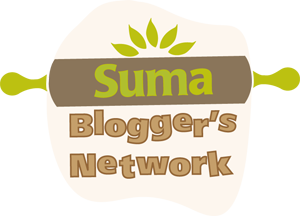 Ingredients from Suma (available from independent health food shops in the UK):
Aspall Organic Cyder Vinegar
Suma Organic Coconut Palm Sugar
Suma Organic Coconut Blossom Syrup
Suma Grapeseed Oil
Suma Mixed Spice
Suma Ground Cinnamon
Doves Farm Organic Fine Plain English Wholemeal Flour
Doves Farm Organic Plain White Flour
Doves Farm Baking Powder
Doves Farm Bicarbonate of Soda
Violife Creamy Original
Tofutti Creamy Smooth Original
If you make this Carrot Cake, I'd love to hear your feedback and any suggestions for adaptations. I haven't attempted a gluten-free version yet, so if you do, please let me know whether it works out and how you substituted the gluten flour. I'm still very new to GF baking so any help is very much appreciated!
I'd love to see photos of your creations too! You can tag them #bitofthegoodstuff on social media and they'll find their way to me. You can also connect with me here on my social media channels: Instagram, Twitter, Facebook, Pinterest.
Happy baking!