The clock's have gone back, the evenings are drawing in, and the air is fresh and crisp. I love the beauty of the Autumn season; the changing colours of nature's palate and crunching my way through piles of golden horse chestnut leaves. The cold and extra layers of clothing… I love less so; but I'm working on it. What makes the foray into the cold that much sweeter however, is the return home to a hearty, warming dinner.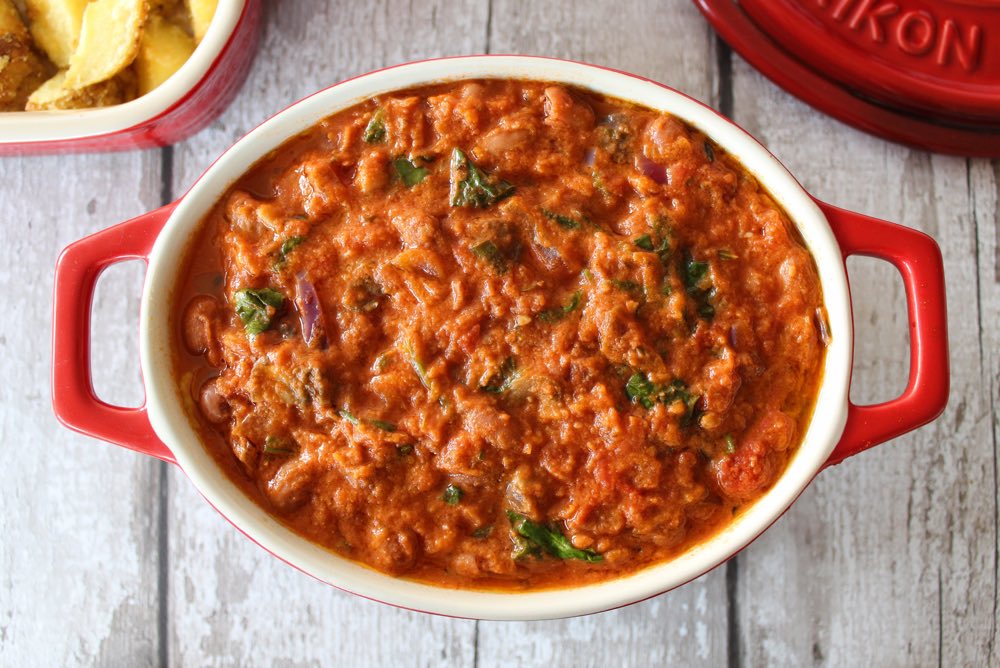 In today's post, I'm sharing a recipe for an Italian bean casserole that's just perfect for the cold weather seasons. It's hearty, warming and filling. It's also packed with lots of immune-boosting nutrients to keep those pesky cold germs at bay.
The casserole is really simple to make and uses basic pantry ingredients. I love my casseroles to be rich in flavour so I add a mix of dried herbs and spices from my pantry, as well as balsamic vinegar. I also add a couple of tablespoons of tahini (sesame paste). Not only does this add a touch of creaminess and savoury flavour to the casserole, but it also adds B vitamins, minerals and heart-healthy fats.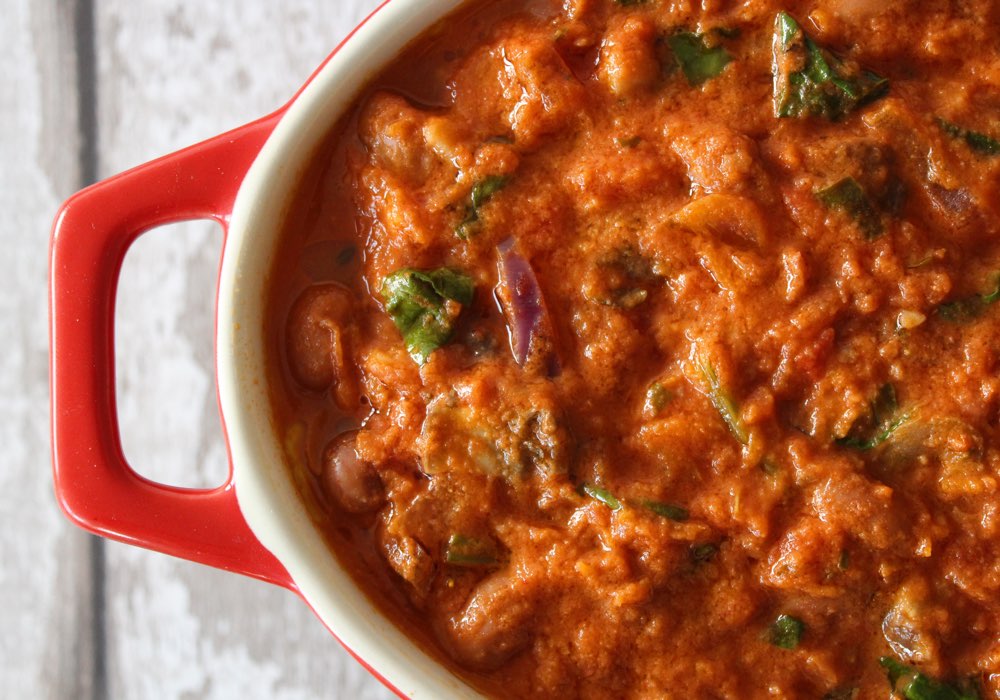 The casserole is highly adaptable, so please do customise it to suit your own preferences. I choose to use borlotti beans as they're one of my favourites, but I imagine that butter beans, pinto beans or even kidney beans would also work well. You could even use cans of mixed beans, if they're available in your local area. If you want to add some 'chewy' or 'meaty' texture to the casserole, you could throw in some slices of veggie sausage.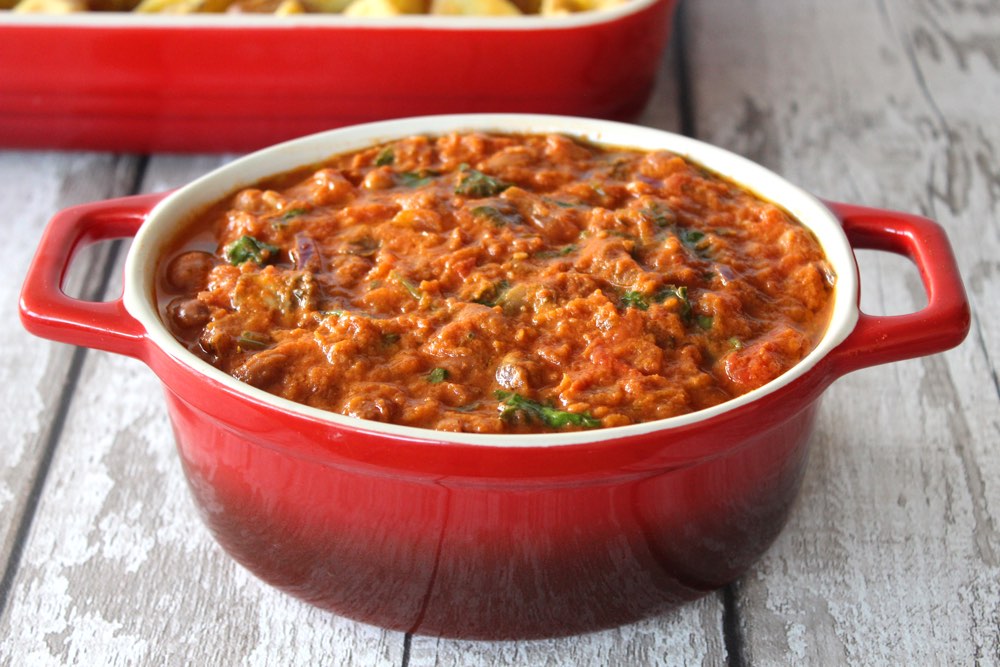 [print_this]
This Italian Bean Casserole is a great winter warmer. It's simple to make, budget-friendly and packed full of nutrients that promote strong immune systems. The casserole is highly adaptable, so please feel free to customise it with your favourite beans and veggies. You could even add in some sliced sausage to make a 'Sausage and Bean Casserole'.
We love to serve this casserole with 'mini roasties' (which we roast in the oven while we prepare the casserole). It is also delicious served with chunks of fresh granary bread or warm garlic bread.
Serves: 4
Hands on time: 15 minutes Ready in: 25 minutes
Ingredients
1 TBSP extra virgin olive oil, plus more for drizzling
1 large red onion, diced
2-3 garlic cloves, minced (or 2-3 tsp garlic paste)
2 tsp paprika
2 tsp dried oregano
½ tsp chilli powder (use mild for children)
2 x 400g / 14 oz cans chopped tomatoes (I used chopped tomatoes with basil)
2 TBSP tomato puree (paste)
1 TBSP balsamic vinegar
2 TBSP light tahini
1 tsp unrefined sugar, or to taste
½ tsp salt, or to taste
2 x 400g / 14 oz cans borlotti beans (or other canned beans)
125g / 1¼ cups chestnut (crimini) mushrooms, finely chopped
1 large handful (about 85g) baby spinach, roughly chopped
Method
1. Gently heat the oil in a large saucepan and cook the onion for a couple of minutes.
2. Stir in the garlic, paprika, oregano and chilli powder, and continue cooking for a couple of minutes.
3. Add the chopped tomatoes, tomato puree, balsamic vinegar, tahini, sugar and salt. Stir through until thoroughly combined.
4. Stir in the beans and mushrooms. Cover with a lid and gently simmer for about 15 minutes. Taste test and add a touch more spice, sweetener or salt if desired.
5. Remove from the heat and stir in the spinach, until it just starts to wilt. Add a light drizzle of extra virgin olive oil to finish (optional, but I find it adds a lovely touch of flavour).
6. Serve warm with some bread, roasted potatoes or rice. Any leftovers will keep for up to five days in the fridge. I haven't tried it yet, but I'm pretty confident that this dish will freeze well too.
[/print_this]
Big thank you to the lovely folks at Suma for supplying the ingredients used to create this recipe…
Suma Extra Virgin Olive Oil
Suma Organic Paprika
Suma Organic Dried Oregano
Suma Organic Chilli Powder
Suma Organic Chopped Tomatoes with Basil
Suma Organic Tomato Puree
Aspall Organic Balsamic Vinegar
Suma Organic Light Tahini
Suma Organic Borlotti Beans
In the UK, Suma products are available to purchase in independent health food shops.
Pin for later ⬇️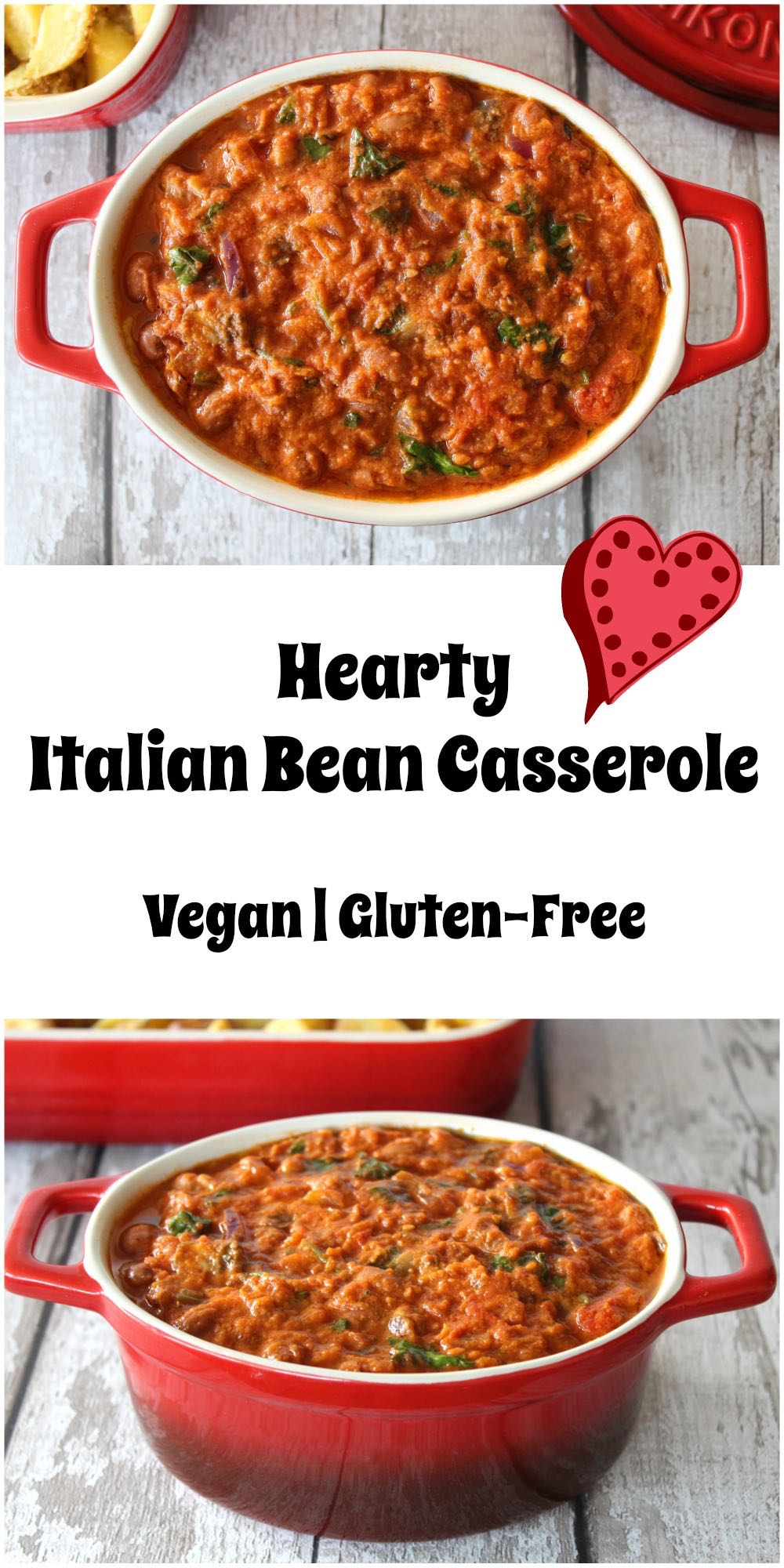 If you make this recipe, I'd love to hear your feedback and any suggestions for adaptations. Tag your photos with #bitofthegoodstuff on social media and they'll find their way to me. You can also connect with me on my social media channels here: Instagram, Twitter, Facebook, Pinterest.
With love,

p.s. Here are a couple of pics that I took whilst out on my run this morning. Check out those golden leaves. Aren't they beautiful? 😍