In today's post, I'm sharing one of my new favourite lunches. It consists of a broad bean, avocado and lime smash served on crispy bread, topped with radish slices. It's so delicious and fresh-tasting!!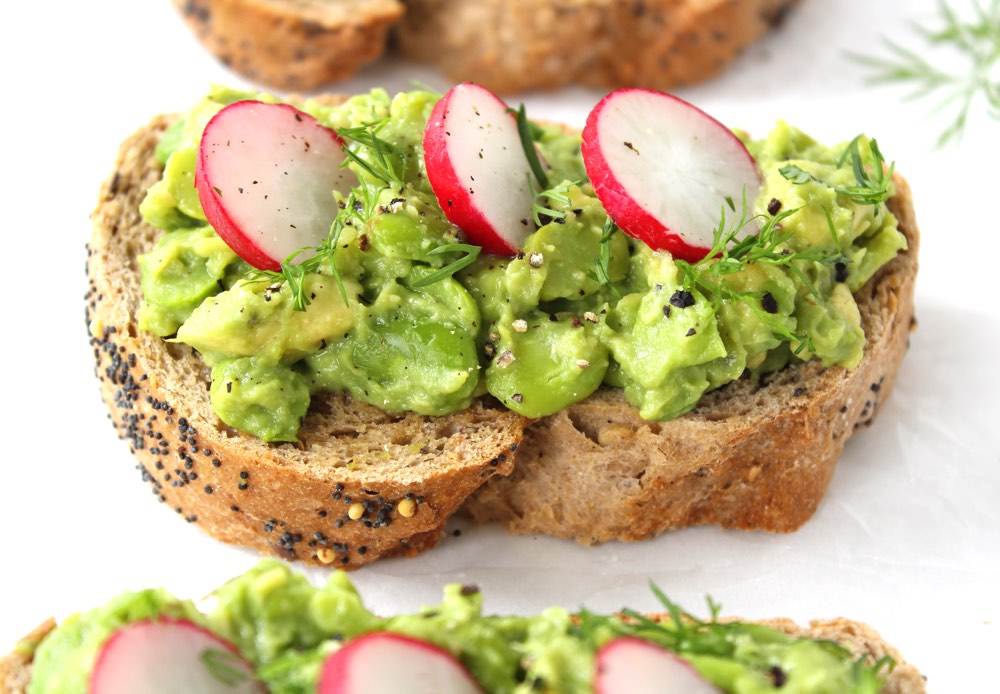 As well as being super tasty, it's full of nutritional goodness. It's packed with vitamins, minerals, antioxidants, heart-healthy fats, fibre and protein. Broad beans are an especially rich source of antioxidant vitamin C.
You'll be pleased to hear that it's really easy to make too, and ready in 15 minutes or less. Delicious, nutritious and easy… this is definitely my favourite kind of food! While I enjoy it as a lunchtime treat, it could easily be served as a savoury breakfast or light supper option too.
The inspiration for today's post was this month's issue of Vegan Life magazine (the one with the gorgeous Chloe Coscarelli on the front page). As soon as I spotted the picture on page 73, I couldn't wait to give it a try!
A twist on a traditional avocado smash, the addition of broad beans (aka fava beans) and lime gives it a wonderfully light, fresh taste. Broad beans are in season right now but, to be honest, I prefer to use frozen beans as they tend to work out much cheaper and less of a faff. The last bunch of fresh beans I bought had only two or three beans in each giant pod. What a swizz!
I've always loved the taste of broad beans, but rarely used to buy them as I wasn't keen on the task of popping them out of their tough skins. This season, I've adopted a new approach and, instead of rushing impatiently to get it done, I use it as an opportunity for a bit of mindfulness practice. Popping the beans out of their skins is actually fun… if you slow down and take the time to enjoy the process.
Broad Bean, Avocado and Lime Bruschetta
A twist on a traditional avocado smash, the addition of broad beans and lime give it a wonderfully light, fresh taste. Served on top of crispy bread slices, it makes a delicious breakfast, lunch or light supper option. 
Ingredients
4

slices

of multigrain seeded bread

1

TBSP

extra virgin olive oil

180

g

/ 1¼ cups frozen broad beans (aka fava beans)

1

ripe avocado

squeeze of fresh lime juice

2

TBSP

fresh dill

freshly ground Himalayan pink salt (or your favourite salt)

freshly ground black pepper (omit if serving to small children)
Instructions
Place the slices of bread on a large baking tray. Brush with oil and bake at 200C (180C fan) / 400F in a pre-heated oven for 10 minutes or until crispy.

Boil the broad beans for 5 minutes then tip into a sieve and refresh under cold running water.

Meanwhile, place the avocado in a bowl. Add a squeeze of lime juice, then mash using a fork.

When the broad beans are ready, pop them out of their skins. Add them to the avocado and roughly mash.

Add the dill, a sprinkling of freshly ground salt and black pepper, and stir through. Taste test and add more lime, salt or pepper, if desired.

Serve on top of the crispy bread and decorate with slices of radish and one more grind of black pepper.
Notes
Lightly adapted from the recipe in Vegan Life Magazine, Issue 51, page 73
Pin for later ⬇️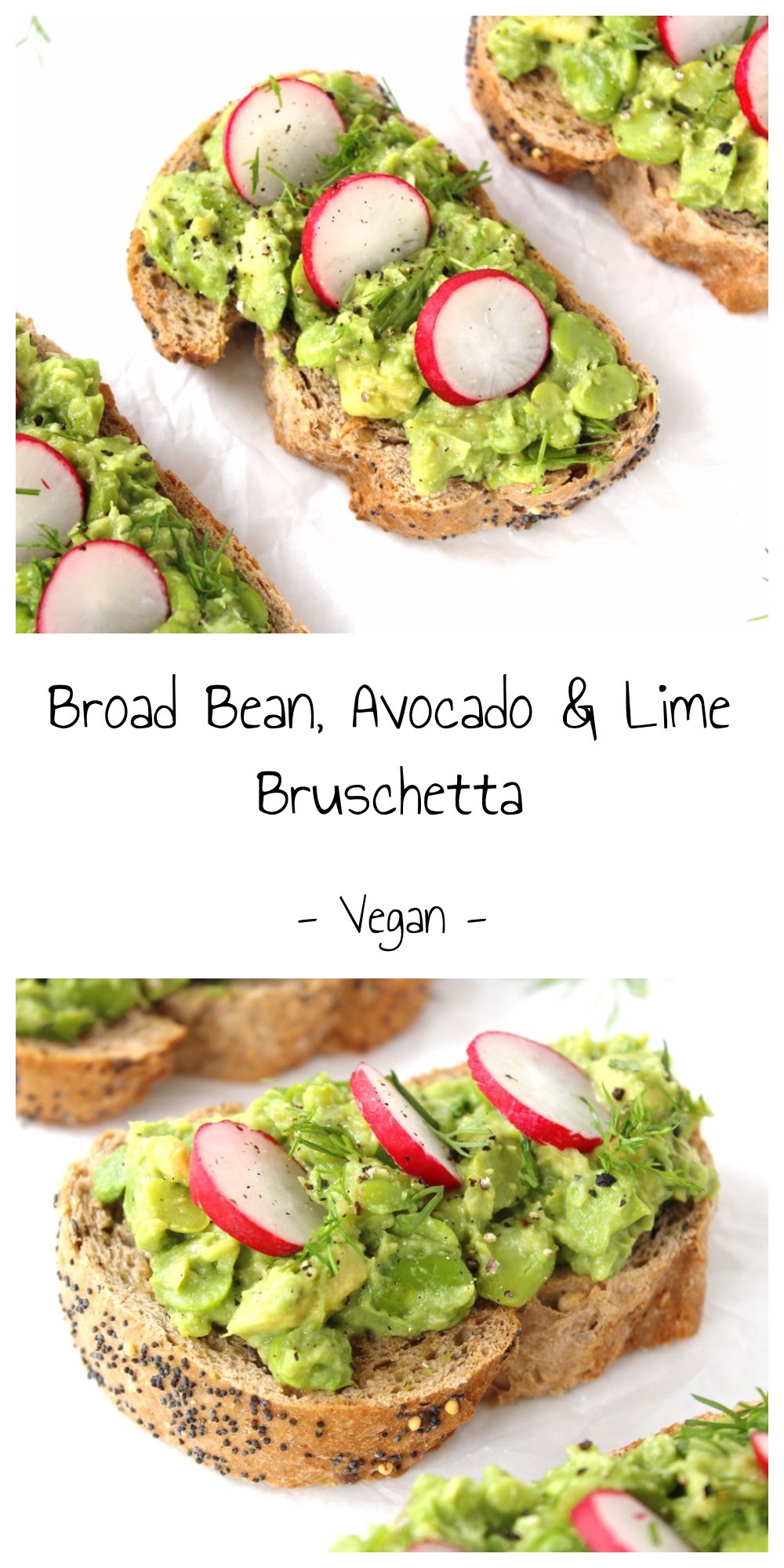 If you make this Broad Bean, Avocado and Lime Bruschettta (or any other recipes on my blog), I'd love to hear your feedback and any suggestions for adaptations! Tag your photos with #bitofthegoodstuff on social media and they will find their way to me. You can also connect with me on my social media channels here:
Instagram, Twitter, Facebook, Pinterest.
With love,

——————————–
YOU MAY ALSO LIKE…