In today's post, I'm sharing a Moroccan-inspired dinner that my family has been loving lately. It's super easy to make, highly adaptable and a great make-ahead option. These past couple of weeks have been scorching hot in the UK, so we've really enjoyed this dish at room temperature. It's equally delicious served hot or cold.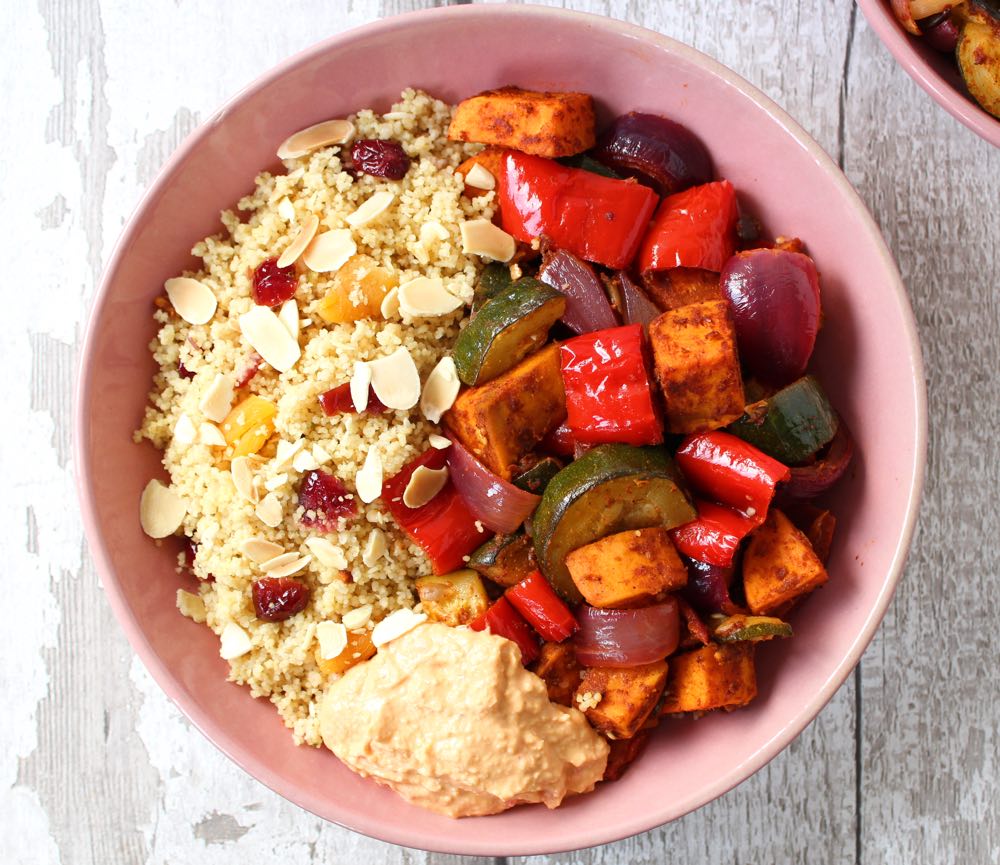 Check out all those beautiful colours!!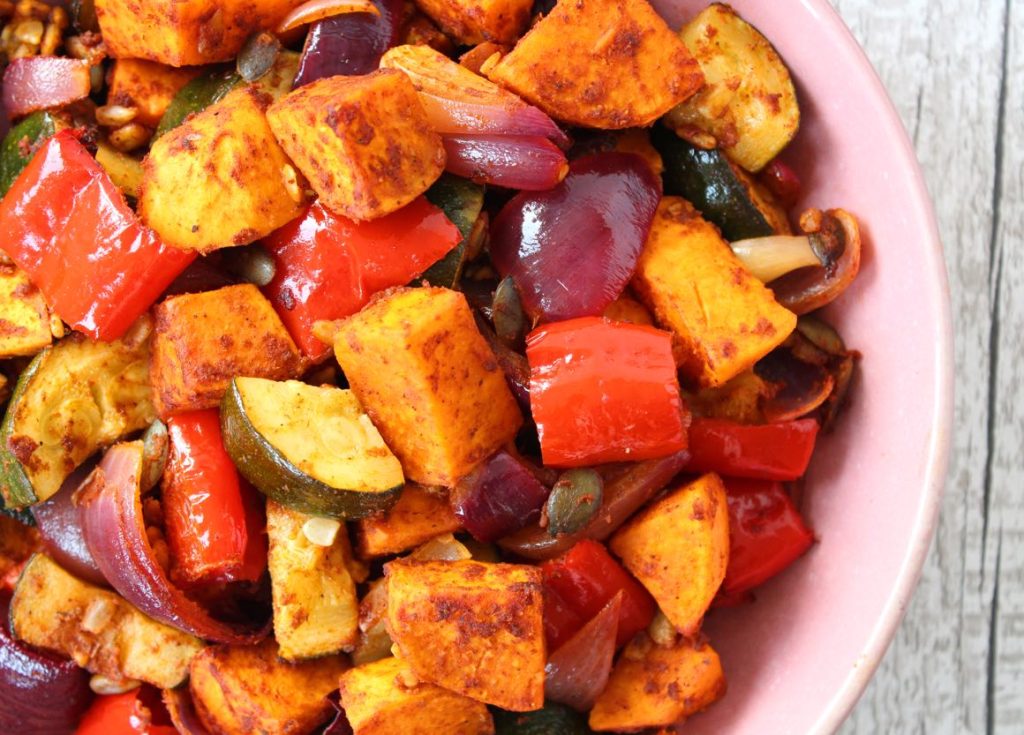 And those vibrant colours are an indication of all the wonderful health-boosting antioxidants and phytonutrients in this dish. It is especially rich in carotenoids (which give the sweet potato and bell pepper their vivid orange and red hue), vitamin C and vitamin E.
This is one of those meals that leaves me feeling incredibly energised and fantastic on the inside!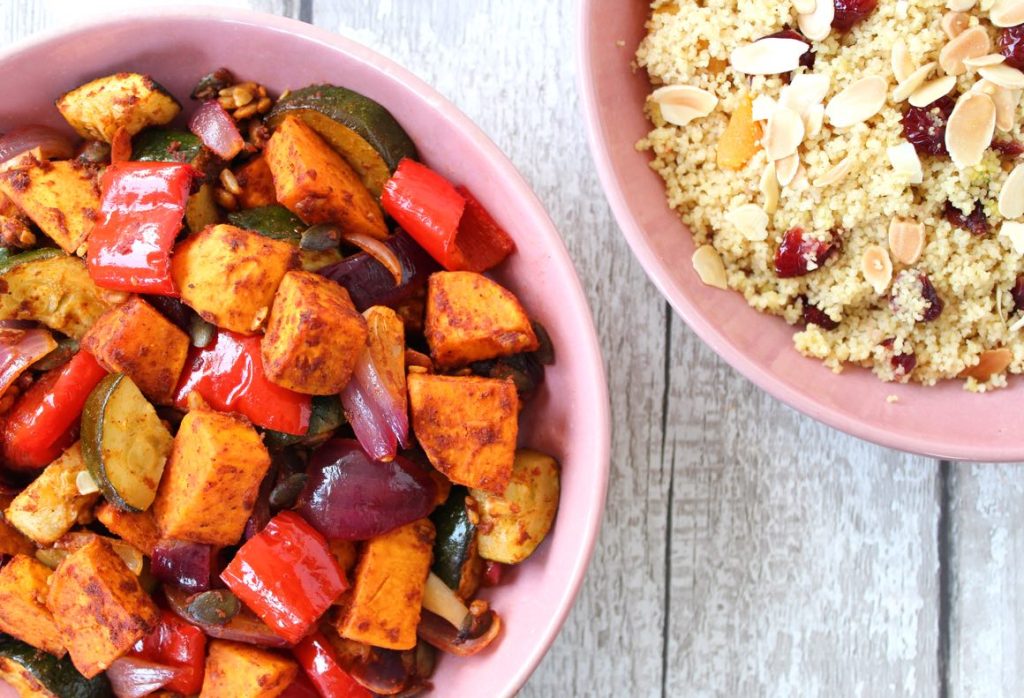 The inspiration for this dinner was a recipe that featured in this month's Vegan Life magazine for 'Jewelled Cous Cous with Harissa Roasted Vegetables'. I've tried Harissa paste a few times in the past, but I personally find it way too spicy… I can literally feel my lips and throat burning even with the tiniest amount.
Since I'm a complete wimp when it comes to handling chilli heat, instead of using Harissa, I created my own spice blend mix which has the aromatic flavours that I associate with Moroccan cuisine, but is mild enough for me (and, by default, children!!)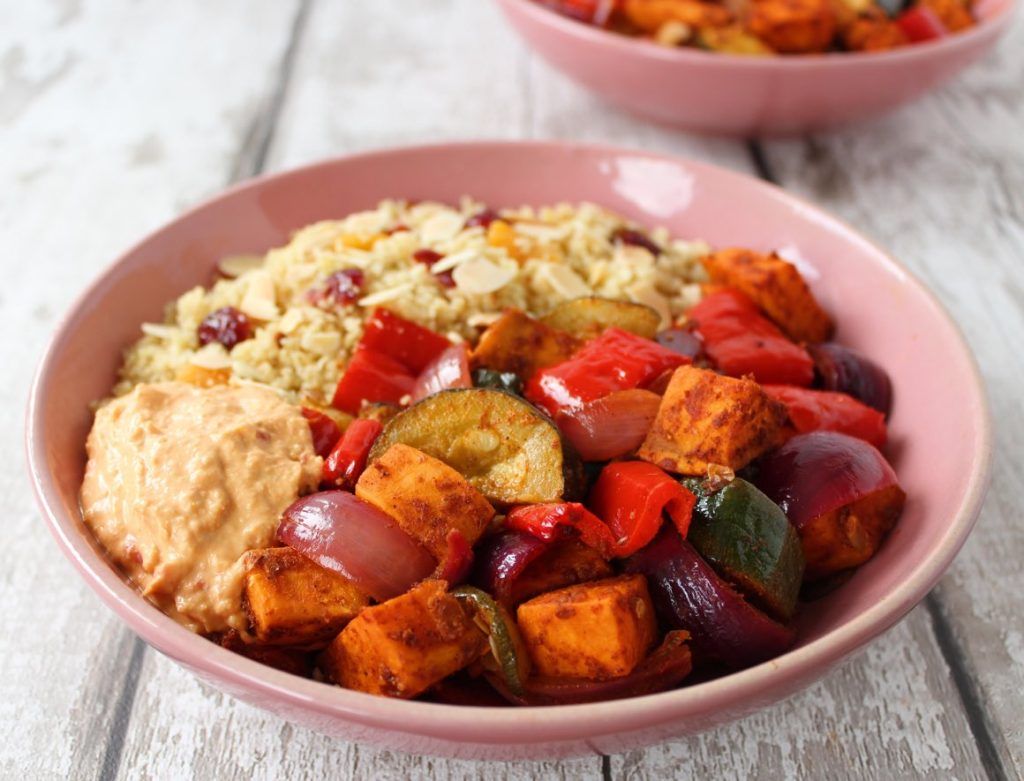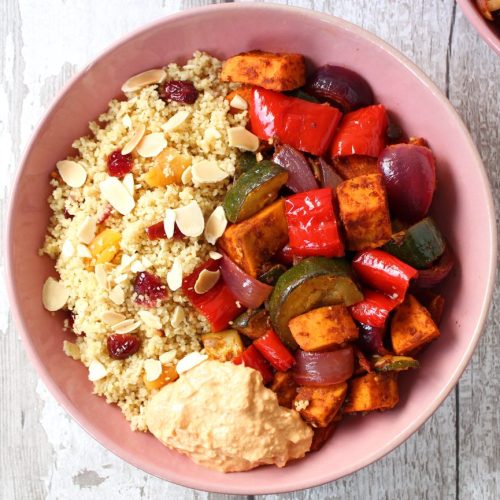 Moroccan Roasted Vegetables with Jewelled Couscous
This Moroccan-inspired dinner is packed full of colour and flavour. I've made it mild enough to serve to all family members, but feel free to add some Harissa paste if you like heat. It is equally delicious served hot or cold, and is a great make-ahead option. Be sure to add a dollop of hummus to your bowls before serving. It's the perfect complement to the dish and is great for holding the couscous together on your fork!
Ingredients
Spice blend for the roasted vegetables
2

TBSP

tomato puree (paste)

1½

TBSP

olive oil

juice of 1 lime

2

tsp

minced garlic

2

tsp

ground cumin

1

tsp

Ras el hanout

1

tsp

ground cinnamon
Roasted Vegetables
2

sweet potatoes (450g)

peeled and cut into 2 cm / ¾ inch cubes

2

courgettes (zucchini) (400g)

sliced lengthwise then into 1.5 cm / ½ inch half moons

2

sweet romano or red bell peppers (200g)

deseeded and sliced

2

red onions (200g)

sliced into wedges

¼

tsp

salt

oil for spraying the roasting tins

2

TBSP

pumpkin seeds

2

TBSP

sunflower seeds
Jewelled Couscous
250

g

/ 1⅓ cups couscous

(preferably whole wheat)

8

dried apricots (44g)

diced

4

TBSP

dried cranberries (38g)

(preferably sweetened with fruit juice)

480

ml

/ 2 cups boiling vegetable stock (broth)

(I use water and 2 tsp vegetable bouillon powder)

½

TBSP

extra virgin olive oil
Garnish
4

TBSP

toasted flaked almonds

8

TBSP

hummus
Instructions
Preheat the oven to 200C (180C fan) / 400F.

In a mixing bowl, combine all the spice blend ingredients. Add the chopped vegetables and stir through to coat.

Lightly spray two roasting tins with oil and arrange the veggies in a single layer. Lightly sprinkle with salt. Roast for 25-30 minutes, or until the sweet potato is cooked through. Give them a stir half way through the cooking time. At this point, sprinkle in the pumpkin and sunflower seeds.

Ten minutes before the veggies are ready, place the couscous, apricots and cranberries in a heat-proof bowl. Pour the boiling hot stock on top, cover with a plate and leave for 7 minutes. Drizzle on ½ TBSP olive oil and fluff up with a fork.

Divide the couscous and roasted veggies between four bowls. Add a large dollop of hummus to each bowl, sprinkle some flaked almonds on top for garnish and serve.

Any leftovers can be stored in the fridge for three days. They're delicious eaten hot or cold, and make a great lunchbox option! The roasted veggies are also freezable.
Notes
Recipe adapted from 'Jewelled Cous Cous with Harissa Roasted Vegetables' in Issue 52 of Vegan Life magazine.
Pin for later ⬇️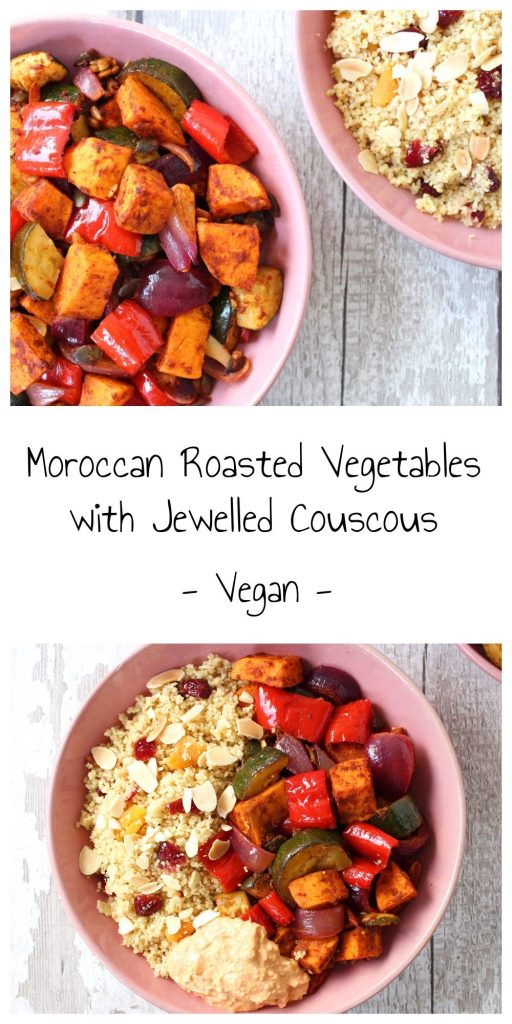 If you make this Moroccan Roasted Vegetables with Jewelled Couscous (or any other recipes on my blog), I'd love to hear your feedback and any suggestions for adaptations! Tag your photos with #bitofthegoodstuff on social media and they will find their way to me. You can also connect with me on my social media channels here:
Instagram, Twitter, Facebook, Pinterest.
With love,

———————————-
YOU MAY ALSO LIKE…