* This blog post was originally posted on October 18, 2013. The page was refreshed July 2019
This week, one of my lovely readers emailed and asked whether I could share our recipe for falafel. I was more than happy to oblige! I know I've posted numerous pics of our falafel in the past, so this recipe share is way overdue.
My family are huge fans of home-made falafel. They're so versatile! You can flavour them to suit your tastes, and they're delicious eaten hot or cold.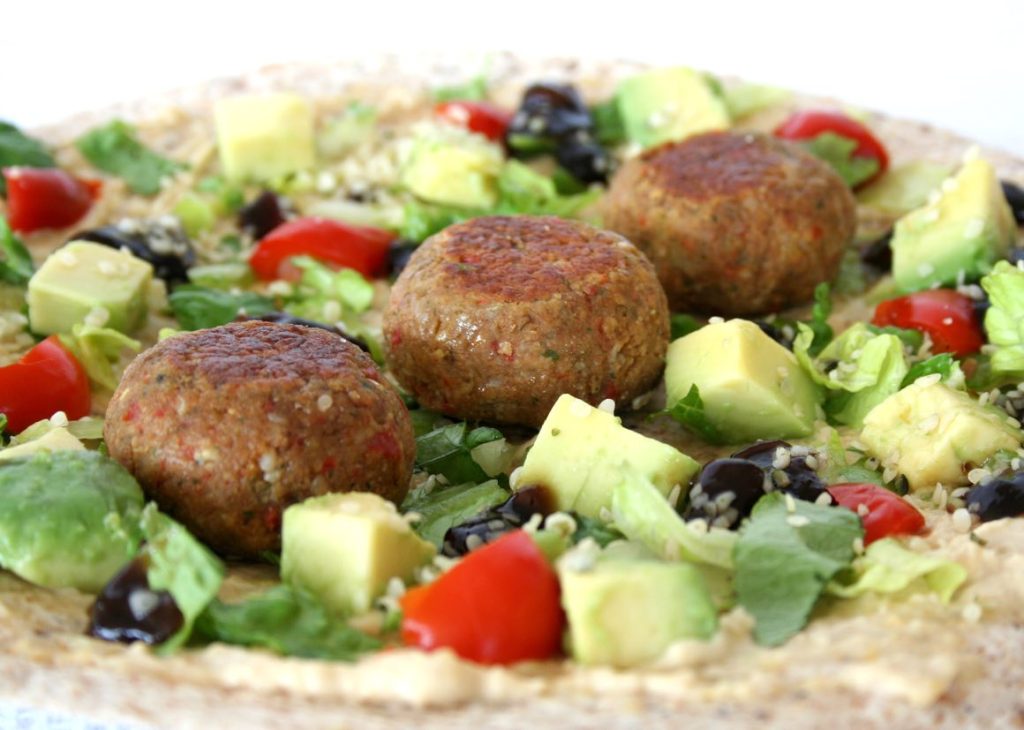 For a main meal, we like to wrap them in flat breads with hummus, salad, avocado, pickle and a sprinkling of shelled hemp seeds.
They also make a tasty lunch, stuffed into sandwich and pitta breads or served as part of a salad platter.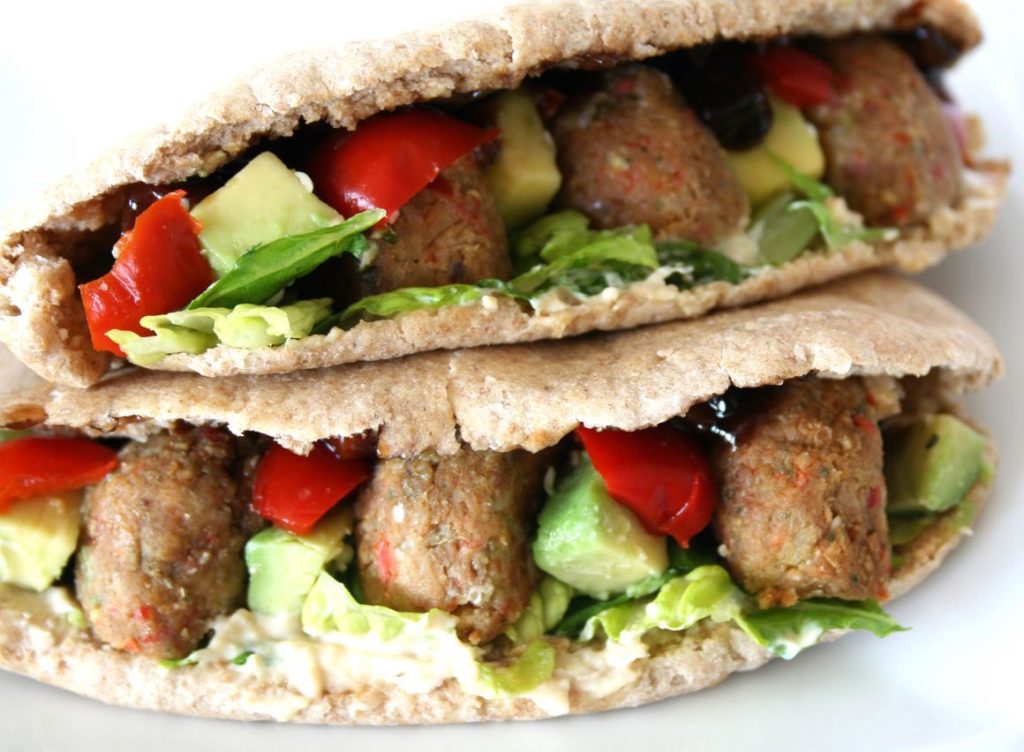 I find that shop-bought falafel can have quite a dry texture (and I need to heat them up to soften them). However, for us, the texture of these home-made falafel is spot on. While it may appear a little soft when first cooked, it firms up nicely upon cooling. Rather than becoming over dry, if anything, the texture is even better the next day.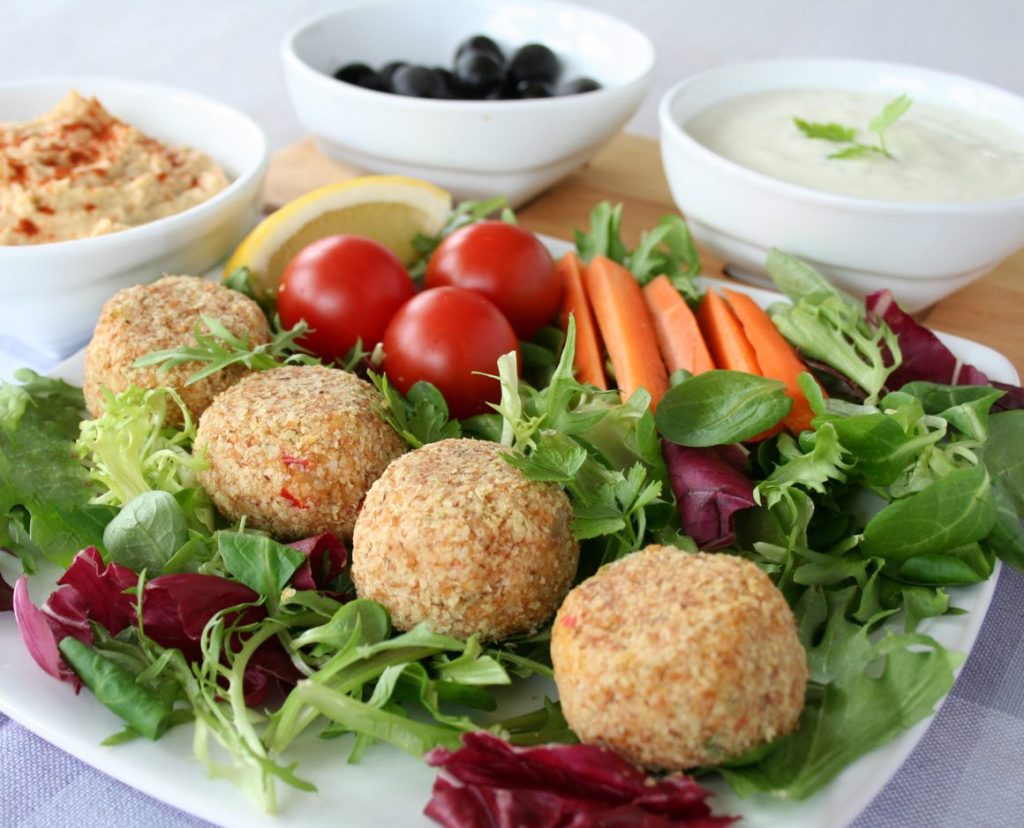 Over the years I've experimented with all different kinds of flavourings, but our current favourite is Moroccan inspired, and includes warming spices such as cumin, paprika, cinnamon and ginger, as well as dates and dried apricots. Lil' L absolutely loves these falafel, and I'm guessing the touch of Moroccan sweetness could make them particularly appealing to small kids.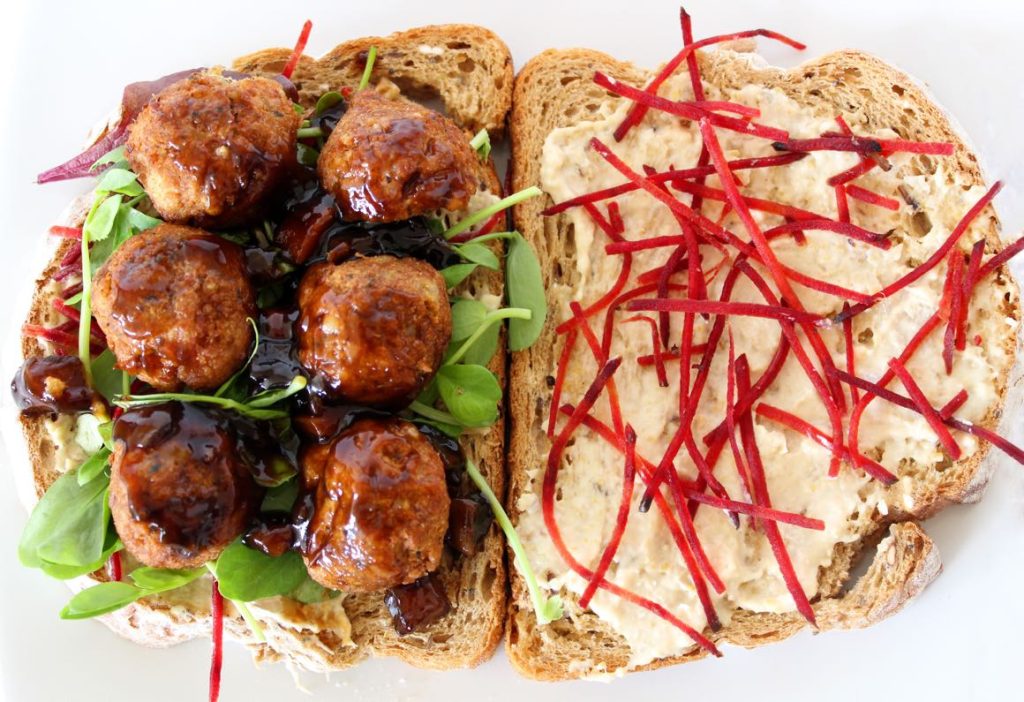 While falafel are traditionally deep fried, I prefer to pan fry them. That way, they still have a light crispy exterior, whilst using only a fraction of the oil. These are healthy falafel... the best kind!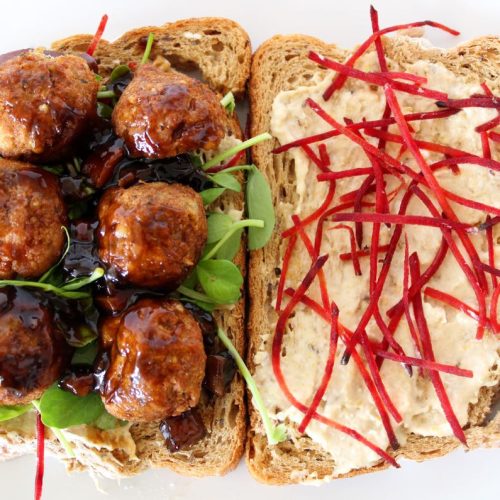 Moroccan-Spiced Falafel
Though not traditional, we love our falafel flavoured with the warming sweet and savoury spices of Morocco. I've made them mild enough for children, but feel free to crank up the heat if you wish by adding some red chilli. Our favourite way to serve them is stuffed into pitta breads or tortilla wraps along with hummus, salad, avocado, sweet pickle and a sprinkling of hemp seeds.
Ingredients
1

TBSP

olive oil

divided

1

red onion (130g)

finely diced

2

tsp

minced garlic

1

red bell pepper

deseeded and finely diced

1

tsp

ground cumin

1

tsp

sweet paprika

½

tsp

ground cinnamon

¼

tsp

ground ginger

400

g

/ 14 oz can chickpeas

rinsed and thoroughly drained

small handful of parsley

chopped

small handful of fresh coriander leaves (ciltantro)

chopped

2

TBSP

chopped pitted dates

2

TBSP

chopped dried apricots

2

TBSP

sesame seeds

½

tsp

salt

½

tsp

bicarbonate of soda (baking soda)

90

g

/ 1 cup rolled oats (quick oats, not jumbo)

2

TBSP

flour (any kind)
Instructions
Gently heat ½ TBSP oil in a large non-stick frying pan (skillet) and cook the onion, garlic and bell pepper for 2 minutes. Stir in the dry spices, then remove from the heat.

Place the chickpeas in a fine mesh sieve. Rinse under cold water then shake vigorously to remove all the water droplets.

Place the contents of the frying pan, the chickpeas, parsley, coriander leaves, dates, apricots, sesame seeds, bicarbonate of soda, salt and oats in a food processor and blend to make a coarse paste. Place in the refrigerator for at least 30 minutes to allow the mixture to firm up (it can be left overnight).

Tip the flour onto a plate. Scoop a heaped tablespoon of the falafel mixture. Roll lightly in the flour, shake off any excess flour, then flatten the falafel slightly. Repeat until all the mixture is used up.

If possible, use two frying pans (skillets) to halve the cooking time. Coat the bottom of the pan with oil. Cook the falafel on medium heat until browned on the underside (about 4 minutes). Flip them over and cook for a further 3 minutes or so. Leave to cool for a couple of minutes before serving (the falafel will firm up as they cool).

These falafel are delicious served warm or cold. They will keep for three days in the refrigerator. They also freeze well.
Pin for later ⬇️
If you make these Moroccan-spiced Falafel (or any other recipes on my blog), I'd love to hear your feedback and any suggestions for adaptations! Tag your photos with #bitofthegoodstuff on social media and they will find their way to me. You can also connect with me on my social media channels here:
Instagram, Twitter, Facebook, Pinterest.
With love,