Today's recipe is for a deliciously decadent French Toast that's just perfect for serving as a weekend breakfast or brunch. It's really easy to make and the batter uses just a handful of ingredients. The real challenge at the moment is getting hold of a loaf of bread! (who would have thought eh?) But if you're able to seek it out, I would highly recommend using sourdough as it takes this toast to the next level! ✨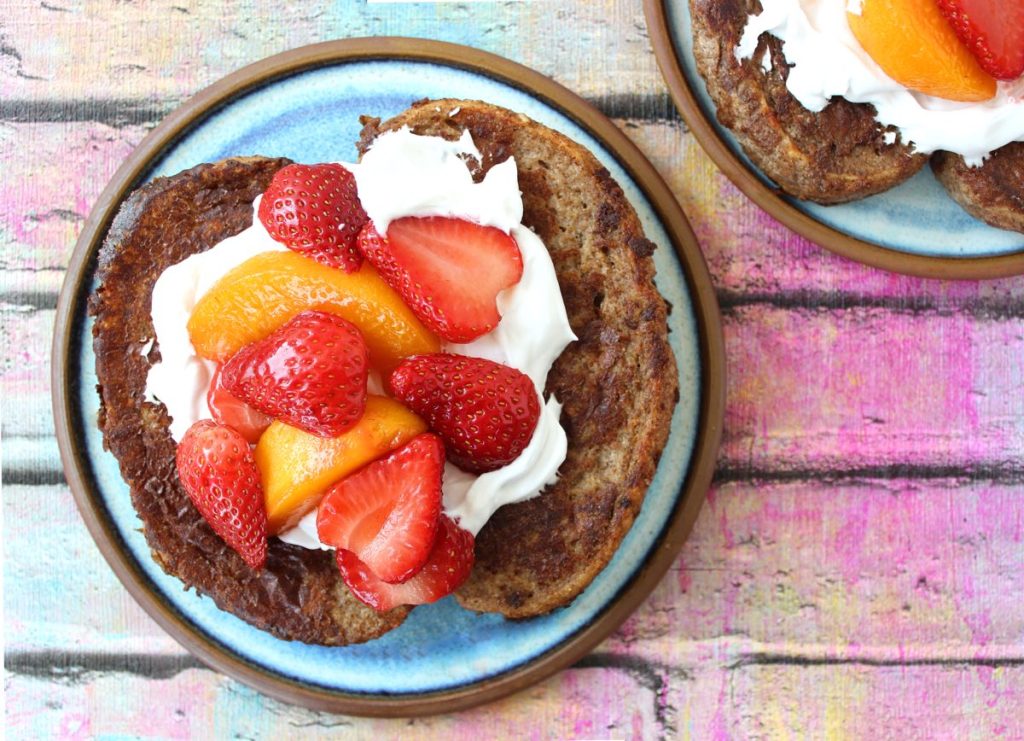 Back in October 2018 I had my first experience of vegan French Toast at The Canvas Cafe in London. It was honestly one of the best breakfasts I've ever eaten! (and I'm so glad I took a photo before I devoured it… I have so many fond memories when I look at that photo.) I vowed that one day I would have to try and recreate this deliciousness at home.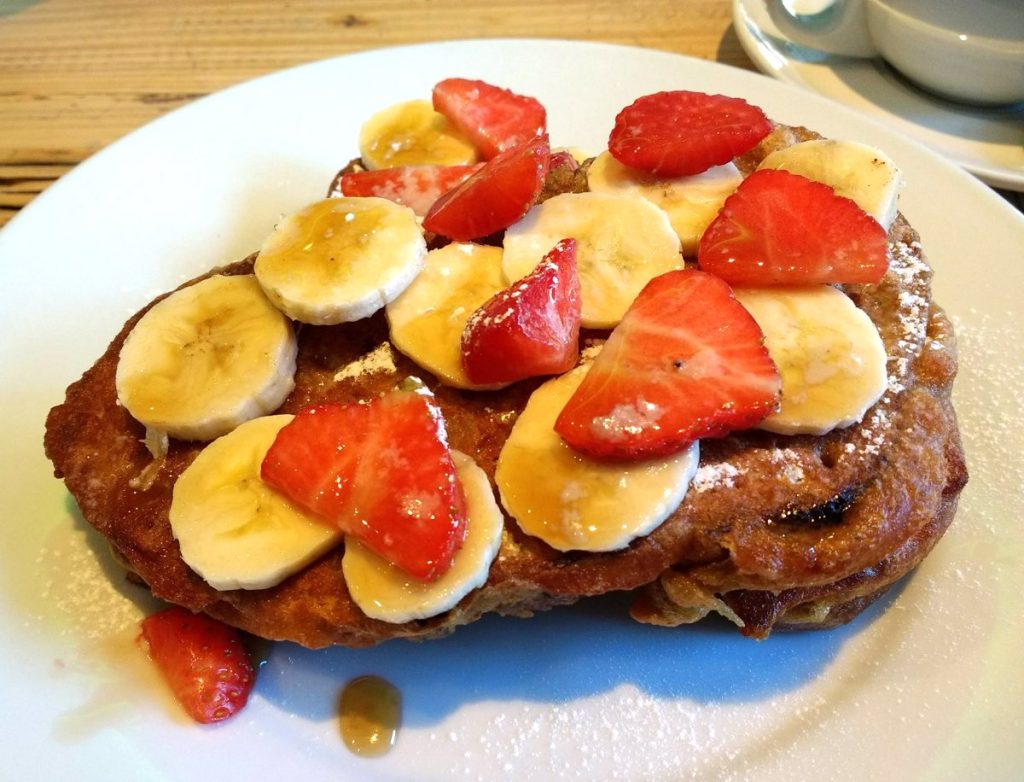 But there it languished on my ever growing 'to do' list… until last month when I spotted this 'Peaches & Cream Sourdough French Toast' in the Vegan Life magazine. The recipe looked pretty simple and I happened to have all the batter ingredients in the pantry so I was excited to give it a try! The next time we went grocery shopping, I managed to get my hands on a wholemeal sourdough, which was a win as it was pretty much the last loaf of bread left in the shop!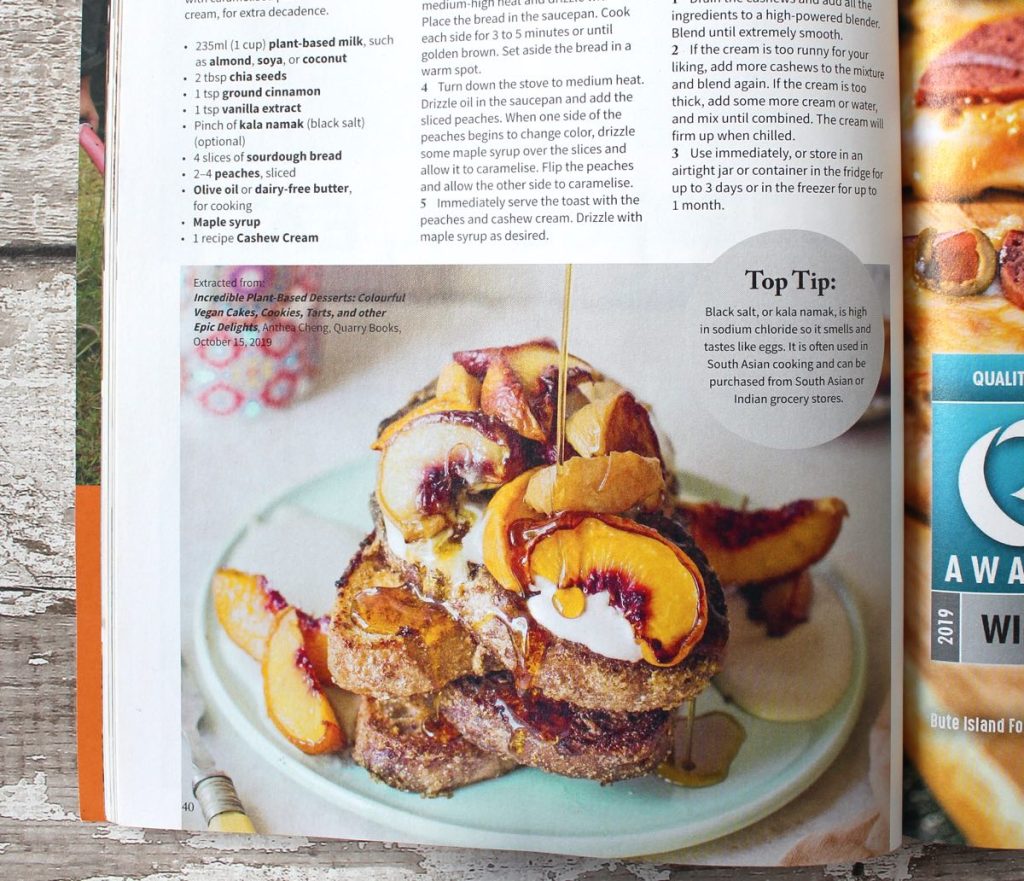 * Disclaimer: Vegan Life kindly sent me a complimentary copy of this magazine
It turns out that vegan French Toast is so easy to make! It is literally a matter of whizzing the handful of batter ingredients in a high speed blender (I used my Optimum Nutri Force Extractor), then dipping the bread in the batter and frying it.
Kala Namak is totally optional, but if you want some 'eggy' flavour in your vegan French Toast then a pinch of this salt will do the trick. It's really cheap and you can purchase it from Asian grocery stores or online. I purchased a 100g bag from Amazon UK and it cost just a couple of pounds. Be warned, it is very potent stuff so a little goes a long way!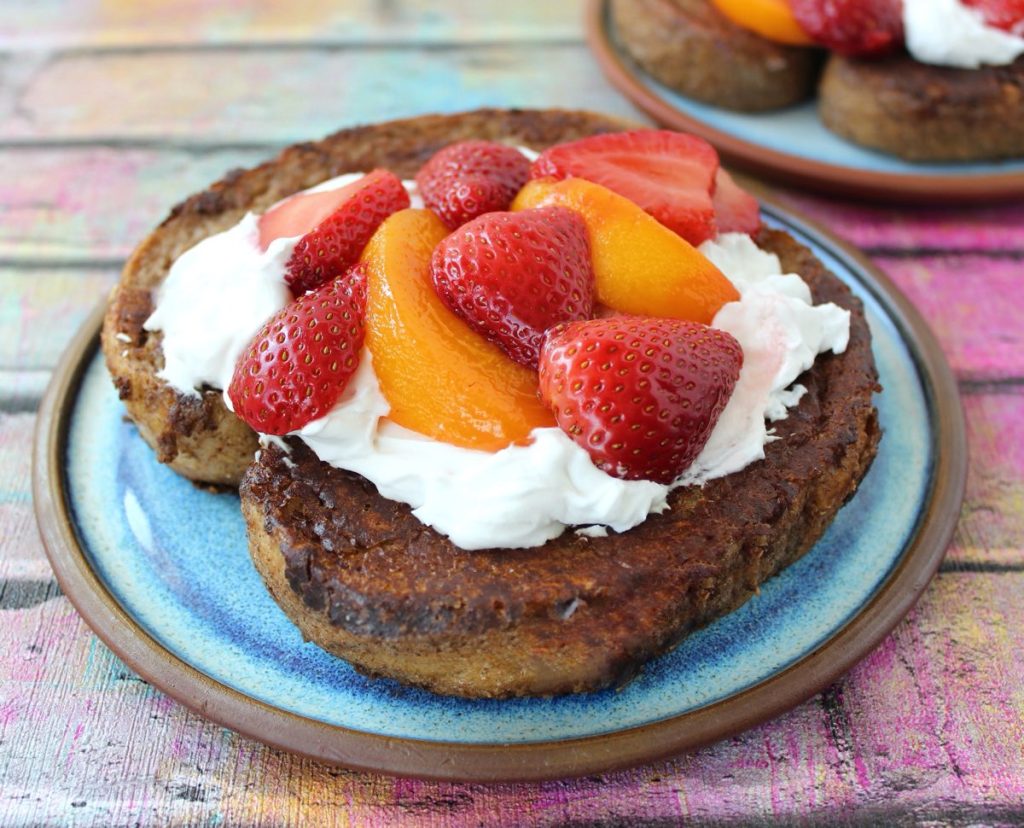 The French Toast is especially good topped with some whipped dairy-free cream (I love the coconut 'clotted cream' on p45 in the Bit of the Good Stuff Cookbook), slices of fresh berries or some berry compote and a drizzle of maple syrup.
Can't wait to see how you decide to top it!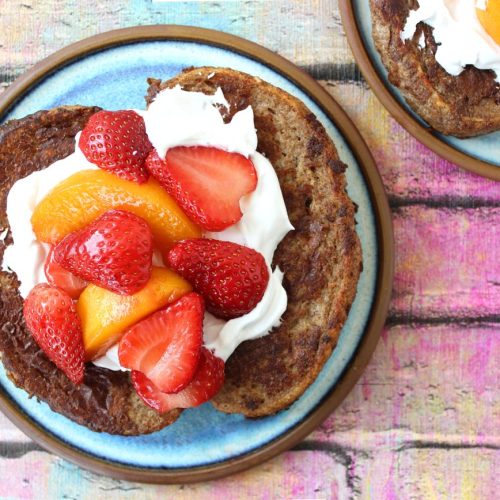 Vegan French Toast with Strawberries and Cream
This vegan version of French Toast makes a delicious weekend breakfast or brunch. We love to top it with a generous dollop of coconut 'clotted cream', sliced berries and a drizzle of maple syrup. We would love to see how you decide to top it! Share your creations with us on social media #bitofthegoodstuff
Ingredients
240

ml

/ 1 cup plant-based milk

(we used soya milk)

2

TBSP

chia seeds

1

tsp

ground cinnamon

1

tsp

vanilla extract

pinch

of kala namak (aka black salt) to impart an 'eggy' taste, optional

4

slices

of sourdough bread

(we used wholemeal sourdough)

1

TBSP

dairy-free butter
Suggested Toppings
Dairy-free whipped cream*

Slices of strawberry or your favourite fresh fruits. (Compote made from frozen berries is also delicious on this toast!)

Drizzle of maple syrup
Instructions
Add all the batter ingredients – milk, chia seeds, cinnamon, vanilla extract, pinch of kala namak (if using) – to a high speed blender and whizz until smooth. Pour into a wide shallow container.

Place two slices of bread in the batter. After a few seconds, flip to coat the second side, making sure all areas of the bread are coated.

Heat ½TBSP vegan butter in a non-stick frying pan (skillet) on medium heat. Swirl the pan to ensure the bottom is covered entirely in butter, then place the two slices of bread in it. Cook for 3 minutes on each side, or until golden brown. To flip the bread, carefully loosen it first using a slotted turner to ensure all the lovely batter stays on the bread.

Transfer to a plate and place in the oven on low heat to keep it warm while you prepare the next two slices of bread. Coat the bottom of the pan in another ½ TBSP vegan butter and repeat the process as above.

Once the French Toast is ready, arrange on plates with your chosen toppings and serve.
Notes
This recipe has been lightly adapted from the 'Peaches & Cream Sourdough French Toast' that featured in the Vegan Life magazine Issue 60 March 2020. The recipe was originally published in Incredible Plant-Based Desserts: Colourful Vegan Cakes, Cookies, Tarts and other Epic Delights by Anthea Cheng
* I used the Coconut 'Clotted Cream' recipe which can be found on p45 of the Bit of the Good Stuff Cookbook. Alternatively, you could use a cashew cream or shop-bought dairy-free whipped cream like Food Heaven's Heavenly Whipped Vegan Spray Cream (available in the UK from Tesco, Asda, Morrisons and online).
Pin for later ⬇️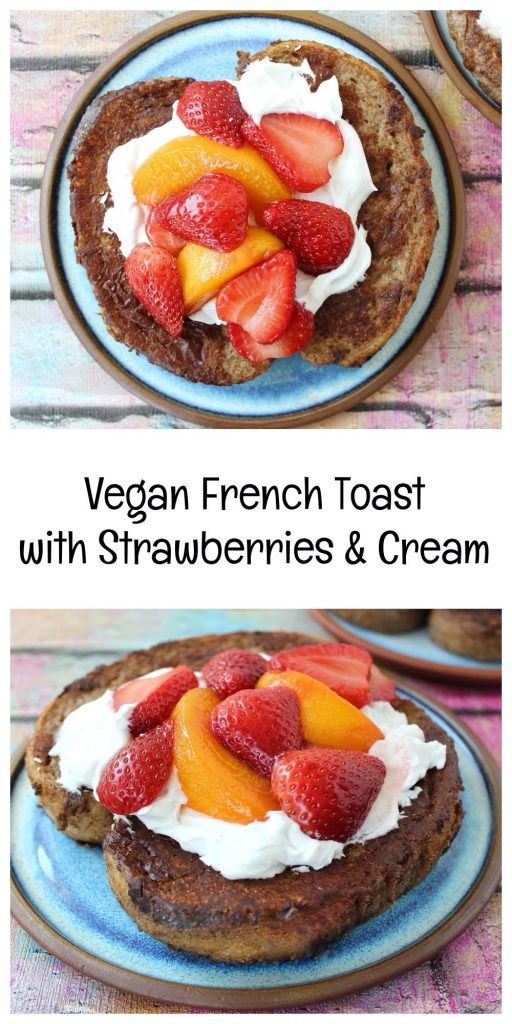 Big thank you to Vegan Life magazine and Anthea Cheng (@rainbownourishments) for inspiring today's post! ✨ 
If you make this Vegan French Toast (or any other recipes on my blog), I'd love to hear your feedback and any suggestions for adaptations! Tag your photos with #bitofthegoodstuff on social media and they will find their way to me. You can also connect with me on my social media channels here:
Instagram, Twitter, Facebook, Pinterest.
With love,