Hey dear friends, hope you're keeping well!
In today's post, I'm sharing a twist on our original Vegan Spanish Potato Omelette ('Tortilla de Patatas'). A new favourite of ours, this version features roasted red pepper and sun-dried tomato. It is so flavourful and eye catching. I love those pops of vibrant colour running through the omelette!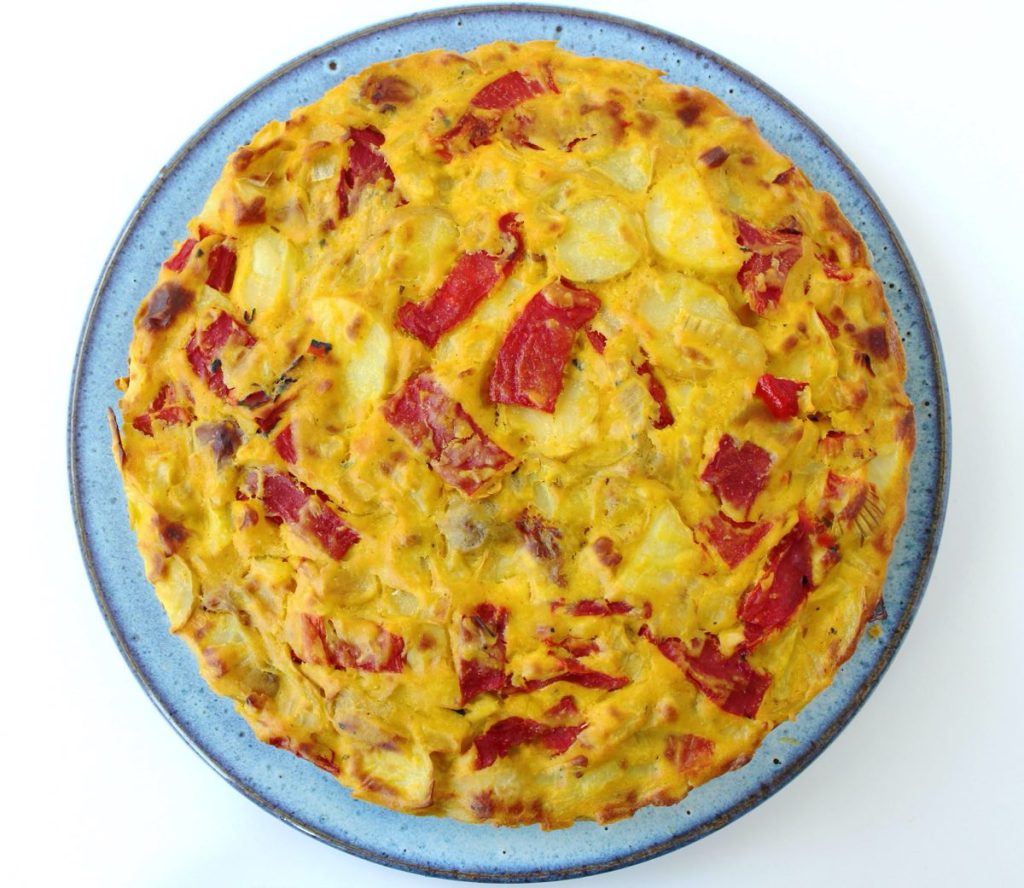 For lunch, we love to serve it with salad or use it as a sandwich filling. We were introduced to the 'Tortilla Sandwich' in Seville last Summer and it is unbelievably good! I highly recommend giving it a try if you haven't had one before.
As a main meal, we've been enjoying it with mixed salad, roasted veggies and vegan coleslaw. Tasty and so colourful too!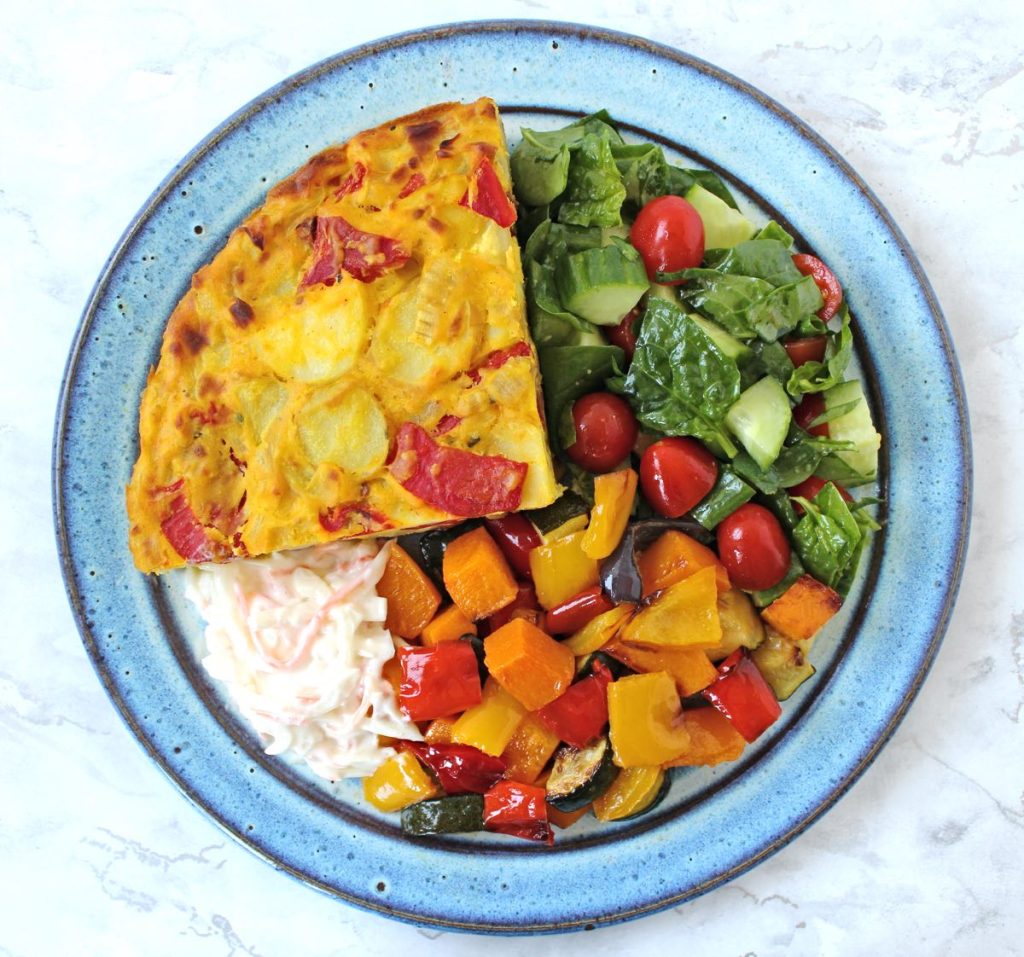 And when we're out of 'lockdown', this omelette is going to be perfect for summer picnics, buffets and tapas parties.
It's equally delicious served hot and cold.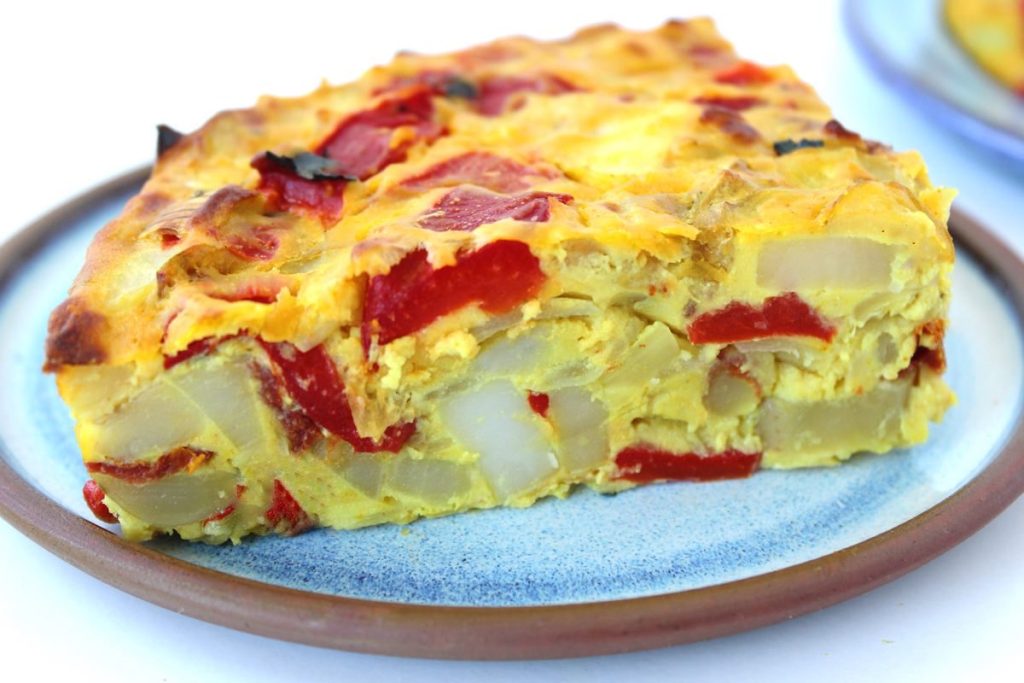 Since this omelette is vegan, of course it doesn't contain any eggs. How do we make omelette without eggs you may ask? Well the secret ingredients are silken tofu and chickpea flour. The combination of these two, for me, makes the perfect consistency for an egg-free omelette. If you'd like to add some 'eggy' flavour, a pinch or two of kala namak (black salt) will do the trick.
If you haven't made vegan Spanish omelette before, rest assured that it is easy to make. I've made this one even easier by giving the option of baking it in the oven rather than cooking it on the stove. Once the batter is prepared, you can simply pop it in the oven, set the timer for half an hour then walk away.
Traditionally, Spanish Omelette is quite heavy on the oil so, to make this one a bit lighter, I first boil the potatoes until they are just soft. I then pan fry them with the onion and garlic in a little extra virgin olive oil and salt to enhance their flavour.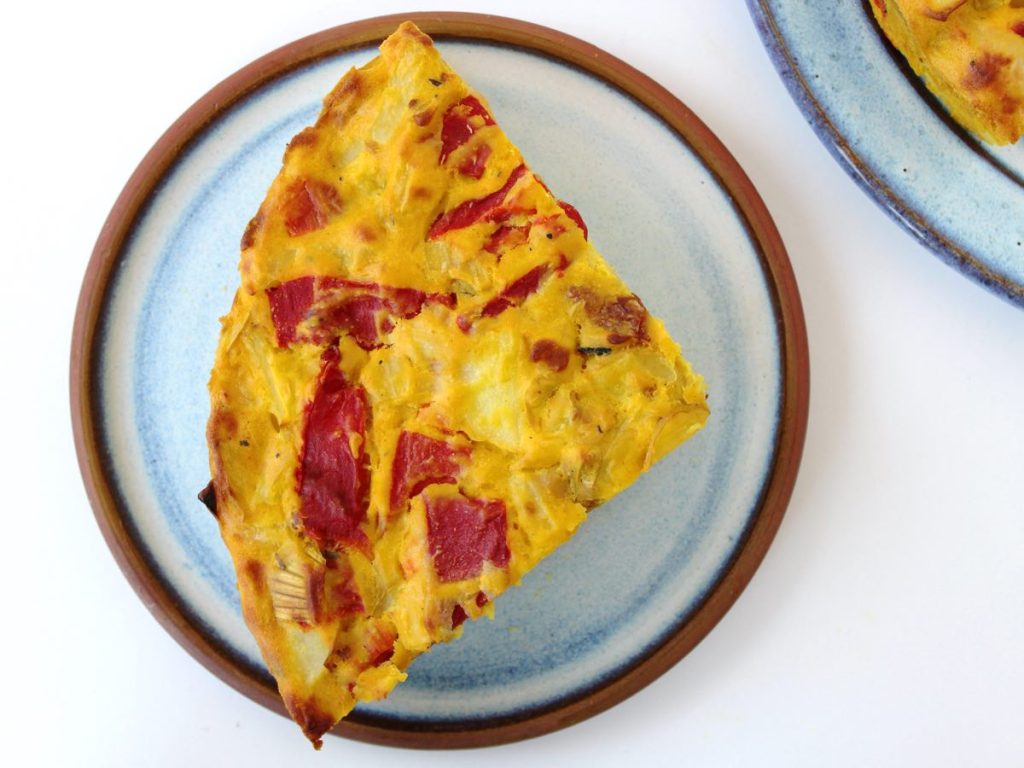 Since I posted the original vegan Spanish omelette recipe back in February 2019, it's become a firm favourite with our lovely readers, and I've absolutely loved seeing all the photos you've been sharing on social media! It was these photos and your lovely feedback that inspired me to experiment with new veggie and flavour combinations. I can't wait to see your pictures of this one!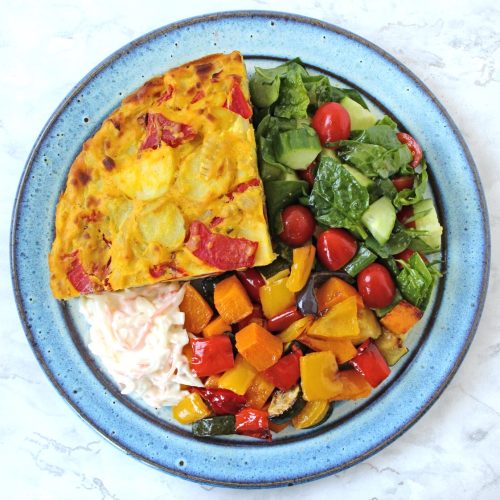 Vegan Spanish Potato Omelette with Roasted Red Pepper and Sun-Dried Tomato
This vegan Spanish omelette is easy to make and equally delicious served hot and cold. As a main meal, my family loves to serve it with colourful mixed salad and roasted veggies. For lunch, it's great served on its own, or sliced into a sandwich. It's also perfect for serving at picnics, buffets and tapas parties.
Ingredients
400

g

/ 14 oz waxy potatoes e.g. charlotte, maris peer or salad potatoes (no need to peel)

1½

TBSP

extra virgin olive oil

divided

1

large brown onion

diced

2

tsp

garlic

minced

½

tsp

salt

60

ml

/ ¼ cup plant milk

(I used soya milk)

300

g

/ 10½ oz silken tofu

drained

2

tsp

Dijon mustard

45

g

/ ⅓ cup gram flour (aka chickpea flour, besan flour)

2

TBSP

nutritional yeast flakes

2

TBSP

cornflour (cornstarch)

¼

tsp

ground turmeric

¼

tsp

black salt ('kala namak')

optional – adds an 'eggy' flavour

2

roasted red peppers

sliced (I used peppers from a jar, fully drained)

8

sun-dried tomatoes in oil

drained and sliced

vegetable oil for greasing the pan
Instructions
Prepare a pan of boiling water.

Cut the potatoes into halves or quarters, then into 0.5cm / ⅕ inch slices. Boil the potatoes for 10 minutes or until tender, then drain using a colander.

Meanwhile, heat ½ TBSP extra virgin olive oil in a large non-stick frying pan (skillet) on medium-low heat and cook the onion, stirring now and then.

Prepare the batter: place the milk, silken tofu, mustard, gram flour, nutritional yeast, cornflour, turmeric and black salt (if using) in a large mixing bowl and blend smooth using a hand blender.

When the potatoes are tender, tip them into the frying pan with the onion. Add 1 TBSP extra virgin olive oil, 2 tsp minced garlic and ½ tsp salt. Continue cooking for a couple of minutes on medium heat, stirring regularly until the potatoes are fully coated in the oil and salt. (They should start to turn a light yellow colour). Taste test and add a touch more salt or oil, if needed.

Add the contents of the frying pan, roasted red pepper and sun-dried tomato slices to the batter in the mixing bowl and stir through.
To Pan-Fry the Omelette:
Coat the bottom of a clean, non-stick oven-safe frying pan (skillet) with oil and heat on medium heat. (I use a rapeseed/canola oil spray as I find it less sticky than olive oil). Tip the omelette mixture into the pan and use a silicone spatula to distribute it evenly; smooth the top and neaten the edges. Cook for 15 minutes on medium-low heat, or until the edges start to firm up.

Towards the end of the cooking time, preheat the grill (broiler). Place the frying pan under the grill (with the handle sticking out) until the omelette is lightly browned (about 3 minutes). Keep a watch on it as it can burn quickly. Using an oven glove, remove the pan from the grill. Leave to rest for at least 10 minutes (it will firm up as it cools), then loosen with a slotted turner and transfer onto a chopping board.
To Oven-Bake the Omelette:
Pre-heat the oven to 200C (180C fan). Grease the sides of a 22cm / 9" loose-bottom flan tin and line the bottom with non-stick baking paper. Add the omelette mixture and press it down using a silicone spatula. Cook for 30 minutes, or until the tortilla is firm to the touch and a skewer inserted through the middle comes out clean. Leave to rest for at least ten minutes (it will firm up as it cools), then gently run a knife round the outer edge and transfer the omelette to a chopping board.
Notes
Stored in an airtight container in the fridge, the omelette will keep for up to five days. It can be eaten cold, straight from the fridge. Alternatively, to re-heat, I squirt a couple of sprays of rapeseed (canola) oil in a frying pan and cook the omelette slices on medium heat, turning regularly until warmed through.
Recipe adapted from Bit of the Good Stuff's Vegan Spanish Potato Omelette – Tortilla de Patatas
Products used in this recipe:
– Clearspring Organic Silken Tofu
– Marigold Engevita Nutritional Yeast Flakes with Added B12
– Top-Op Kala Namak (Black Salt)
– KTC Gram Flour
Pin for later ⬇️

If you make this Spanish Potato Omelette (or any other recipes on my blog), I'd love to hear your feedback and any suggestions for adaptations! Tag your photos with #bitofthegoodstuff on social media and they'll find their way to me. You can also connect with me on my social media channels here: Instagram, Twitter, Facebook, Pinterest.
With love,