The curried tempeh I'm sharing today makes one tasty, high protein sandwich filling! For my work lunch box, I love to serve it in a seeded bap with some juicy tomato slices, diced red pepper, fresh green leaves and a dollop of vegan mayo or mango chutney. Just like tofu, I find that adding a couple of slices of tempeh to my lunchtime sandwich really helps to power me through the afternoon and keeps me feeling full for hours.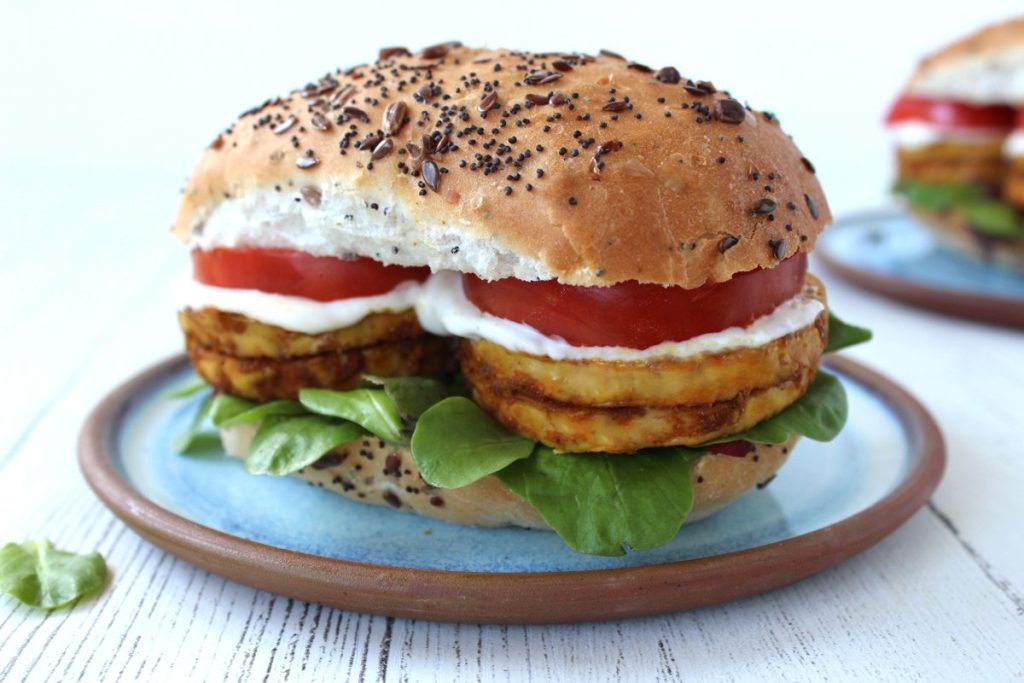 The inspiration for today's post was this photo that I spotted in Issue 74 of Vegan Life magazine. Up until then, I'd only had smoky tempeh before, so I thought it was high time I experimented with a different flavour combination. I was intrigued to find out how a curry marinade would work. It turns out that it's absolutely delicious!
* Disclaimer: Vegan Life kindly sent me a complimentary copy of this magazine
In my Smoky Tempeh blog post, I mention how I hadn't been a fan of tempeh until I discovered a way to prepare it that, for me, really enhances the texture and flavour.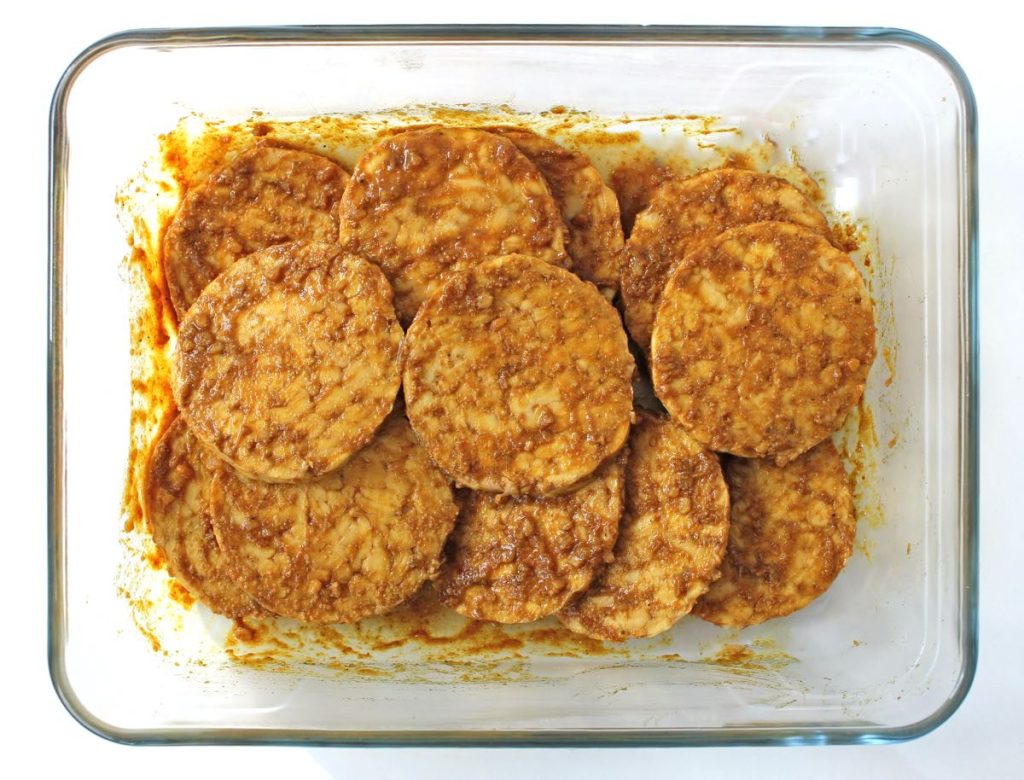 The method I use is to slice the tempeh thinly and soak it in a marinade that includes both a good quality olive oil and a little water. I find that this combination makes the tempeh softer, moister and better able to soak up the flavours of the marinade. If you haven't been a fan of tempeh before, I definitely recommend giving this method a try!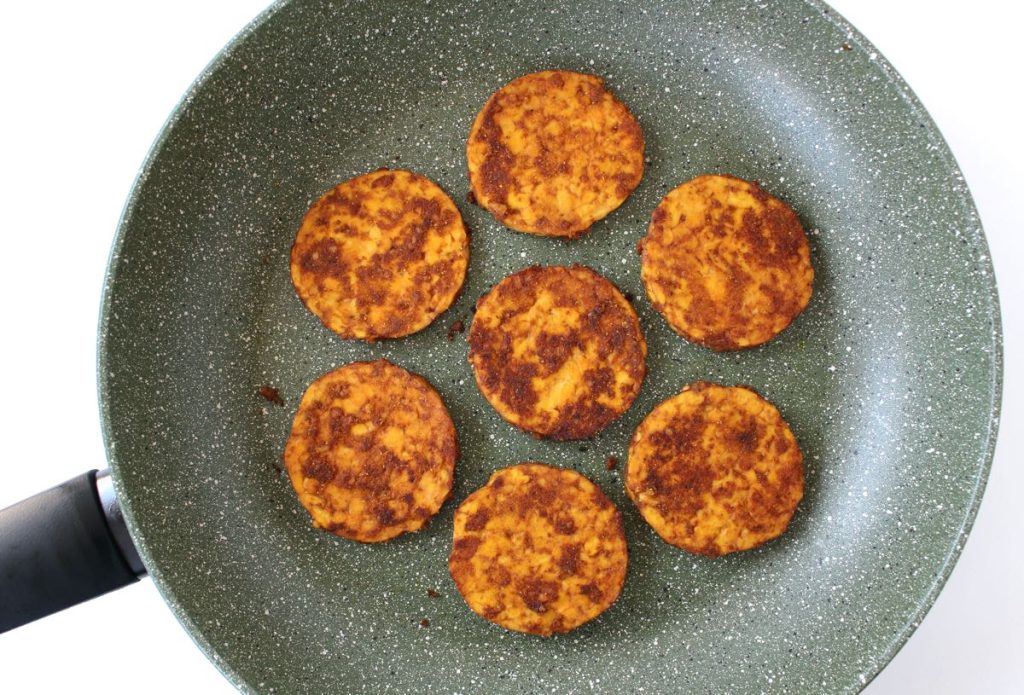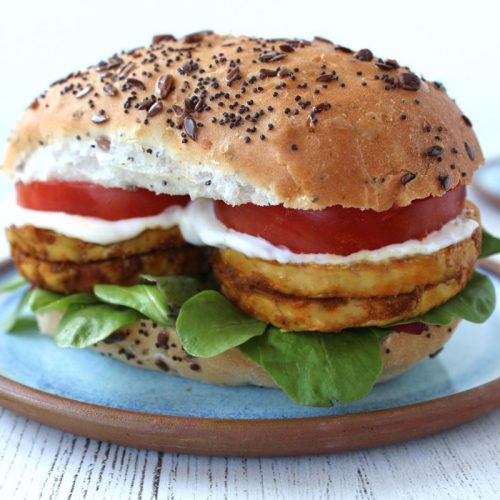 Curried Tempeh Sandwich Slices
These curried tempeh slices make a delicious, high protein sandwich filling. They can easily be prepared in advance and served hot or cold. I love to serve them with some fresh salad leaves, slices of juicy tomato, diced red pepper and a dollop of vegan mayo or mango chutney.
Ingredients
200

g

/ 7 oz tempeh

thinly sliced
Marinade
1

TBSP

curry powder

(I use mild)

1

TBSP

reduced sodium soy sauce

1

tsp

tomato puree (paste)

1

tsp

minced garlic

1½

TBSP

extra virgin olive oil

1

TBSP

water
Instructions
Slice the tempeh as thinly as possible and place in a wide, flat bottom dish.

In a small bowl, whisk together all the marinade ingredients. Pour over the tempeh and stir through, making sure both sides are coated in the marinade. Leave for five minutes (can be left longer).

Heat a large non-stick frying pan (skillet) on medium heat. Arrange some tempeh slices in a single layer in the pan. Cook the tempeh, flipping regularly until it is browned on both sides and all the liquid has evaporated (I find this takes me about six minutes in total). Transfer to a plate and repeat the process with the remaining tempeh slices. Alternatively you can use two frying pans to speed up the cooking time (this is what I do!)

The tempeh can be eaten straight away or stored in an airtight container in the fridge for 48 hours.
Pin for later ⬇️
If you make these Curried Tempeh Sandwich Slices (or any other recipes on our blog), I'd love to hear your feedback and any suggestions for adaptations! Tag your photos with #bitofthegoodstuff on social media and they will find their way to me. You can also connect with me on my social media channels here: Instagram, Twitter, Facebook, Pinterest.
Big thank you to Vegan Life for inspiring today's post! ✨
With love,

———————————-
YOU MAY ALSO LIKE…