I have always loved waffles. There's something about those cute indented squares that makes them such a pleasure to eat. I especially love them this time of year, warm straight from the waffle maker or toaster. They make such a yummy breakfast or mid-afternoon snack.
Lil' L shares my love of waffles and can easily get through a dozen a week. He says there are two Autumn/Winter foods that he'll never get sick of and that's apple crumble and waffles!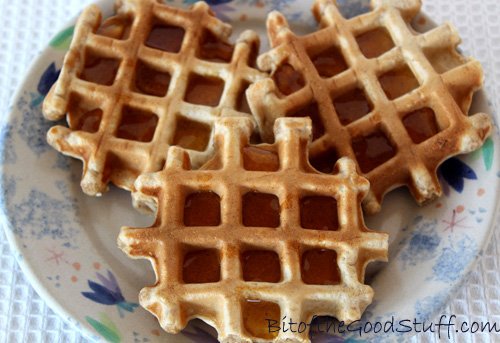 These vegan waffles are so easy to make! It's simply a case of blending up the ingredients (I use my Froothie for this job), scooping the batter into the waffle maker and waiting 3-4 minutes. And then they're ready to eat!
We use a slightly thicker version of our breakfast pancake batter for these waffles. To replace the egg, we use a banana or two small-medium organic apples. On balance, I prefer the texture of the waffles made with banana as it's slightly firmer and more robust. The riper the banana, the stronger the flavour will be in the waffles. For the mildest flavour, use ripe yellow bananas rather than brown ones.
The batter also includes wholegrain flour and oats for protein and slow release energy. The waffles happen to be fat free and cane sugar free too. This means they're scrumptious and healthy, so perfect for treating the kids (and yourself!) Lots of Lil' L's friends have tried these waffles and they've all given them a big thumbs up.
While his friends tend to prefer them with a simple drizzle of maple syrup, Lil' L loves to fill his squares with little pieces of chopped walnuts or pecans, for some crunch…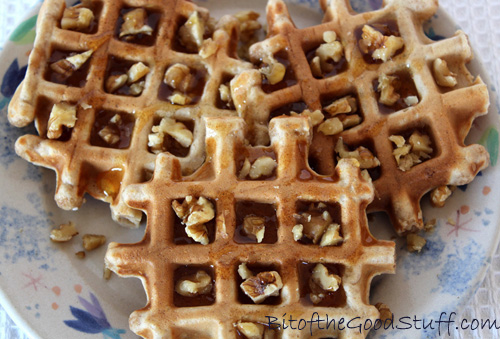 … while I love to top mine with raspberries and chopped almonds ♥
The waffles in the photo below were made using GF flour. I was so delighted to find that the recipe works gluten-free too as it means all our GF friends can tuck in too 😀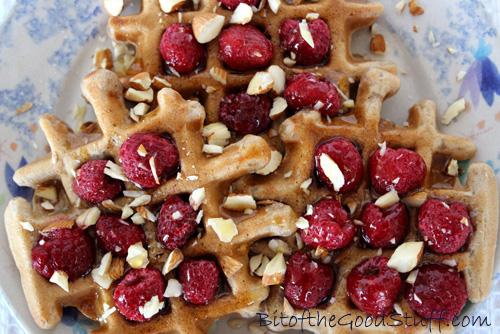 We make the waffles small enough so that they're easy to pick up, fit in the toaster, and so you can scoff two or three at a time ('cause one waffle is never enough 😉 ). We often make them as an afterschool snack, then leftovers get stored in the fridge for breakfast the next day. A quick warm through in the toaster and they're ready to be served.
Here's how we make our basic vegan waffle…
[print_this]
Makes around 10 waffles
Hands on time: 20 minutes    Ready in: 20 minutes
Waffle batter
1 ripe banana, sliced
180ml / 6 fl oz / ¾ cup soya milk
140g / 5 oz / 1 cup wholemeal (wholewheat) flour (or use a GF flour mix if needed e.g. Doves GF Brown Bread Flour)
50g / 1¾ oz / ½ cup rolled oats (use certified GF, if needed)
1 tsp baking powder
½ tsp ground cinnamon
¼ tsp salt
2 TBSP maple syrup
1 tsp oil or coconut butter, for greasing
Suggestion toppings
Maple syrup
Chopped walnuts, pecans or almonds
Fresh or frozen berries
Method
Place the milk and banana in a high speed blender and blend until smooth (alternatively you can use a bowl and hand blender). Add all the remaining batter ingredients and blend to combine. The batter should be thick, but pourable. Add a touch more milk if needed, to attain the desired consistency. (If you're using GF flour, you will need around 4 tablespoons of extra liquid). Pour the batter into a bowl and leave to rest for a few minutes (this can happen while the waffle maker heats up).
When the waffle maker is hot, brush with oil or coconut butter using a silicone brush. Drop two tablespoons of batter into each of the four waffle quads. Close the lid and leave to cook for 3-4 minutes before checking (with the VonShef Waffle Maker, I leave the waffles until the green light goes out). If the waffles are golden brown, they are ready. Transfer them to a wire cooling rack while you prepare the remaining waffles.
While the waffles are cooking, prepare your toppings.
Serve warm with a drizzle of maple syrup and a sprinkling of your favourite nuts and berries.
Any leftover waffles can be stored in the fridge for up to 3 days. Heat them through in the toaster before serving.
Products used in this recipe (UK Stockists)
Tesco Chapatti Flour, Doves Spelt Flour or Doves Farm Gluten Free Brown Bread Flour
Mornflake Superfast Oats, available from Tesco, Asda, Morrisons, The Co-operative
Clarks Original Maple Syrup, available from most major UK supermarkets
[/print_this]
Forks are optional 😉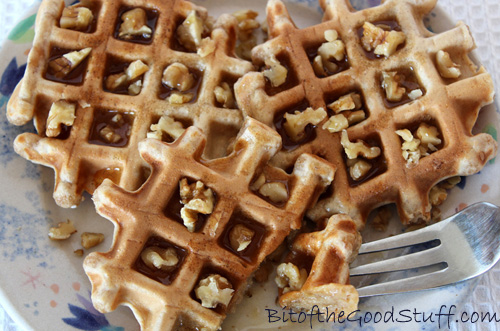 We purchased our waffle maker last October while it was on sale, and we've been really happy with it. It's easy to use and, even with all our batter experimenting, we've yet to have a single waffle fail (which is pretty incredible!) The machine's simple to clean too… while it's still warm (but not scorching hot) I just wipe it over with a piece of kitchen towel.
While I've seen the waffle maker selling at a range of prices these past couple of months (the RRP is £64.99) you can get some amazing offers if you keep a watch out. It's currently selling for £24.99 on Amazon and, at this price, you can't really go wrong. We use ours 3-4 times a week and have made hundreds of waffles, so we've definitely had our money's worth.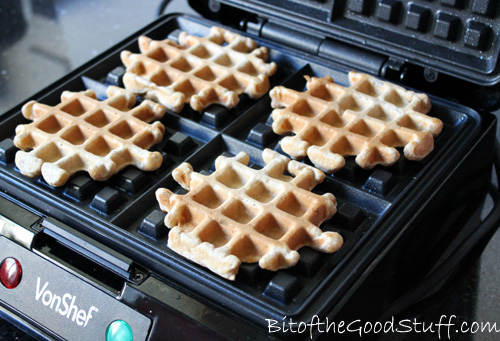 Giveaway Time!
I'm not sure how many of my readers have waffle makers, and it seemed a bit unfair to share a waffle recipe without giving you the opportunity to make some yourself, so I contacted Designer Habitat and they have kindly offered to give away a VonShef Quad Waffle Maker to one of my lovely readers ♥
To be in with a chance of winning, simply leave me a comment under this blog post answering the question featured in the Rafflecopter below. Do make sure you tick the box in the Rafflecopter to register that you have done so. There are a number of additional ways you can enter in order to increase your chances of winning. You will find these listed in the Rafflecopter. All entries will be verified prior to the winner being selected.
This giveaway is open to UK residents aged 18 and over (sorry international readers)

The closing date is Friday 16th January 2014 at midnight GMT. The winner will be selected at random and notified by email. The winner will have 7 days to respond. If they fail to do so, another winner will be selected at random.
New to Rafflecopter? It's pretty easy! Simply click on 'Use Your Email' and enter a name and your email address (rest assured it won't be published anywhere). You can also log in using your Facebook account, if you wish. A quick demo of how to use Rafflecopter can be accessed here.
* If you experience any technical problems when trying to enter the Rafflecopter, let me know in the comments section below and I'll submit your entry for you *
Good luck everyone! xx