When The Health Bay invited me to take part in a January healthy recipe challenge, I knew which recipe would be perfect for sharing this month. It's one of my family's all-time favourite salads, packed with vibrant colours, contrasting textures and dressed in the most delicious tangy vinaigrette. It also happens to be brimming with antioxidants, vitamins and minerals, so it's great for keeping our immune systems strong and warding off those nasty Winter bugs.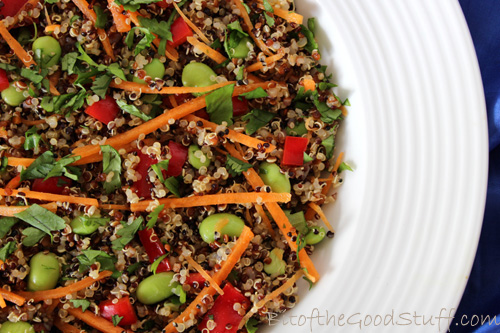 Forget chips and chocolate, this is the food I most often crave. Every time I eat it, I feel so energized. My body feels like it's literally zinging from all that goodness. Lil' L absolutely loves it too and it sure does brighten up his lunchbox!
The salad contains two complete sources of protein – quinoa and edamame beans – which, combined with the healthy fats in the dressing, help to keep you feeling full up for longer. You don't normally think of salads as being filling, but this one definitely is!
Quinoa is widely available these days. You can even buy ready-cooked pouches, which could be a useful starting point if you're a newbie to this super seed. Though more expensive and a little more difficult to find, I love the tri-colour quinoa. Not only is it pretty, but it also has a lovely, slightly crunchy texture.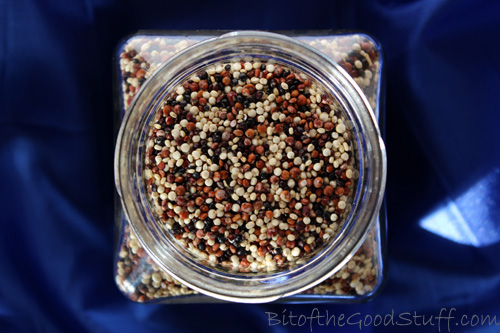 To save time in the week, I often cook a double batch of quinoa, then we use one batch for salad and the other for a hot main meal. However, if you're starting this salad from scratch, you can prepare the other ingredients and dressing while the quinoa is cooking.
Boil or steam a cup of edamame beans for 3 minutes.
Deseed and finely chop a sweet romano or bell pepper.
Finely julienne a carrot.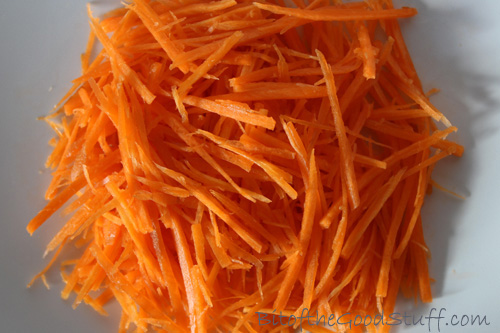 Roughly chop some fresh coriander leaves and spring onions.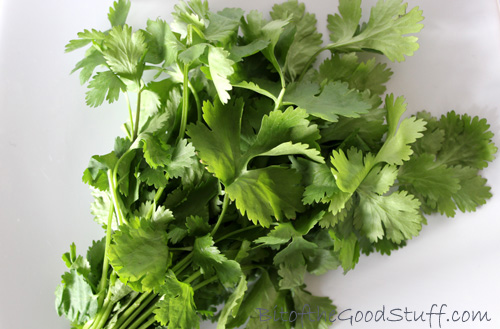 Whizz all the dressing ingredients together until smooth.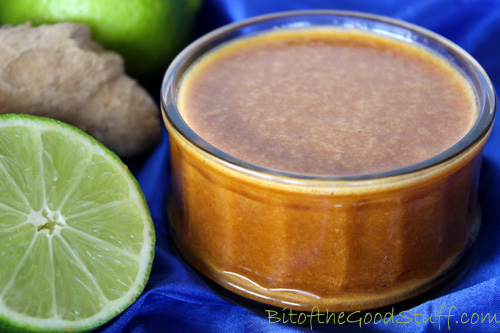 Once the quinoa is cooked, I like to stir through a couple of teaspoons of extra virgin olive oil. I find this greatly enhances the texture and flavour of the quinoa.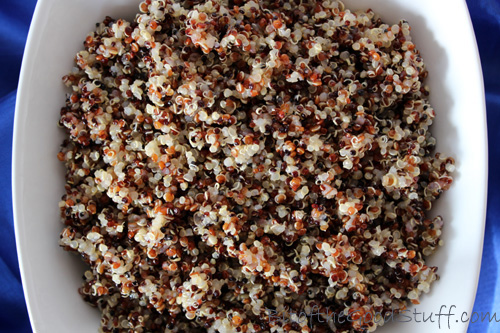 You then simply need to combine all the salad ingredients and stir in the dressing until the quinoa is fully coated.
Time to tuck in!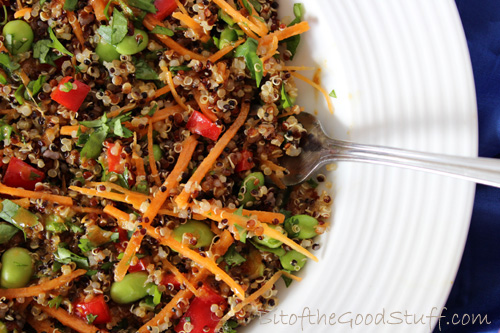 [print_this]
Serves 4
Hands on time: 20 minutes   Cooking time: 15-20 minutes
Ready in: 30 minutes
(These times apply for cooking the quinoa from scratch)
Quinoa Super Salad
200ml / 7 fl oz / 1 cup quinoa, thoroughly washed
1 TBSP apple cider vinegar
500ml / 17 fl oz / 2 cups water
2 tsp extra virgin olive oil
145g / 5 oz / 1 cup frozen edamame (soya) beans
1 sweet romano or bell pepper, deseeded and finely chopped
1 medium carrot, finely julienned
2 spring onions (scallions), thoroughly washed to remove any grit, then finely sliced
1 handful fresh coriander leaves (cilantro), roughly chopped
Dressing
4 TBSP extra virgin olive oil
2 TBSP reduced salt soy sauce (or tamari sauce for a GF option)
1½ TBSP rice vinegar
5cm / 2 inch piece of root ginger, peeled and finely grated*
1 garlic clove, minced
2 TBSP coconut sugar (or soft brown sugar)
2 TBSP freshly squeezed lime juice
2 tsp sweet chilli sauce
Method
First, wash the quinoa to remove the bitter saponin coating: place in a bowl, cover in water and agitate with a fork. Tip the quinoa into a fine mesh sieve and rinse under running water until the water turns clear.
Add the quinoa to a pan along with the apple cider vinegar and water. Bring to the boil, then reduce the heat, cover with a lid and simmer for 15-20 minutes until the quinoa is cooked through and the water has been absorbed. Remove from the heat and stir in 2 teaspoons of oil.
While the quinoa is cooking, boil or steam the edamame beans for about 3 minutes, until cooked through but still retain a bite. Chop the remaining salad ingredients.
Prepare the dressing: Add all the ingredients to a blender (I use the bowl attachment on my hand blender) and whizz until smooth. Taste test and adjust to suit your palate.
When the quinoa is ready, add all the remaining salad ingredients and stir through. When ready to serve, drizzle 1 TBSP of dressing per salad serving and stir until the quinoa is thoroughly coated.
Stored in airtight containers, the salad will keep for about 3 days in the refrigerator, and the dressing for up to a week. Keep the salad and dressing separate and combine them just before serving. Any leftovers make a wonderful addition to school and work lunchboxes.
*Tip: I find the easiest way to peel fresh ginger is to scrape the skin off using a teaspoon.
[/print_this]