In today's post, I'm sharing a recipe for an easy vegan pecan pie. This dish will be perfect for serving in the upcoming festive season. It looks impressive and slices beautifully.
Pecan pie hails from the southern US states. After a google search, I discovered that it's traditionally made with eggs, butter, refined sugar and corn syrup. I decided to ditch all of these and use some of my favourite plant-based ingredients instead.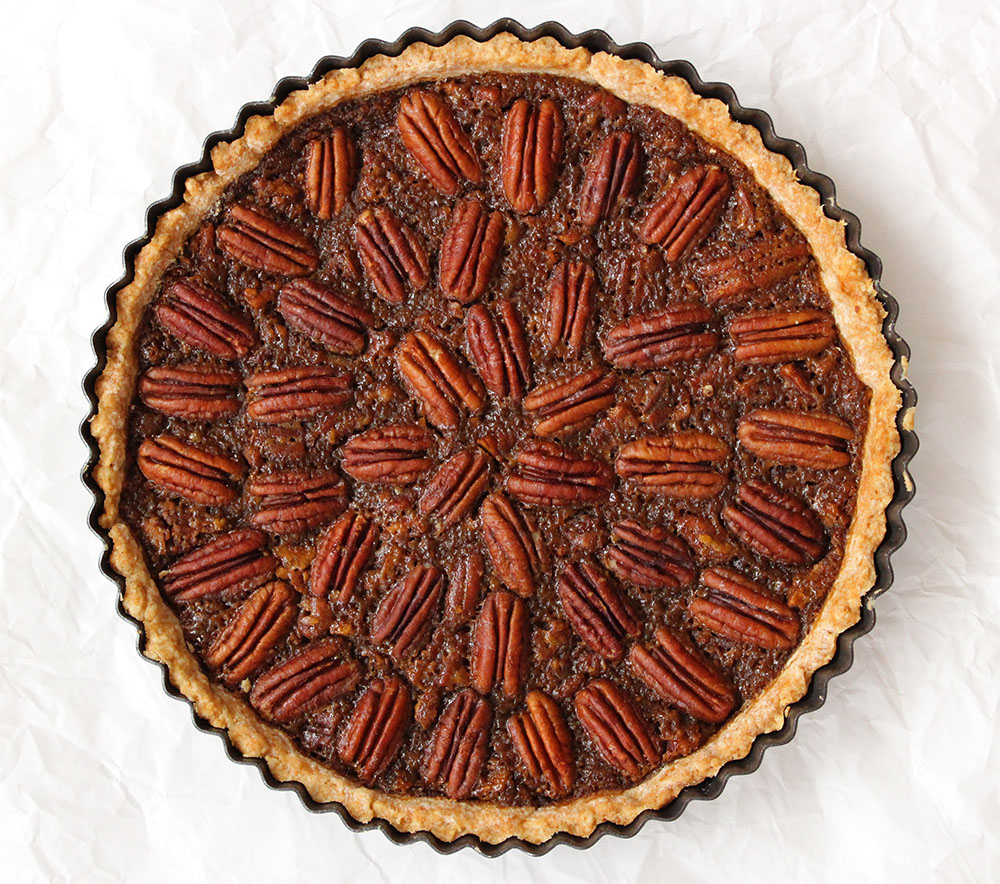 For the crust, I use my 'go to' sweet pastry recipe (which I first shared in my Mince Pie post). I've never had a fail with this pastry and I love how crisp it turns out. Unlike many pastry recipes, it's also palm-oil free as it uses coconut butter (the aroma-free/culinary kind) instead of dairy-free spread/vegan butter.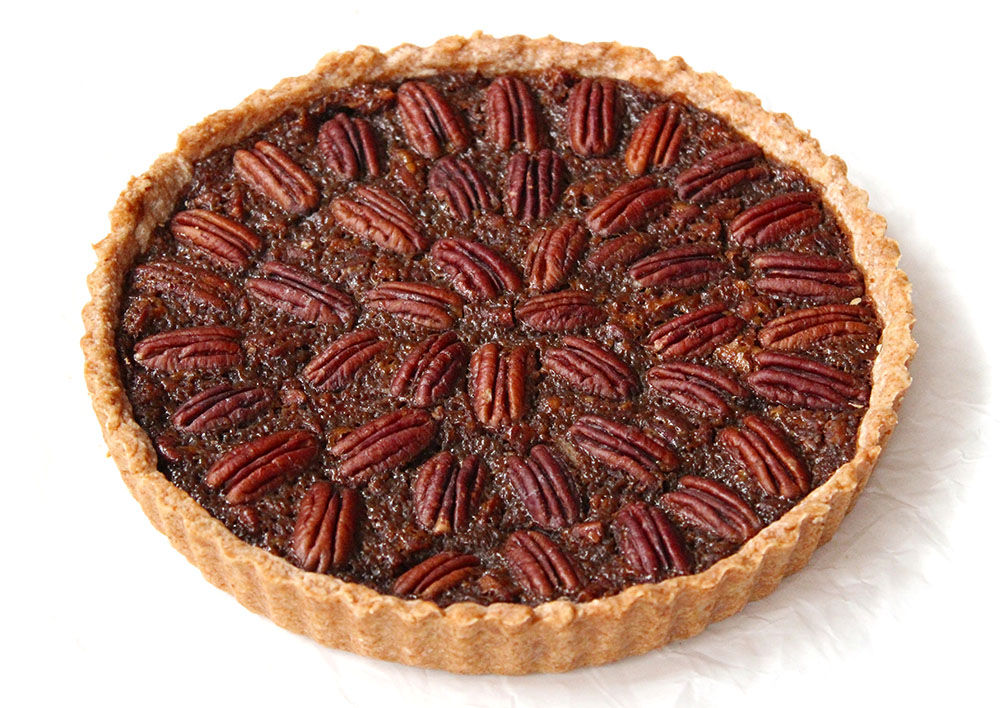 For the binder I replaced the chicken eggs with a couple of 'flax eggs' (a mix of ground linseed and warm water) and a couple of tablespoons of corn flour.
The butter was replaced with coconut cooking butter in the pastry and extra virgin coconut oil in the filling.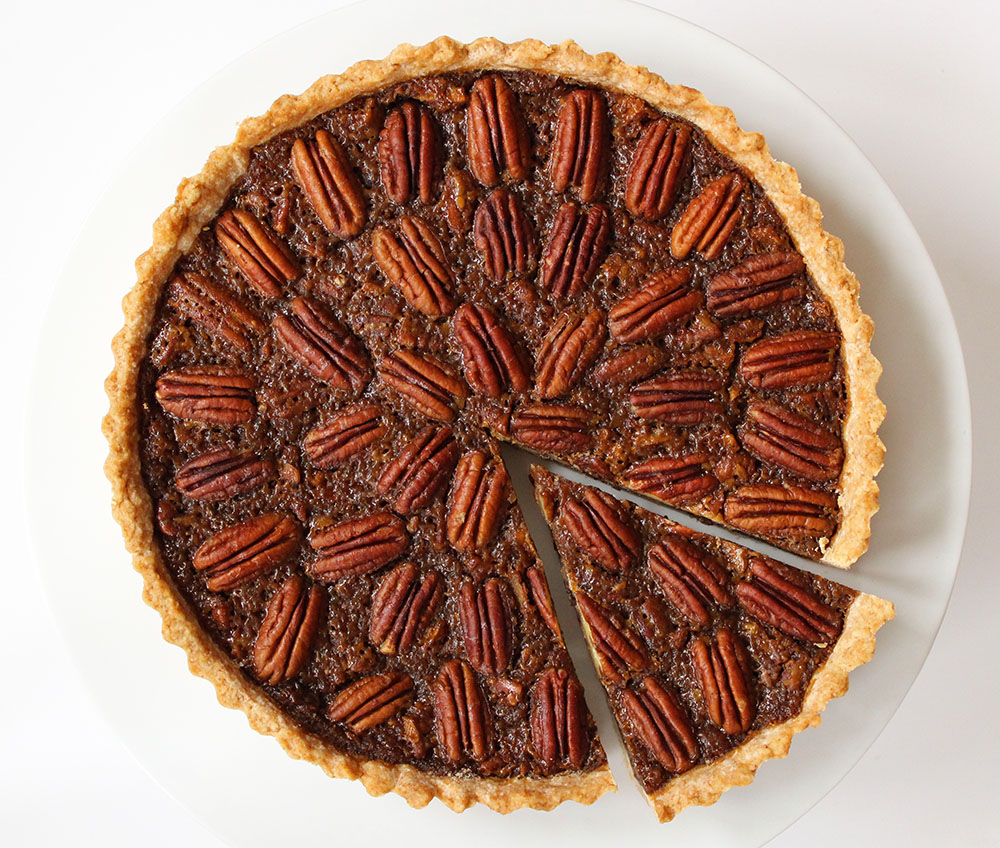 For the sweetener, I used a mix of maple syrup and coconut sugar. This gave the pie a delicious, caramel-like sweetness rather than the 'sugary' sweetness which you get from cane sugar. It also gave the pie a gloriously rich, dark brown hue.
Most of the traditional pecan pie recipes I've come across contain two cups of sugar in the filling. I used half this amount and still found it to be plenty sweet enough.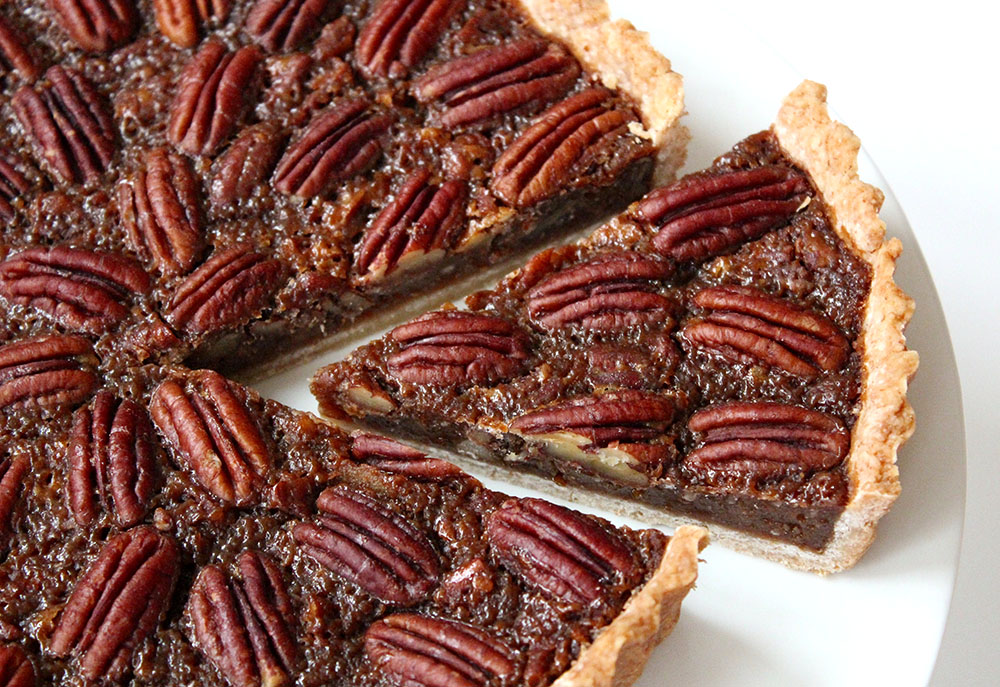 The pie is incredibly easy to make! In fact, I think it's one of the simplest baked desserts that I've ever made… yet it looks like it took a lot of work. (It'll be a great one for impressing your guests!) If you wanted to make it even easier, you could buy ready-made short-crust pastry (Jus-Rol does a vegan one) but, I promise you, it's really easy to make pastry from scratch.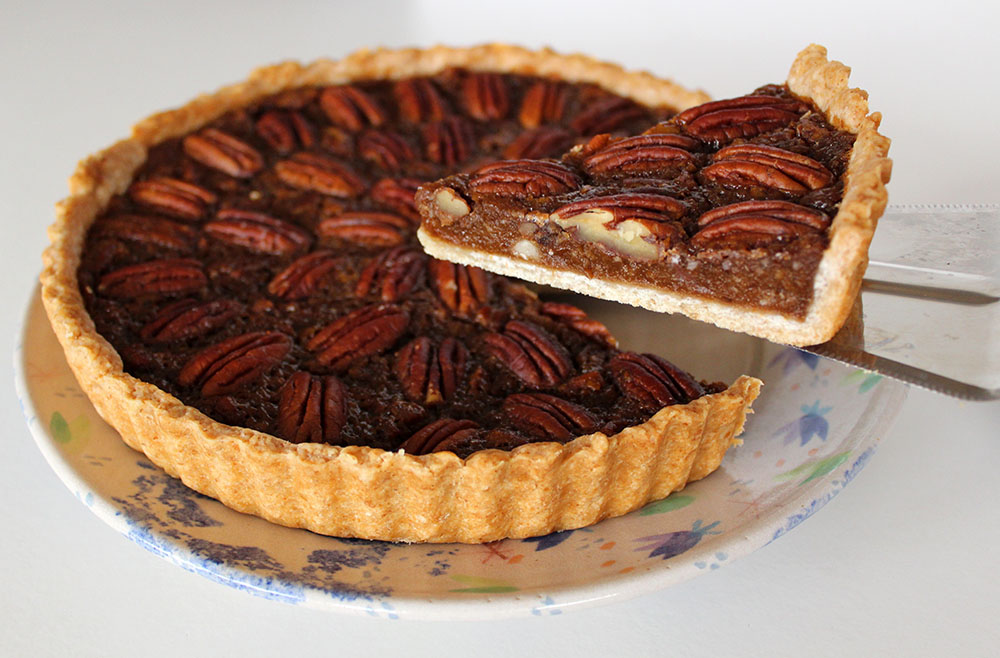 I'm sharing this recipe with the Suma Bloggers Network. Big shout out to my favourite wholefood wholesalers Suma, for supplying me with top quality ingredients. Suma products are stocked in independent healthfood shops and online.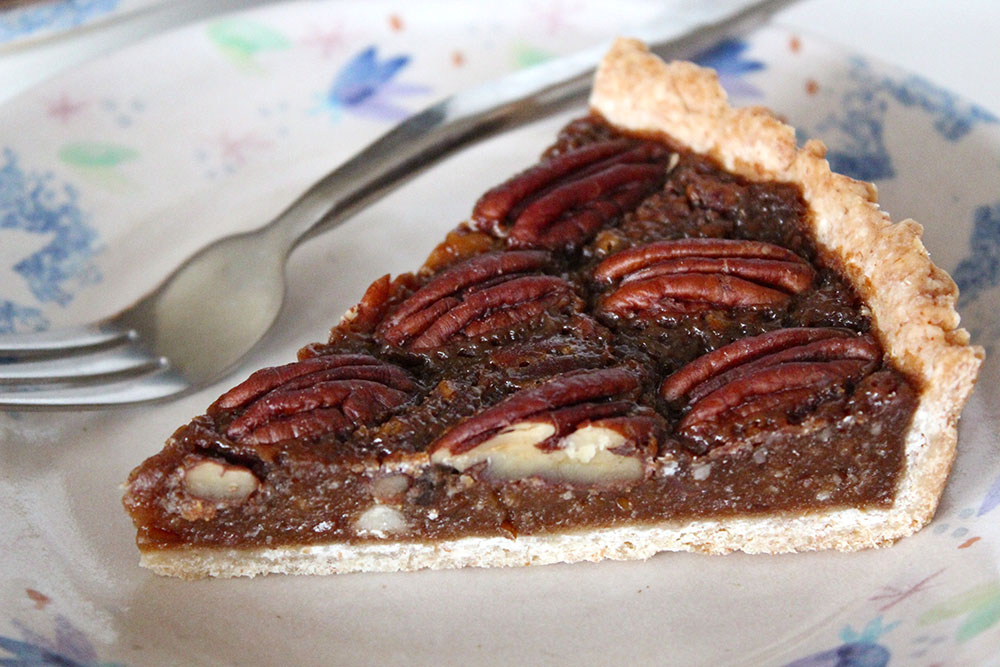 [print_this]
This is my plant-based version of the traditional southern US pecan pie. It's perfect for serving in the festive season. It's easy to make, but sure to impress your guests. You can use shop-bought pastry if you wish, but I promise you that it's easy to make from scratch. Go on, give it a try!
Serves 8-10
Hands-on time: 30 minutes    Ready in: 2½ hours
Ingredients
Pastry
90g / ⅔ cup white spelt flour or plain (all purpose) flour
90g / ⅔ cup fine wholemeal (whole wheat pastry) flour or chapatti flour
75g / scant ½ cup aroma-free coconut cooking butter (I use Tiana Organic Pure Coconut Cooking Butter) (or substitute with dairy-free spread/vegan butter)
2 TBSP unrefined sugar
pinch of salt
2½ – 4 TBSP orange juice
Filling
15g / 2 TBSP ground linseed (flaxseed)
90ml / 6 TBSP warm water
160g / 1½ cups pecans, divided
100g / ½ cup extra virgin coconut oil
75ml / ¼ cup maple syrup
125g / ¾ cup coconut sugar (or substitute with unrefined cane sugar)
1 tsp vanilla extract
pinch of salt
60ml / 4 TBSP non-dairy milk
15g / 2 TBSP fine wholemeal (whole wheat pastry) flour or chapatti flour
15g / 2 TBSP corn flour / corn starch
Method
1  Lightly grease an 8 inch pie dish / quiche tin with coconut oil (I use a loose-bottomed tin for easy removal).
2  Prepare the pastry: Place the flour, coconut cooking butter (or dairy-free spread), sugar and salt in a food processor. Whiz until combined. While the machine is running, add orange juice a little at a time until the mixture starts to come together (I find I need about 3½-4 TBSP when using coconut butter and 2½ TBSP when using dairy-free spread). Scoop the mixture into a ball. Wrap in cling film (plastic wrap) and chill for 15-20 minutes.
3  Once the pastry has rested, place it on a lightly floured pastry mat and lay the cling film (plastic wrap) on top. Roll out the pastry into a circle large enough to fill the tin and the sides. Place the pastry in the tin and press it into the edges and up the sides. Slice off any excess pastry. If you have any holes in the pastry, you can patch it up using the scraps.
4  While the pastry is resting, prepare the filling. First, make the flax 'egg'. Place the ground linseed in a small bowl with 90ml / 6 TBSP warm water. Whisk together with a fork then set aside for 10 minutes to gel up.
5  Set aside half of the pecan halves for decorating the top of the pie. Roughly chop the remaining pecans.
6  Preheat the oven to 190C (170C fan) / 375F.
7  Place the coconut oil, maple syrup, coconut sugar, vanilla extract and pinch of salt in a small saucepan over very low heat. As the oil melts, whisk to combine. When fully melted, remove from the heat.
8  In a small bowl, whisk together the milk, flour and corn flour until smooth. Pour it into the pan. Add the flax 'egg' and whisk until fully combined. Stir in the chopped pecans. Pour the mixture onto the pie crust (it will be very runny, but this is normal). Arrange the pecan halves on top.
9  Carefully place the pie on a baking sheet in the centre of the oven. Bake for 20 minutes at 190C (170C fan) / 375F. Reduce the heat to 130C (130C fan also) / 275F and bake for a further 40 minutes. Remove from the oven and leave to cool completely. (It will firm up as it cools).
Stored in an airtight container in the refrigerator, the pie will keep for five days. I'm pretty confident this pie will freeze well but I haven't tried it yet. As soon as I do, I'll report back.
[/print_this]
If you make this recipe, I'd love to hear about it! Leave me a comment below or tag your social media posts #BitoftheGoodStuff. You'll find me on Facebook, Twitter, Pinterest and, as of this week… Instagram! I'm very late joining the Instagram party so if you're already an Instagrammer, do pop by and say hi. I'd love to connect with you!