Today I'm sharing a flavourful, versatile Smoky Bean Salad recipe for the Suma Blogger's Network. It's perfect for sharing at BBQs and summer parties, while Lil' L loves it as a jacket potato topping alongside a Mexican style 'cheese' sauce (a tasty vegan twist on the classic 'beans and cheese').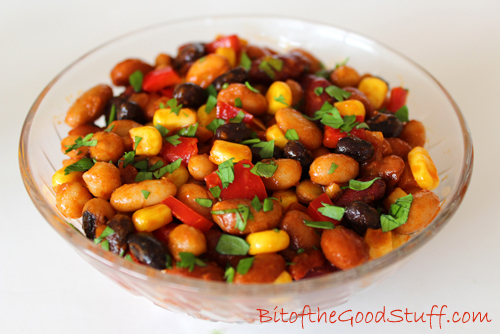 It's also my current favourite 'lunch on the go'. I fill up a container with colourful salad leaves, smoky bean salad and any leftover grains that I find in the fridge – couscous, millet, even pasta – then stuff it into my backpack, hop on my bike and head into Bath city centre. At midday, nothing beats chilling out in one of Bath's beautiful parks and tucking into my delicious home-made lunch ♥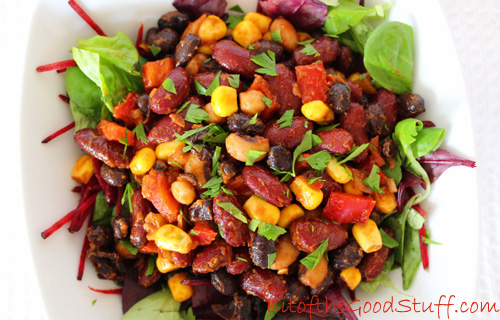 Beans come in such an array of colours, shapes, sizes and textures. For this salad, I tend to use a can of ready-cooked mixed beans, then throw in a handful of black or kidney beans, sweet corn and diced red pepper for extra colour, flavour and crunch.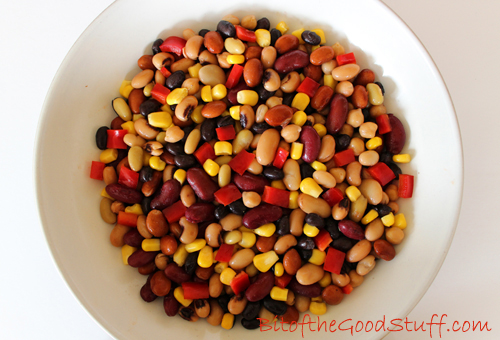 Since beans have very little flavour of their own, they need to be dressed in a flavour-rich sauce. For this salad, I make a Smoked Paprika Dressing (using a method inspired by this Tangy Balsamic Vinegar and Fennel Seed Dressing). The ingredients need only simmer for five minutes before they transform into a beautiful, vibrant, flavourful dressing that I find hard to resist eating straight off the spoon.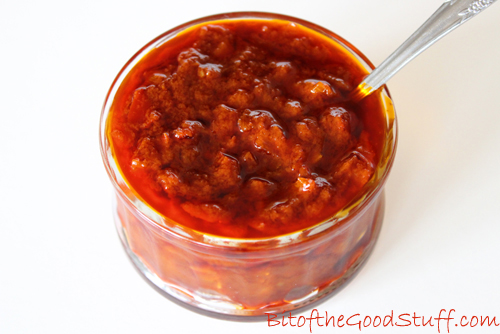 Once the dressing has simmered, stir it into the bean salad, top with a sprinkling of coriander leaves and it's ready to serve.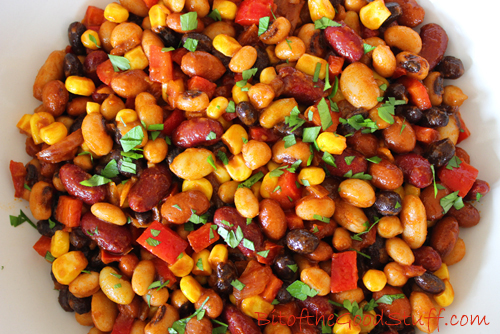 While the recipe below will serve four, I recommend making a double portion of the dressing as it's perfect for flavouring salad leaves or grain dishes.
[print_this]
This salad is a delicious dish to serve at BBQs and summer buffets. It also makes a wonderful lunch or light dinner served with colourful salad leaves and a cooked grain (couscous, rice, pasta, millet) or as a topping for jacket potatoes along with a Mexican-style 'cheesy' sauce.
Serves 3-4
Hands on time: 15 minutes   Cooking time: 7 minutes
Ready in: 15 minutes
Ingredients
Smoked Paprika Dressing
2 TBSP extra virgin olive oil
1 TBSP apple cider vinegar
1 TBSP tomato purée (paste)
1 TBSP maple syrup (or sugar)
½ small red onion, finely diced
½ red chilli, deseeded and finely chopped (remove the white membrane if serving to children as this is where the heat is concentrated)
1 garlic clove, minced or pressed
3/4 -1 TBSP smoked paprika
400g / 14 oz can mixed beans, rinsed and drained (or 270g / 9½oz / 1½ cups cooked mixed beans. Choose from black-eyed peas, chick peas, pinto, haricot, lima, borlotti, flageolet, cannellini, kidney and black (turtle) beans)
60g / 2 oz / 1/3 cup sweet corn
½ red bell or sweet romano pepper, deseeded and finely chopped
Salt and freshly ground black pepper (or cayenne pepper for a spicy kick)
1 TBSP coriander leaves, finely chopped
Method
First prepare the dressing. Place all the ingredients in a small pan and gently heat until it starts to simmer. Cook for 5 minutes stirring regularly, then remove from the heat. Taste test and add a touch more smoked paprika if desired.
Combine the beans, sweet corn, pepper and dressing. Season with salt and freshly ground black pepper (or cayenne pepper), to taste. Sprinkle on the coriander leaves and serve. Stored in an airtight container, this dish will keep for up to two days in the fridge.
[/print_this]